Trial Deck+ BanG Dream! Girls Band Party! [Morfonica]
NOW ON SALE
Release Date: January 21, 2022

Experience a brand new world with the all-girl violin rock band Morfonica making their debut on the stage of Weiß Schwarz as a Trial Deck+!

This Trial Deck+ features Mashiro Kurata, Touko Kirigaya, Nanami Hiromachi, Tsukushi Futaba and Rui Yashio!
Product Information
SIGNED CARDS
Every deck you purchase has a chance to contain a hot stamped autographed card by the lead vocalist:
◆ Amane Shindo as Mashiro Kurata
20 types + 7 types (Parallel)
Parallel cards are randomly sealed into decks! Each deck contains 2 shiny cards!
50 cards per deck, 6 decks per display
8 displays per carton
The cards in this Trial Deck+ may be used together with cards that have card numbers beginning with 「BD/」!

Featured cards from the trial deck+!
Hot stamped autographed cards by the lead vocalist! (SP)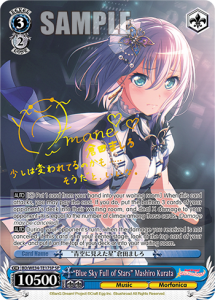 Neo-Standard Products
※ Rules Sheet, Playmat, and Deck Manual included.
※ The contents of each deck (excluding parallel cards) are exactly the same.
※ This product is intended for players aged 9 and above.
※ English edition cards cannot be used in official Japanese edition tournaments.
※ Weiß Schwarz (English Edition) does not include gold/silver campaign coupon.