Booster Pack BanG Dream! Girls Band Party! Vol.2
NOW ON SALE
Release Date: October 18, 2019
■ Booster Pack BanG Dream! Girls Band Party! Vol.2

Our band's live show continues, in Weiß Schwarz!~

Adorned with new outfits, all members of Poppin' Party, Afterglow, Pastel*Palettes, Roselia, and Hello, Happy World! from BanG Dream! Girls Band Party! gather once again on the Weiß Schwarz stage!

This set continues to feature even more of your favorite scenes from the mobile game!
Cards in this booster can be constructed together with cards of previously released
BanG Dream! Girls Band Party! Booster Pack (released in July 2018) and
BanG Dream! Girls Band Party! MULTI LIVE Booster Pack (released in May 2019)!

SIGN CARDS

Every pack you purchase has a chance to contain a Sign card!
◆ Voice Cast Sign card of ALL band members! (75 types)◆
◆ Character Sign cards of all members (50 types)◆

LOTS OF SHINY CARDS TO COLLECT!

This booster pack features 145 types of shiny cards!
Each booster pack has a chance to obtain a Voice Cast sign card or Character sign card!
There is also a chance to obtain a super lucky band-specific pack with Character sign cards hot stamped in gold or in the band's signature color!

WEISS SCHWARZ × BUDDYFIGHT × MOBILE GAME BANG DREAM! COLLABORATION PR PACK!!

Each display will include a special PR Pack with 1 Buddyfight PR card, 1 Weiss Schwarz Box Topper PR card and 1 Mobile Game PR card produced exclusively for this collaboration!

The cards in this Booster Pack may be used together with cards with card number beginning with 「BD/」!

Total 100 types of cards + 145 types (Parallel)
8 cards per pack
20 packs per display
16 displays per carton
◆Box toppers
1 of 5 exclusive PR cards in every display box!
◆Carton toppers
2 of 5 rainbow stamped PR cards AND 4 English Edition exclusive Rubber Playmats included in every carton!
▼Carton topper playmat design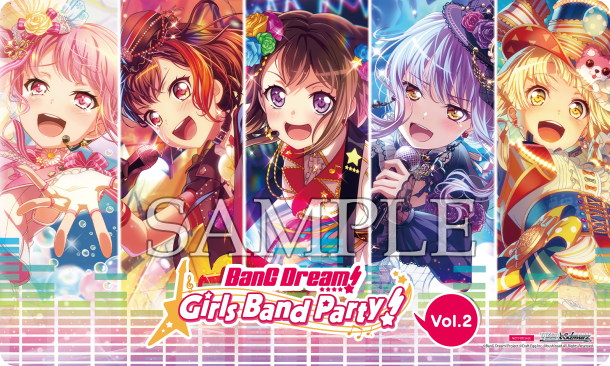 ※ First print run only.
※Image is for illustration purpose only. Product specifications are subjected to change.
Neo-Standard Product
※ Weiß Schwarz English Edition does not include gold/silver campaign coupon.