Extra Booster Poppin'Party×Roselia
NOW ON SALE
Release Date: January 21, 2022

Recreate the unforgettable joint-live stage of Poppin'Party and Roselia in Weiß Schwarz!

Poppin'Party delivers a heart-pounding beat: Kasumi Toyama, Tae Hanazono, Rimi Ushigome, Saya Yamabuki and Arisa Ichigaya!

Roselia graces the stage: Yukina Minato, Sayo Hikawa, Lisa Imai, Ako Udagawa and Rinko Shirokane!
Product Information
SIGNED CARDS
Every pack you purchase has a chance to include a hot stamped autographed card by the following band members:
◆ Aimi as Kasumi Toyama
◆ Sae Otsuka as Tae Hanazono
◆ Rimi Nishimoto as Rimi Ushigome
◆ Ayaka Ohashi as Saya Yamabuki
◆ Ayasa Ito as Arisa Ichigaya
◆ Aina Aiba as Yukina Minato
◆ Haruka Kudo as Sayo Hikawa
◆ Yuki Nakashima as Lisa Imai
◆ Megu Sakuragawa as Ako Udagawa
◆ Kanon Shizaki as Rinko Shirokane
50 types + 50 types (Parallel)
10 types (OFR) + 10 types (SP)
6 cards per pack, 6 packs per display
30 displays per carton
The cards in this Extra Booster may be used together with cards that have card numbers beginning with 「BD/」!

Featured cards from the extra booster!
Hot stamped autographed cards by the members of Poppin'Party! (SP)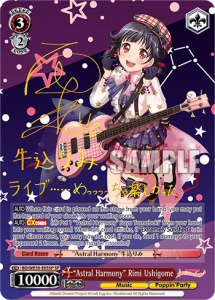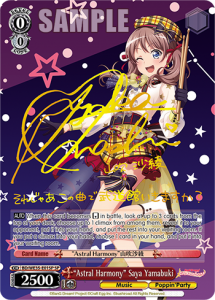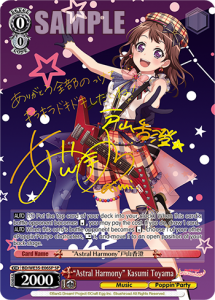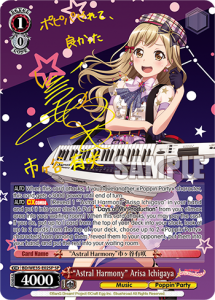 Hot stamped autographed cards by the members of Roselia! (SP)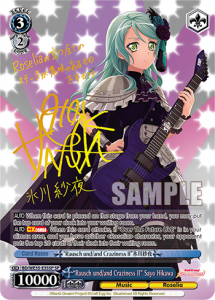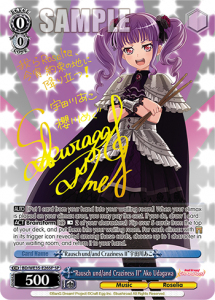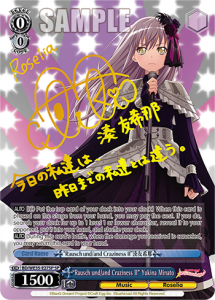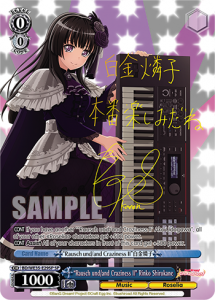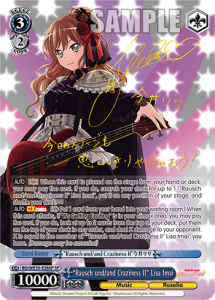 Neo-Standard Products
※ This product is intended for players aged 9 and above.
※ English edition cards cannot be used in official Japanese edition tournaments.
※ Weiß Schwarz (English Edition) does not include gold/silver campaign coupon.