Weiẞ Schwarz
Relive the climactic scene once more on your stage!
This is "Weiẞ Schwarz", the card game entertainment of the new generation!!
Collect the cards and have fun!
Weiẞ Schwarz have about 10,000 different cards available!
There are 3 main types of cards, namely the character cards, event cards and climax cards.
Enjoy this card game by collecting your favourite cards from your favourite anime now!
Character Cards
They form the base of the game, serving as your means of damaging the opponent and subsequently defeating them!
Event Cards
They act as an instant play card during the main phase which may give functions like retrievals or healing effects. Although these cards can only be used once, they are strong!
Climax Cards
The most distinctive feature of Weiß Schwarz!
They can act as means to boost your soul and power damage output during your climax phase upon play, increase soul output or resources advantage upon triggering during trigger phase and also serves as damage canceler during damage phase.
Play and enjoy Weiß Schwarz
The best part of Weiẞ Schwarz which features many popular titles is …
"Form and play your deck with just your favorite title!"
Even though there are many different titles, the rules are the same and you can simply enjoy the game just by playing your favorite title alone.
It is not necessary to mix it with other titles that you are unfamiliar with.
Once you remember the rules, you can challenge other titles with your favorite!
Now, It's Time to Fight!
If you have an interest in playing Weiß Schwarz, you can start by using a "trial deck" from a title you like!
In the "trial deck", we have everything that is needed to start the game!

Want to buy one of our latest products, but don't know where to find it? Check out our shop listing to find one near you!

Remember the rules with our Quick Manual!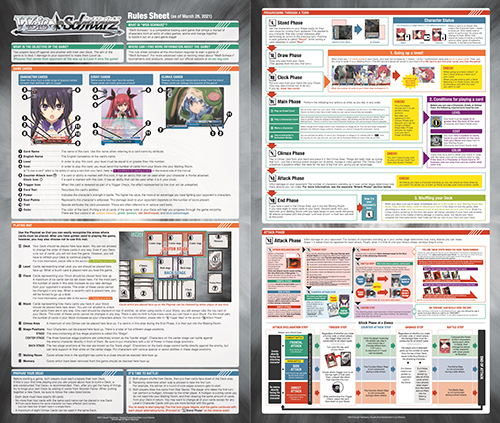 Size: 8 MB (PDF Format)
※ The above file is in PDF format.
| | |
| --- | --- |
| | You will require Adobe Reader to open the PDF file. If you do not have Adobe Reader installed, please click on the button on the left to download it. |
Tips on building your very own deck
"After playing a few times using the trial deck, it is probably time to try out new things!"
"I want to use a deck of my favorite character!"
"I want build a stronger deck and win the game!"

For these players, we strongly recommend you to build your own deck and we have the tips ready for you!
Click here for the tips now!
Have fun building your original deck and have fun playing
Weiß Schwarz!!