Introducing Weiẞ Schwarz!
This is "Weiẞ Schwarz", a character trading card game for the next generation!
There are over 10,000 different Weiẞ Schwarz cards available and these are split into three types of cards — characters, events and climaxes. Relive climactic scenes from your favorite anime, manga, or video game titles once more on your stage!
Character Cards
Fill your decks with your favorite characters and let them shine on stage! Character cards are essential as they serve as the primary source of damage against opponents.
Event Cards
Rewrite your story and turn the tides of battle with these instant-play cards! Event cards pack useful effects such as character retrievals, healing effects, or even burn damage.
Climax Cards
Relive climactic scenes and let the curtains fall on stage! Climax cards are a distinctive feature of Weiẞ Schwarz that help to increase your damage, gather resources, or even save you in a pinch.
Your very own Weiß Schwarz!
You can make your own decks out of your favorite titles!
Even though there are many different titles, the rules are the same for everyone! Enjoy the game with your favorite titles alone, or mix them up if you so choose. The world is your oyster!
Let's Weiß Schwarz!
You can learn the basics of the game in just six minutes!
Start your adventure with a trial deck from your favorite title! Trial decks contain everything you need to start the game and can be upgraded with additional booster packs!

Not sure where to find our products? Check out our shop listings to find a store near you!

Learn the rules in-depth with our Quick Manual!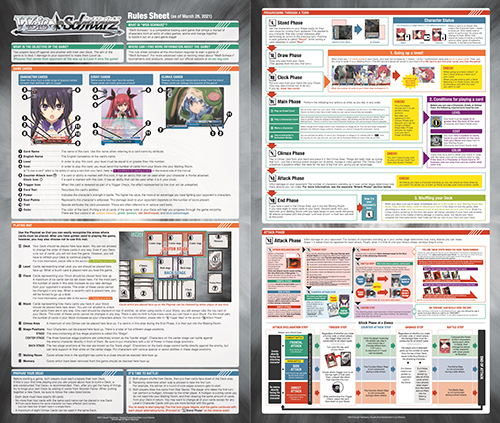 Size: 8 MB (PDF Format)
※ The above file is in PDF format.
| | |
| --- | --- |
| | You will require Adobe Acrobat to open the PDF file. If you do not have Adobe Acrobat installed, please click on the button on the left to download it. |
Deck-building tips!
Looking to try out new titles, make a character-centric deck, or simply upgrade your existing trial deck? Check out our iron rules of deck construction
here
!
Have fun building and playing Weiß Schwarz!