Booster Pack Date A Live Vol.2
NOW ON SALE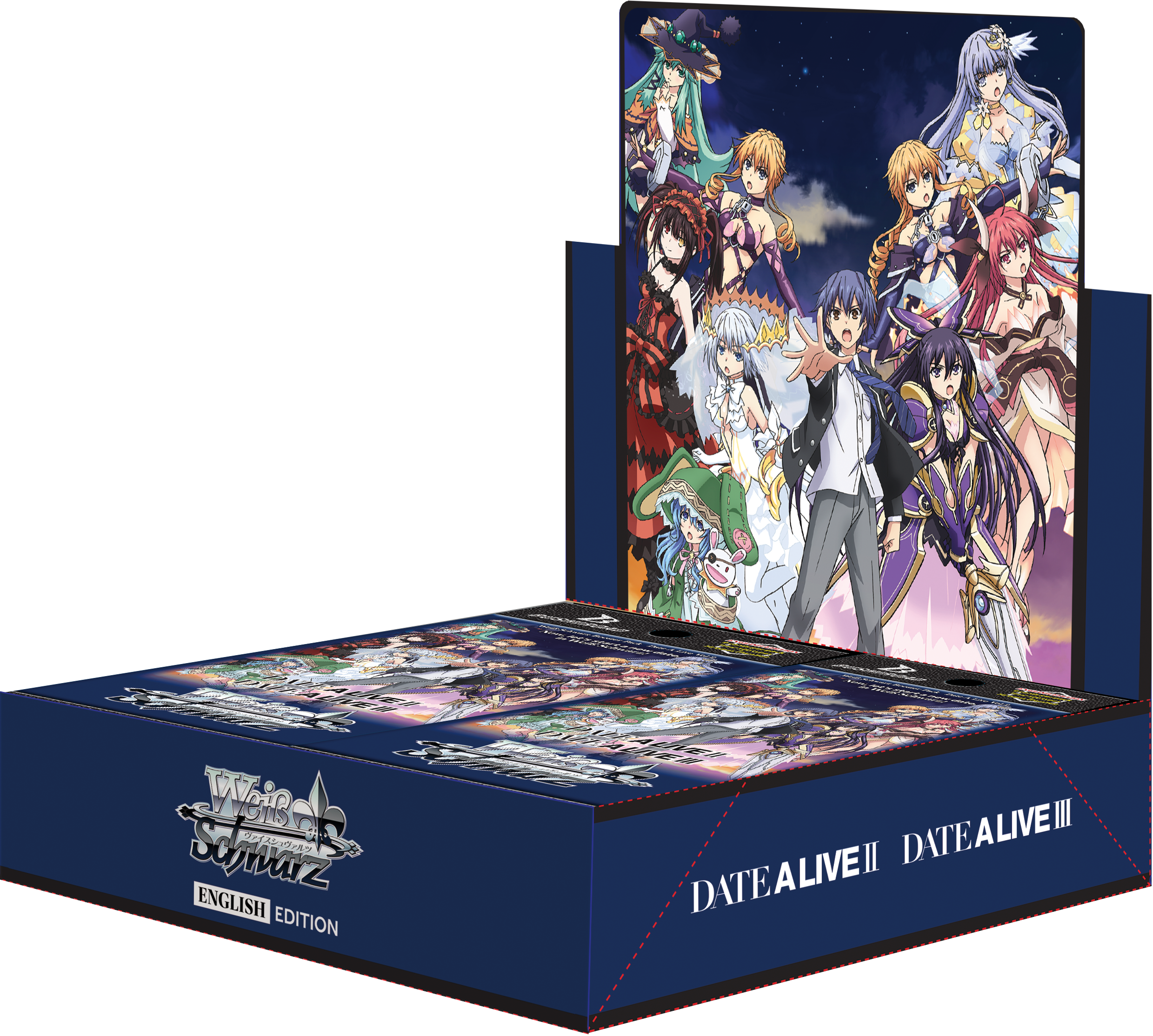 Release Date: March 24, 2023
Acting on behalf of Ratatoskr, Shido Itsuka and his fellow spirits continues their journey filled with difficult trials and new spirit encounters. As they get closer to their goal, the true origin of the spirits starts to become clear!

"Date A Live Vol.2" is now coming to Weiß Schwarz!
Product Information
SIGNED CARDS
Every pack you purchase has a chance to contain a signed card!
⚔ Marina Inoue as Tohka Yatogami
⚔ Misuzu Togashi as Origami Tobiichi
⚔ Ayana Taketatsu as Kotori Itsuka
⚔ Iori Nomizu as Yoshino
⚔ Asami Sanada as Kurumi Tokisaki
⚔ Maaya Uchida as Kaguya Yamai
⚔ Sarah Emi Bridcutt as Yuzuru Yamai
⚔ Minori Chihara as Miku Izayoi
⚔ Ayumi Mano as Natsumi
▶ Click to display rarity distribution!
100 types of cards + 38 types (Parallel)
| | |
| --- | --- |
| SP (Special) | 9 |
| RRR (Triple Rare) | 9 |
| SR (Super Rare) | 20 |
| RR (Double Rare) | 10 |
| R (Rare) | 22 |
| U (Uncommon) | 28 |
| C (Common) | 28 |
| CR (Climax Rare) | 4 |
| CC (Climax Common) | 8 |
9 cards per pack, 16 packs per display
18 displays per carton
1 of 5 exclusive PR cards in every display box!
1 exclusive rubber playmat in every carton!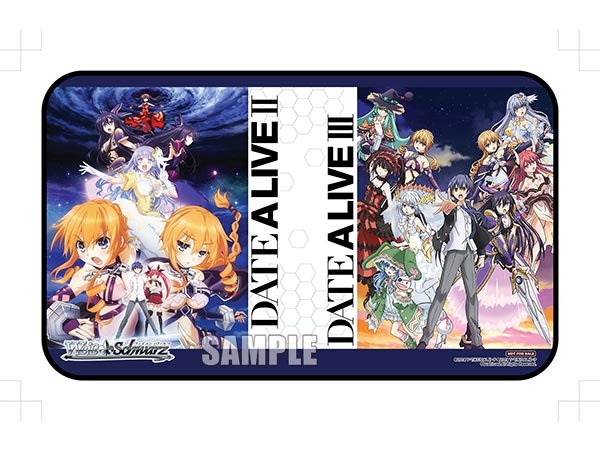 The cards in this Booster Pack may be used together with cards that have card numbers beginning with 「DAL/」 & 「Fdl/」!

Featured Cards
Hot stamped signed cards of your favourite spirits in Date A Live!
Tournament Store Assist PR Pack!
Each Date A Live Vol.2 Tournament Store Assist PR Pack will contain 1 of 5 types of special PR cards, and can be redeemed with any purchase of one display of the following product:
Weiß Schwarz English Edition Booster Pack Date A Live
Weiß Schwarz English Edition Booster Pack Date A Live Vol.2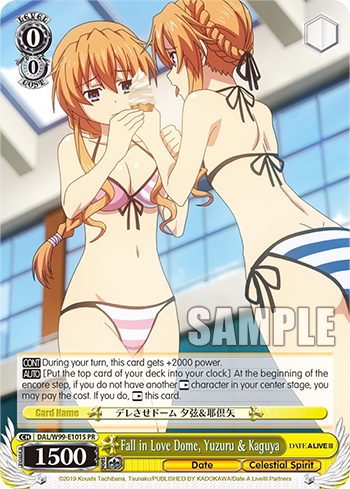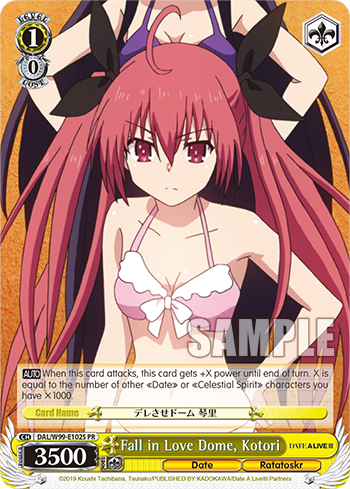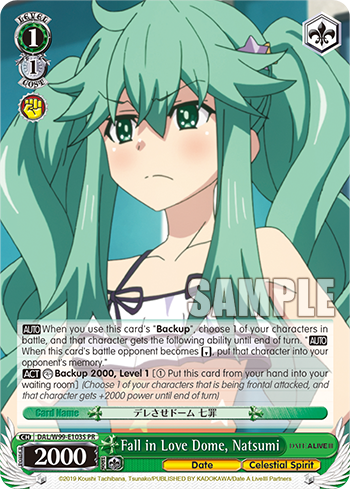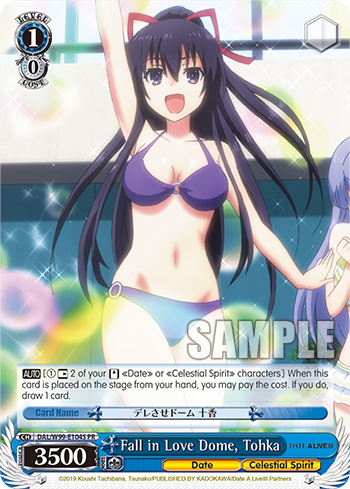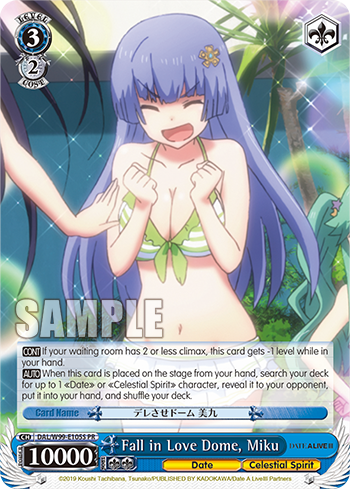 More information about the Tournament Store Assist PR Pack Campaign can be found here.
* Please note that all cards are still in development and may be changed.
* Limited to 5 packs per person. Subject to availability while stocks last.
Neo-Standard Product
※ This product is intended for players aged 13 and above.
※ Weiß Schwarz (English Edition) does not include gold/silver campaign coupon.
※ ONLY FOR SALE IN THE FOLLOWING TERRITORIES: Austria, Australia, Belgium, Bulgaria, Canada, Chile, Croatia, Denmark, Estonia, France, Finland, Germany, Greece, Hungary, Indonesia, Israel, Italy, Kuwait, Lithuania, Luxembourg, Malaysia, Malta, Mexico, Netherlands, New Zealand, Norway Czech Republic, Philippines, Poland, Portugal, Saudi Arabia, Singapore, Slovakia, Slovenia, Spain, Sweden, Switzerland, Taiwan, Thailand, United Kingdom, U.S.A.