Trial Deck+ Date A Live
NOW ON SALE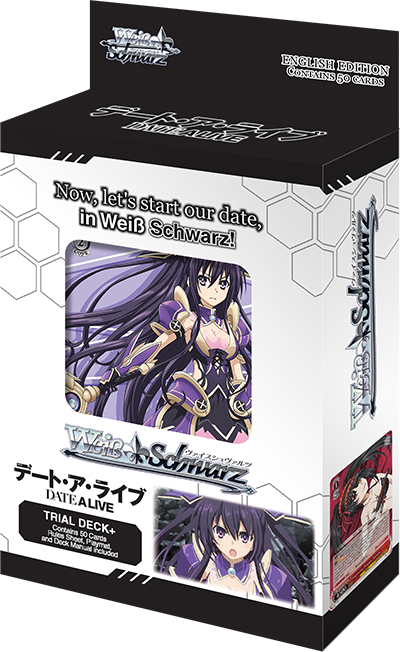 Release Date: March 26, 2021
■ Trial Deck+ Date A Live

This extremely popular anime joins the Weiß Schwarz lineup!

Join Shido Itsuka as he sets about on his quest to date the various Spirits in order to save both the Spirits and the human world!

Date A Live, now coming to Weiß Schwarz English Edition!

Product Information
SIGN CARDS
Every deck you purchase has a chance to contain a Sign card!
◆ Marina Inoue (as Tohka Yatogami) ◆
◆ Misuzu Togashi (as Origami Tobiichi) ◆
☆★☆★☆
PARALLEL CARDS
Parallel cards are randomly sealed into decks!
Every deck contains 2 shiny cards! In addition, every deck you purchase has a chance to contain one of the following!
◆ [RRR] Rare cards with special embossing (3 types) ◆
◆ [SP] Sign card of voice cast (2 types) ◆
☆★☆★☆
The cards in this Trial Deck+ may be used together with cards with card number beginning with 「DAL/」 and 「Fdl/」 from the previous release, "Fujimi Fantasia Bunko"!
20 types of cards + 7 parallels
50 Cards per Deck
6 Decks per Display
8 Displays per Carton
※Rules Sheet, Playmat, and Deck Manual included.
※The contents of each deck (excluding parallel cards) are exactly the same.
Neo-Standard Products
※ This product is intended for players aged 13 and above.
※ Weiß Schwarz (English Edition) does not include gold/silver campaign coupon.