Booster Pack Date A Live
NOW ON SALE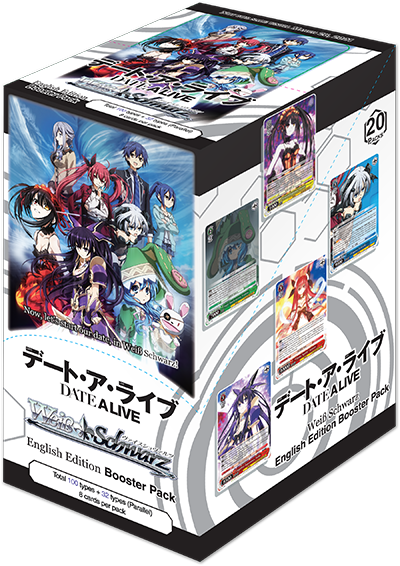 Release Date: March 26, 2021
■ Booster Pack Date A Live

※ 11/25/2020 – With regards to the cards in this release that were included in the recent updates to the restriction list for the Japanese Edition of the game, please be assured that the cards in question will not be omitted from or restricted upon the release of the English Edition.

Now, let's start our date, in Weiß Schwarz!

Product Information
☆SIGN CARDS☆
Every pack you purchase has a chance to contain a Sign card!
◆ Marina Inoue (as Tohka Yatogami) ◆
◆ Ayana Taketatsu (as Kotori Itsuka) ◆
◆ Misuzu Togashi (as Origami Tobiichi) ◆
◆ Iori Nomizu (as Yoshino) ◆
◆ Asami Sanada (as Kurumi Tokisaki) ◆
On top of that, there are 2 types of secret rarity cards (SEC) with Signs from the following cast!
◆ Marina Inoue (as Tohka Yatogami) ◆
◆ Asami Sanada (as Kurumi Tokisaki) ◆
To better cater the product for the international audience, the artwork for the following card has been changed.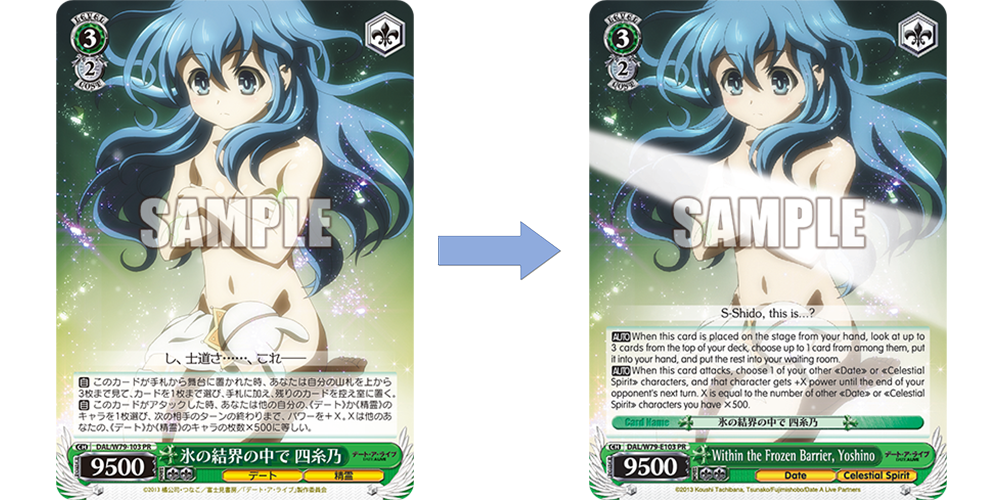 ☆★☆★☆
The cards in this Booster Pack may be used together with cards with card number beginning with 「DAL/」 and 「Fdl/」 from the previous release, "Fujimi Fantasia Bunko"!
Total 100 types of cards + 32 types (Parallel)
8 cards per pack
20 packs per display
16 displays per carton
◆ Box toppers
1 of 5 exclusive PR cards in every display box!
◆ Carton toppers
1 English Edition exclusive Stitched Playmat included in every carton!
▼ Carton topper playmat design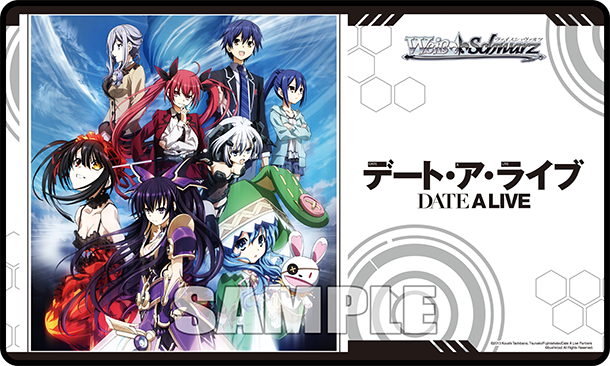 ※ First print run only.
※ Image is for illustration purpose only. Product specifications are subjected to change.
Neo-Standard Products
※ This product is intended for players aged 13 and above.
※ Weiß Schwarz (English Edition) does not include gold/silver campaign coupon.