Booster Pack The Seven Deadly Sins
NOW ON SALE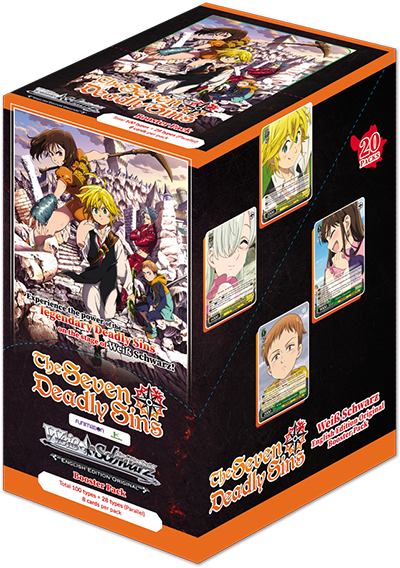 Release Date: August 6, 2021

■ Booster Pack The Seven Deadly Sins

※ONLY FOR SALE IN THE FOLLOWING REGIONS: United States, Canada, Brazil, Mexico, Colombia, Peru, Chile, Costa Rica, Germany, France, Italy, Spain, Sweden, Austria, United Kingdom, Taiwan, Philippines, Singapore, Indonesia and Australia.

A massively popular title that spawned an anime series adaptation ongoing since 2014!
"The Seven Deadly Sins" joins the Weiß Schwarz lineup!


The Booster Pack showcases the numerous characters in the story as more and more of the Deadly Sins cooperate with Elizabeth to take back control of the Kingdom in Season 1.

To supplement the Booster Pack, check out the Trial Deck+ that is available for this set!

Come along for the adventure with Weiß Schwarz!

Product Information
☆SIGN CARDS☆
Every pack you purchase has a chance to contain a hot stamped autographed card by the following members of the cast!
◆ Yuki Kaji as Meliodas ◆
◆ Sora Amamiya as Elizabeth ◆
◆ Aoi Yuki as Diane ◆
◆ Jun Fukuyama as King ◆
☆★☆★☆
The cards in this Booster Pack may be used together with cards with card number beginning with 「SDS/」!
Total 100 types of cards + 28 types (Parallel)
8 cards per pack
20 packs per display
16 displays per carton
◆ Box toppers
1 of 5 exclusive PR cards in every display box!
◆ Carton toppers
4 Rubber Playmats included in every carton!
▼ Carton topper playmat design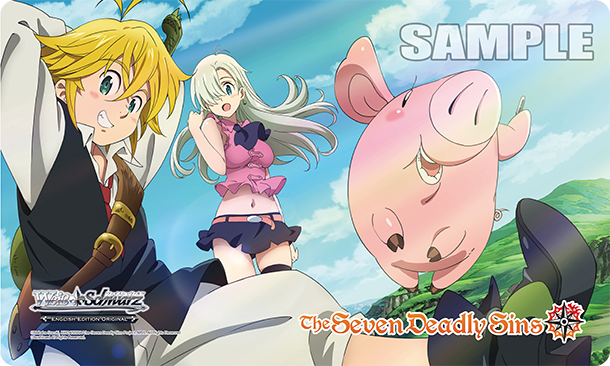 ※ First print run only.
※ Image is for illustration purpose only. Product specifications are subjected to change.
Neo-Standard Products
Booster Pack

The Seven Deadly Sins: Revival of The Commandments
View

Trial Deck+

The Seven Deadly Sins
View

Supply Set

The Seven Deadly Sins
View
※ This product is intended for players aged 9 and above.
※ Weiß Schwarz (English Edition) does not include gold/silver campaign coupon.
Check out the cards that can be found in this product!