Hey Meisters, pre-orders for our latest English Original title, The Seven Deadly Sins have started, with the Trial Deck+, Booster Pack and Supply Set slated to hit stores July 30th, 2021!
We'll be unveiling some cards right here on our website in the coming weeks, so keep a lookout for them if you don't want to miss out!
For the first set of card reveals, it's a climactic scene from the anime series!
Let's go on a journey to find the Seven Deadly Sins, and save the Kingdom of Liones!
Elizabeth: Druid Priestess rises to the challenge against other level 1 cards as she unlocks her Incredible Power. With the climax and another 《Britannia》 character, she stands at 7000 power, easily taking down most level 1 cards while retrieving a character in the process.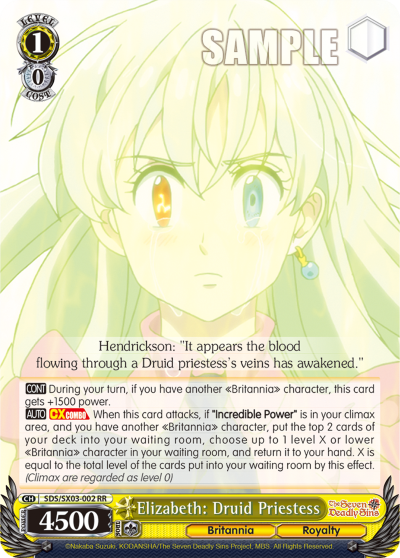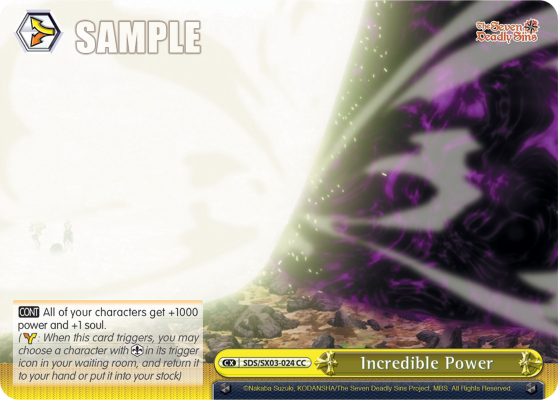 Besides encapsulating her latent ability to "recover" characters, putting two cards from the top of your deck to your waiting room depicts the final battle scene where her allies fell from Hendrickson's attack. It doubles as a flavorful re-telling of her perilous journey to find the Deadly Sins.
Not knowing who or what awaits her, depending on what cards you put from the top of your deck to your waiting room, you can search for answers to an opponent's trump card, or pieces for a powerful setup!
The Dragon Sin of Wrath Meliodas is the first of the Deadly Sins whom Elizabeth finds in her adventure. Meliodas: To the Rescue may seem small and unassuming with just 9000 power, but he is able to gain tremendous power when surrounded by his comrades, and most significantly when he is determined to protect Elizabeth.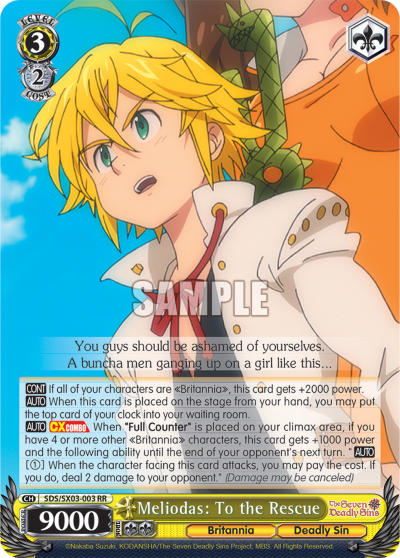 His promise to her is so strong that the mere presence of Elizabeth: Sacrificing Herself on the field gives him incredible power. With the climax, he is capable of reaching up to 16000 power easily, taking down even the strongest foes with ease.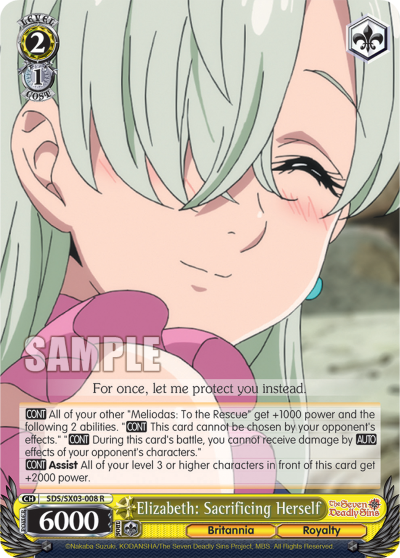 Meliodas can also punish his opponents just for attacking with his signature ability, Full Counter! In addition, he can easily maintain 14000 power on your opponent's turn with the right setup as well.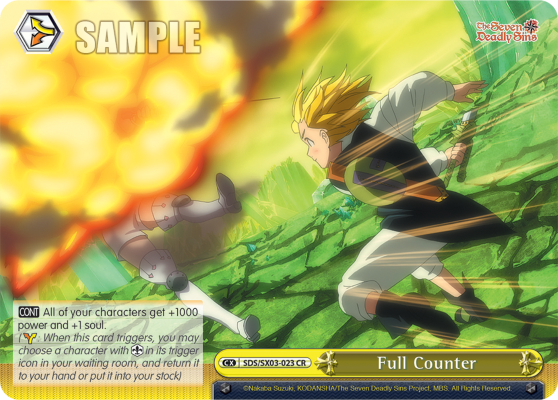 Elizabeth: Sacrificing Herself sits in the back row to support Meliodas: To the Rescue. It may look as though Meliodas is acting as a shield for Elizabeth, but don't be mistaken as she protects him at the same time as well! With her first ability, Meliodas: To the Rescue cannot be chosen by the effects of your opponent's characters, and cards that face him also cannot deal damage by their AUTO abilities.
With the perfect lineup of 3 Meliodas: To the Rescue on your center stage and 2 Elizabeth: Sacrificing Herself on the back stage, your field will become an immovable 15000 / 17000 / 15000 wall that (sort of) reflects damage!
A powerful and mutual relationship that protects each other in the most desperate hours in which nothing can get in their way!
All in all, the CHOICE Climax Combos featured in this article are not only strong in terms of utility, but when triggered, allow you to make a choice of what you want to do in any situation, just like our main characters.
☆★☆★☆
Stay tuned for more articles that not only touches on the strength, but also the flavor we have imbued into this wonderful set!
Check out the card reveals from April 22nd!
Check out the card reveals from April 15th!
Check out the card reveals from April 8th!
Meanwhile, pre-orders for The Seven Deadly Sins are now on till 30th April 2021, approach your FLGS to place yours today!
Note: Products are still under development and may be subject to change.