Trial Deck+ The Seven Deadly Sins
NOW ON SALE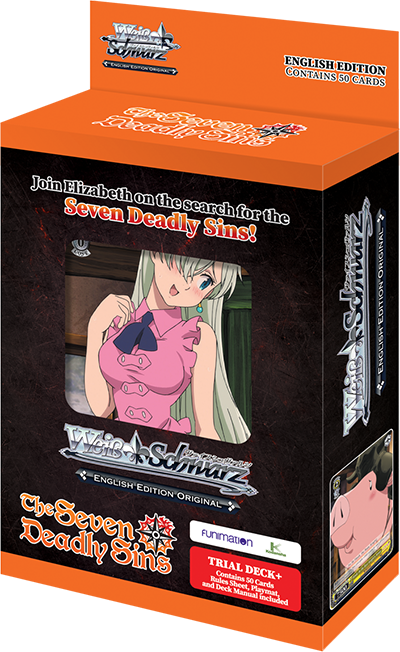 Release Date: August 6, 2021

■ Trial Deck+ The Seven Deadly Sins

※ONLY FOR SALE IN THE FOLLOWING REGIONS: United States, Canada, Brazil, Mexico, Colombia, Peru, Chile, Costa Rica, Germany, France, Italy, Spain, Sweden, Austria, United Kingdom, Taiwan, Philippines, Singapore, Indonesia and Australia.

A massively popular title that spawned an anime series adaptation ongoing since 2014!
"The Seven Deadly Sins" joins the Weiß Schwarz lineup!


The Trial Deck+ contains the characters that appear early on in the series – Meliodas, Elizabeth, Hawk, Diane and Gilthunder!

To upgrade your Trial Deck+, check out the Booster Pack that is available for this set!

Come along for the adventure with Weiß Schwarz!

Product Information
☆SIGN CARDS☆
Every deck you purchase has a chance to contain a hot stamped autographed card by the following member of the cast!
◆ Sora Amamiya (as Elizabeth) ◆
☆★☆★☆
☆PARALLEL CARDS☆
Parallel cards are randomly sealed into decks!
Every deck contains 2 shiny cards!
In addition, every deck you purchase has a chance to contain one of the following!
◆ [RRR] Rare cards with special embossing (3 types) ◆
◆ [SP] Sign card of voice cast (1 type) ◆
☆★☆★☆
The cards in this Trial Deck+ may be used together with cards with card number beginning with 「SDS/」!
20 types of cards + 6 parallels
50 Cards per Deck
6 Decks per Display
8 Displays per Carton
※Rules Sheet, Playmat, and Deck Manual included
※The contents of each deck (excluding parallel cards) are exactly the same.
Neo-Standard Products
Booster Pack

The Seven Deadly Sins: Revival of The Commandments
View

Booster Pack

The Seven Deadly Sins
View

Supply Set

The Seven Deadly Sins
View
※ This product is intended for players aged 9 and above.
※ Weiß Schwarz (English Edition) does not include gold/silver campaign coupon.
Check out the cards that will come in this product!
Read more about our previous card reveals below!
【Bushiroad E-Newsletter, Apr Issue 2021】 The Deadly Seven Sins Hits Stores this July 30th 2021!