BanG Dream! Girls Band Party! Cheering★Collection
NOW ON SALE
Release Date: November 24, 2022

Join the girls as they don new outfits to celebrate the release of BanG Dream! Girls Band Party! Cheering★Collection in Weiß Schwarz!

An exclusive product that comes with new cheering illustrations featuring the seven vocalist members from each band; Poppin'Party, Afterglow, Pastel✽Palettes, Roselia, Hello, Happy World!, Morfonica, and RAISE A SUILEN!
Product Information
SIGNED CARDS
Every album you purchase will contain the signed and holographic card of each vocalist from the seven bands!
🎵 Kasumi Toyama from Poppin'Party
🎵 Ran Mitake from Afterglow
🎵 Aya Maruyama from Pastel✽Palettes
🎵 Yukina Minato from Roselia
🎵 Kokoro Tsurumaki from Hello, Happy World!
🎵 Mashiro Kurata from Morfonica
🎵 LAYER from RAISE A SUILEN
7 cards per album
The cards in this album may be used together with cards that have card numbers beginning with 「BD/」!

Featured Cards
Hot stamped signed cards for each vocalist!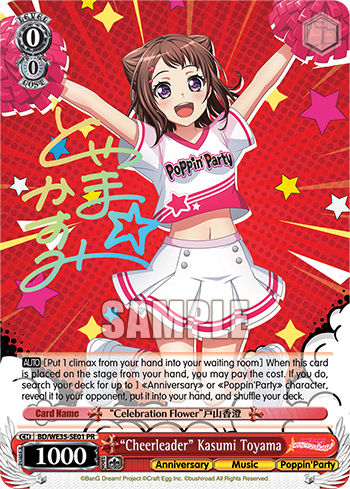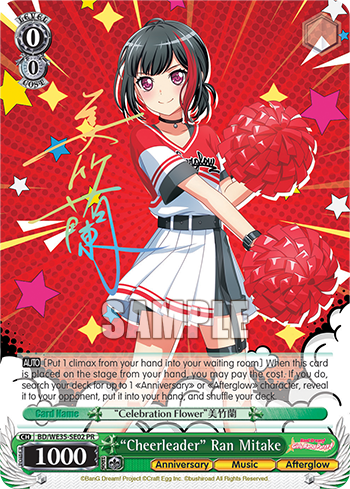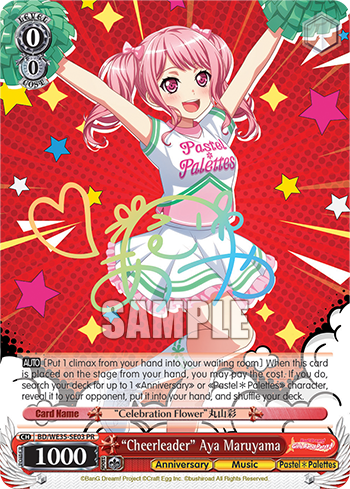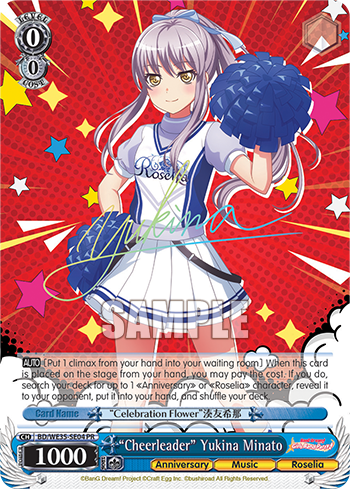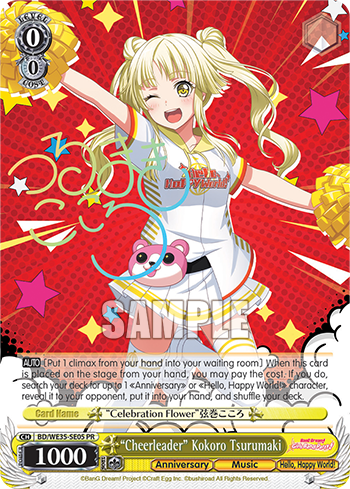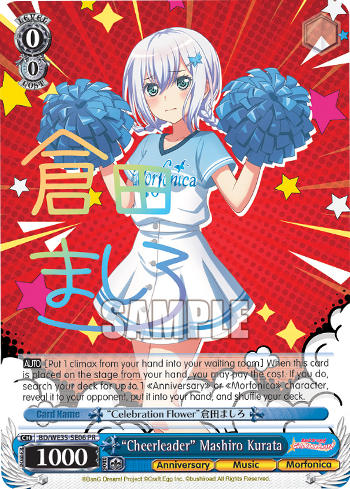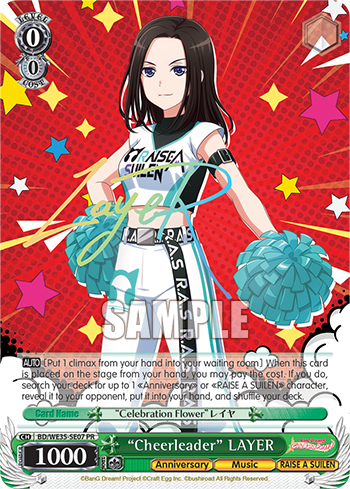 Neo-Standard Products
※ The contents of each album are exactly the same.
※ Weiß Schwarz (English Edition) does not include gold/silver campaign coupon.
※ This product is intended for players aged 13 and above.
※ ONLY FOR SALE FOR THE FOLLOWING TERRITORIES: U.S.A., Canada, Mexico, Chile, United Kingdom, France, Germany, Italy, Greece, Spain, Portugal, Netherlands, Austria, Belgium, Denmark, Sweden, Bulgaria, Switzerland, Hungary, Finland, Slovakia, Poland, Lithuania, Luxembourg, Norway, Czech Republic, Slovenia, Malta, Croatia, Estonia, Israel, Saudi Arabia, Kuwait, Taiwan, Singapore, Malaysia, Indonesia, Philippines, Australia, New Zealand.