Trial Deck+, Booster Pack & Supply Set products for English Original title Adventure Time is set to hit your LGS's shelves on November 20th, 2020! Have you preordered yours yet?
If you haven't, perhaps the next few reveals will help you make up your mind!
Who Gets To Be the Cool Guy
Finn and Jake embark on many exciting adventures, but being the fun-loving dudes that they are, they sometimes settle for playing games in their tree house instead! Apart from playing with games on BMO's system, they sometimes crank out some other games to play – such as the Card Wars card game!
Jake gets a little hypercompetitive when Card Wars is involved (we all know a guy like this, don't we?) and abandons his usual good-natured ribbings and jokes for some serious trash talk and condescension.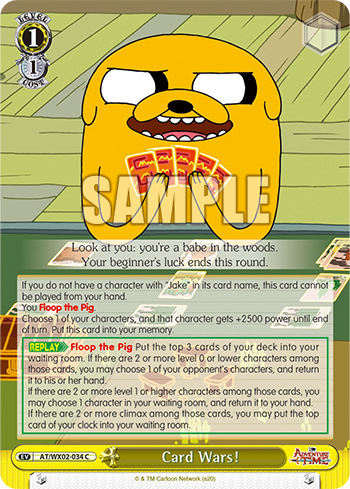 That's a lot of card text.
Learning the Ropes
Let's break it down bit by bit. For starters, as you can imagine, you can only play Card Wars! if you have a character with "Jake" in its card name on the field. You also get to pump a character with 2500 power, and the card goes to the memory… and you get to floop the pig. Fans of the series will be familiar with this phrase, but "flooping" is basically resting a card to activate its ability! Since this is an event card, though, there is no resting of cards involved. Instead, you get to perform a Brainstorm-like ability!
Depending on which combination you hit, you will get to perform a different action, each with its own unique advantage.
In the first, you get to bounce any opponent character back to their hand! Needless to say, this is a pretty decent effect, since it isn't restricted by level or position, and can mess up Standby plays, remove a power wall, or get rid of a pesky back row support.
In the second, you get to retrieve any character from your waiting room! It is not restricted by trait, level, or color, so you get the perfect set-up for sure.
In the last, you get to heal 1 damage! Arguably, the relevance of this gets better the later in the game you get to do this, but healing damage at level 1 can also help you maintain an early life advantage.
The only permutation where you don't get anything extra is… if you hit a level 0 character, a level 1 or higher card, and a climax when you floop the pig. You still get the 2500 power, though!
While the variance for this event seems high, the idea is to try and ensure that you can benefit from any of the abilities should you get it. This also means you need to be very familiar with your deck, and be able to roughly remember what cards are in your stock, in order to know the probabilities left in the deck. Combined with deck manipulation tools like deck search and top-deck checking, there is a very high chance you can set up for something you would need if your deck gets small enough, and in a game like WS where we run through the deck fairly quickly, it's not impossible for something like that to happen for sure!
Thanks for tuning in again this week guys! Stay tuned for more reveals next week! We have something really awesome lined up for the last week of special previews, so mark your calendars!
Check out the reveal from July 21st!
Check out the reveal from July 28th!
Check out the reveal from August 4th!
Check out the reveal from August 15th!