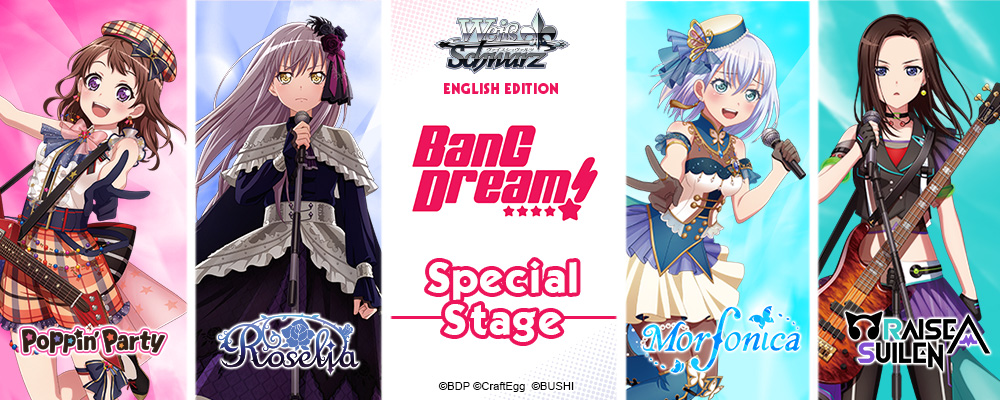 Experience a brand new world this January with the all-girl violin rock band Morfonica making their debut on the stage of Weiß Schwarz as a Trial Deck+! Extra Boosters featuring special collaborations between Morfonica and RAISE A SUILEN, as well as Poppin'Party and Roselia will be making an appearance as well!
Recreate their unforgettable joint-live stages with these cards today!
Poppin'Party×Morfonica Friendship LIVE "Astral Harmony"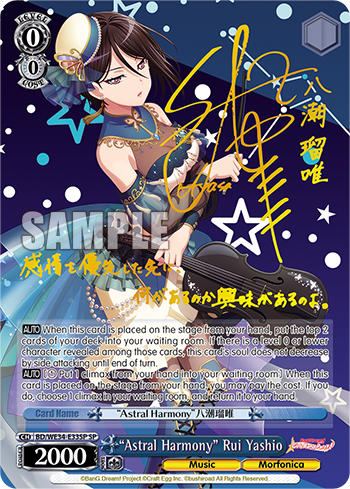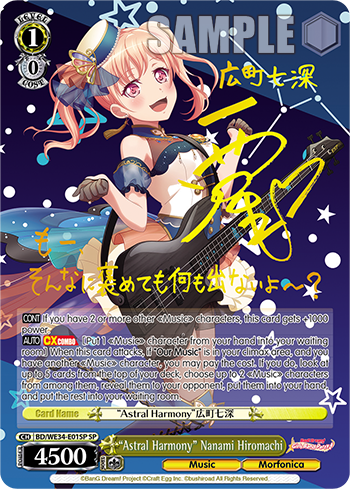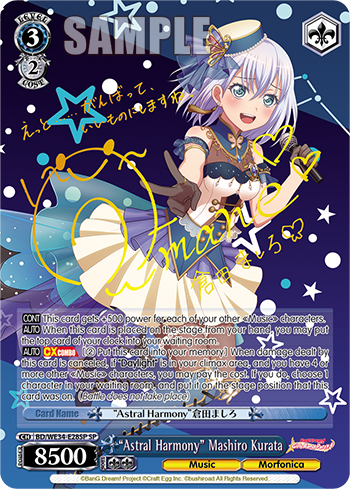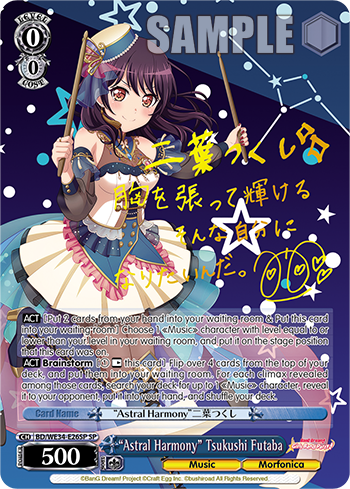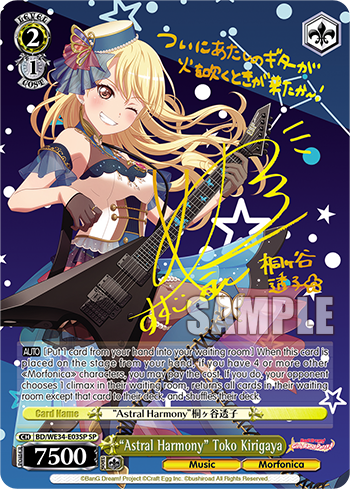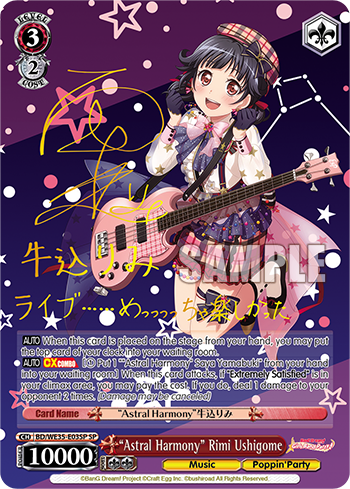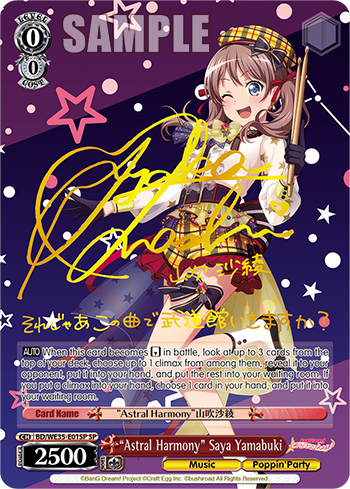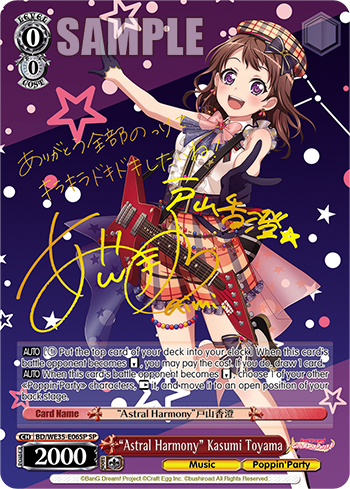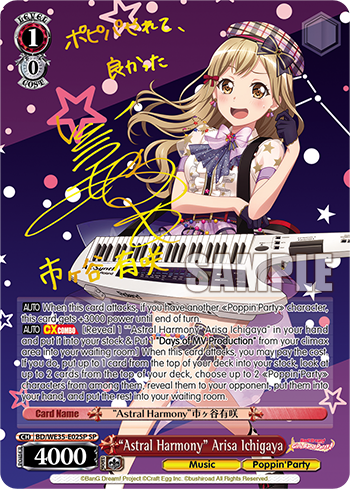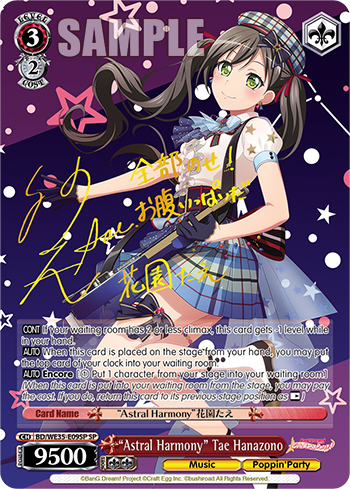 Meet the girls from Morfonica and Poppin'Party who are bringing their cheerful, fun-loving energy to the stage of Weiß Schwarz! Check out their exciting climax combos!
The imaginative lead vocalist Mashiro Kurata provides a second chance at closing out the game!
When the Daylight climax combo is active and damage from your first attack is cancelled, you'll get a second chance to swing for victory by swapping her out with another character in your waiting room!
The genius bassist Nanami Hiromachi bridges the harmonies!
Keep the momentum going with the Our Music climax combo that ensures you'll have characters to play in the following turn!
The shy bassist Rimi Ushigome makes an extremely satisfying game closer!
Close out the game by pinging your opponent for one damage twice with the Extremely Satisfied climax combo! Pinging in small amounts reduces the chance of unfortunate damage cancels!
The introverted keyboardist Arisa Ichigaya is no slouch!
Supercharge your resources with the Days of MV Production climax combo that simultaneously replenishes your stock and refills your hand!
Roselia×RAISE A SUILEN Joint Live "Rausch und/and Craziness"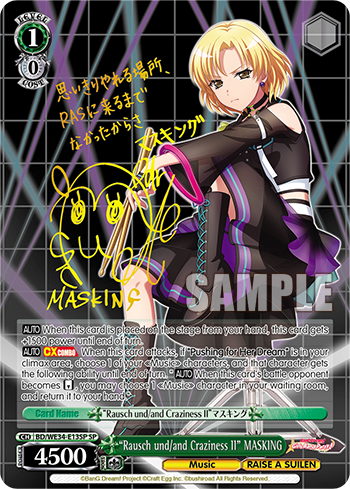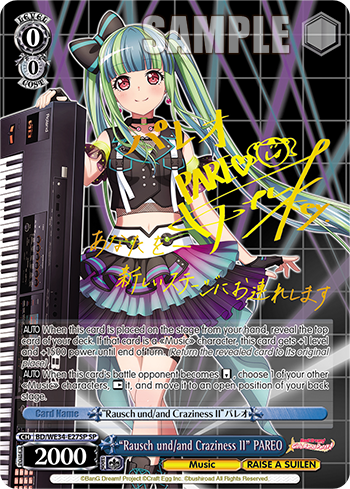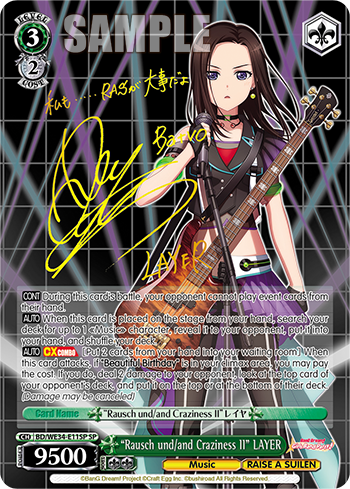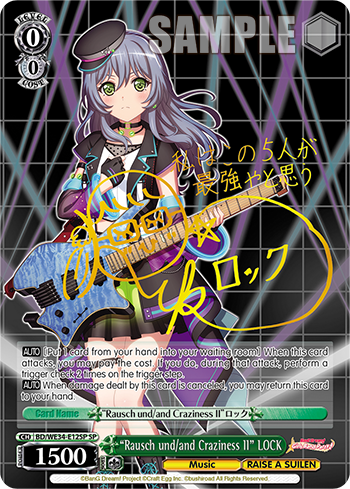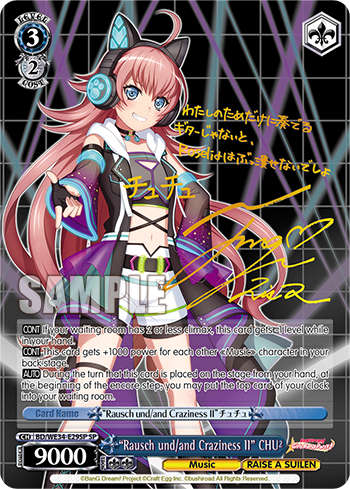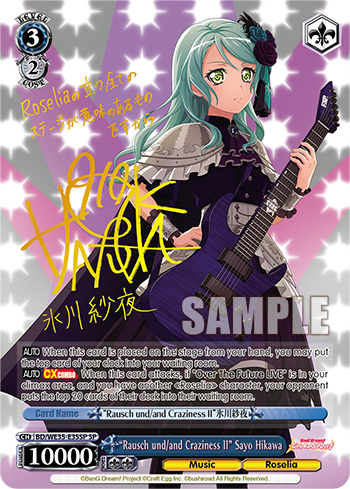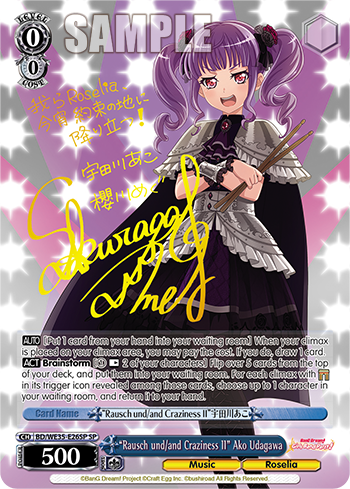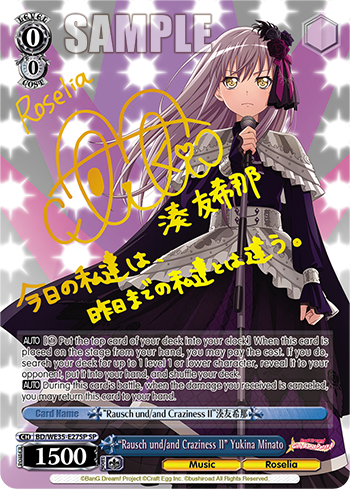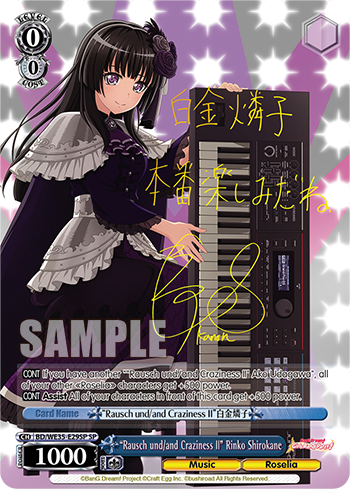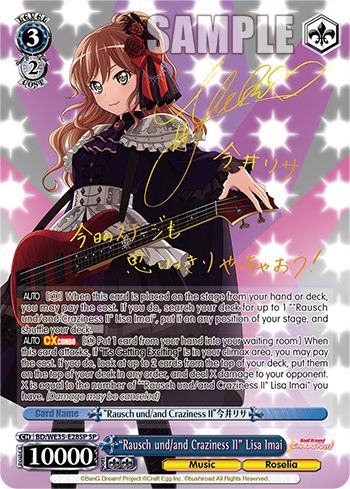 Meet the highly-talented girls from Roselia and RAISE A SUILEN who are bringing a new level of intensity to the stage of Weiß Schwarz! Check out these exciting climax combos!
The lively bassist Lisa Imai is preparing for an exciting finish!
There's strength in numbers with the It's Getting Exciting climax combo that deals more damage for each other copy of herself in play! It's a good thing her first ability lets you search out one copy of herself which guarantees you'll be able to ping for at least two damage!
The icy guitarist Sayo Hikawa isn't joking around!
Have your opponent suffer unavoidable refresh damage with the Over The Future LIVE climax combo that severely thins out their deck!
The distant leader and bassist LAYER is full of utility!
Her effect allows you to refill your hand, giving you the resources necessary to activate the Beautiful Birthday climax combo that pings your opponent for two damage and manipulates their climax cancels!
The enthusiastic drummer MASKING empowers her team!
Retrieve your characters from the waiting room with the Pushing for Her Dream climax combo and keep the pressure on!