Power Up Sets 2023
03/10/2023(Fri) ON SALE
Release Date: March 10, 2023

Introducing the Power Up Sets 2023 featuring three unique Power Up Sets that feature cards and supplies to bring your game and collection to the next level!

Each Power Up Set provides you with:

♠ 32x SET-EXCLUSIVE CARDS

8 types x 4 pieces = 32 pieces
1 of 4 pieces will be foiled!

♠ 16x PR CARDS

4 types x 4 pieces = 16 pieces

♠ 1x CARD TOP LOADER

Size: 100 x 77mm
Made specifically to display Weiẞ Schwarz cards

♠ 1x DECK CASE

Size: 98 x 75 x 65mm
Holds up to 75x Double-Sleeved Cards or 65x Triple-Sleeved Cards

♠ 1x STORAGE BOX

Size: 78 x 168 x 106mm
Holds up to 2x Deck Cases

♠ 48 cards + 1 deck case + 1 card top loader + 1 deck box + 1 storage box per set
♠ 16 sets per carton

The cards in this Booster Pack may be used together with cards that have card numbers beginning with 「KLK/」, 「SY/」 & 「LH/」 respectively!

KILL la KILL

The Life Fibers are back to dominate the world, and it is up to Ryuko and friends to put an end to their reign once and for all!

It's time to make an explosive appearance with the

KILL la KILL

Power Up Set!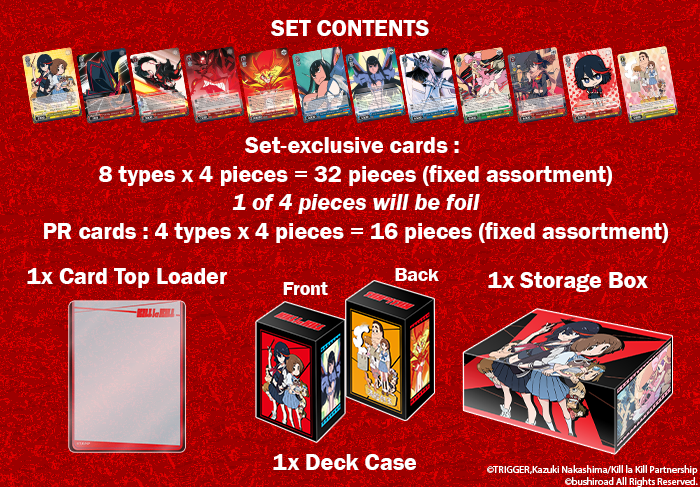 Featured Cards
The Melancholy Of Haruhi Suzumiya

The nostalgic rag tag group of supernatural beings and a single human makes a reappearance in the upcoming

The Melancholy Of Haruhi Suzumiya

Power Up Set!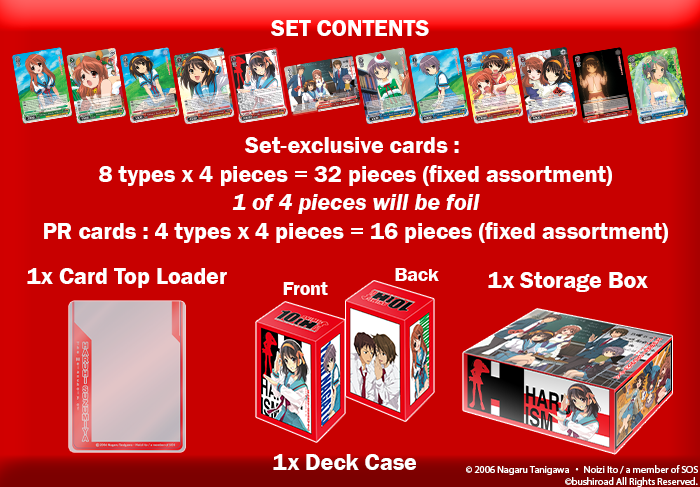 Featured Cards
LOG HORIZON

Continue your journey through the mysterious world of Elder Tale in the upcoming

LOG HORIZON

Power Up Set!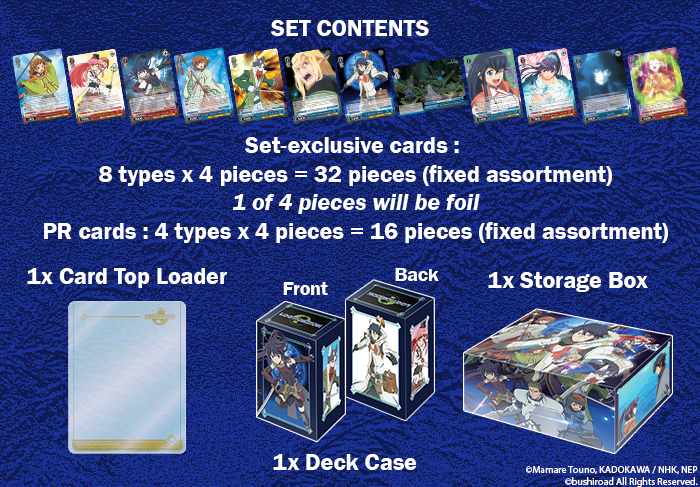 Featured Cards

Neo-Standard Products
※ The contents of each sets (excluding foiled cards) are exactly the same.
※ Weiß Schwarz (English Edition) does not include gold/silver campaign coupon.
※ This product is intended for players aged 13 and above.
※ Specifications may be subject to change. Actual product may vary from the images shown.
※ ONLY FOR SALE FOR THE FOLLOWING TERRITORIES: USA, Canada, Mexico, Chile, Taiwan, Singapore, Malaysia, Indonesia, Philippines, Australia, New Zealand, UK, France, Germany, Italy, Greece, Spain, Portugal, Netherlands, Austria, Belgium, Denmark, Sweden, Bulgaria, Switzerland, Hungary, Finland, Slovakia, Poland, Lithuania, Luxembourg, Norway, Czech Republic, Slovenia, Malta, Croatia, Estonia, Israel, Saudi Arabia, Kuwait