Trial Deck The Melancholy of Haruhi Suzumiya
NOW ON SALE
Release Date: January 22, 2016
■ Trial Deck The Melancholy of Haruhi Suzumiya

Haruhi Suzumiya, is a high school girl whose goals are to find aliens, time travelers, espers and have fun!

To fulfill this goal, she sets up her own club, the "SOS Brigade"!

The activities of "SOS Brigade" continues in the English Version of Weiβ Schwarz!

Product Information
– Pre-constructed Trial Deck *

*Same content for each deck.*
– 50 cards per deck
– 6 decks per display
– 8 displays per carton
– Rule sheet, deck manual, playbook, and playmat included.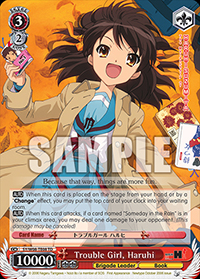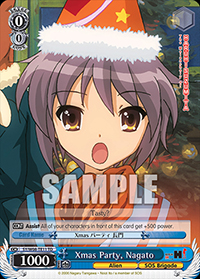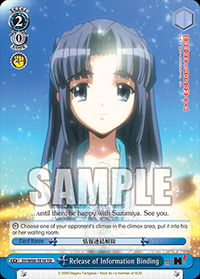 Neo-Standard Products
Extra Booster

The Melancholy of Haruhi Suzumiya

Booster Pack

The Melancholy of Haruhi Suzumiya
※ English edition cards cannot be used in official Japanese edition tournaments.
※ Weiß Schwarz English Edition does not include gold/silver campaign coupon.