Booster Pack Sword Art Online The Movie – Ordinal Scale –
NOW ON SALE
Release Date: December 22, 2017
■ Booster Pack Sword Art Online The Movie – Ordinal Scale –

It's just a game…
Or so I thought―

A brand new Booster Pack with cards based on the mega hit animated feature that sold 19 million copies worldwide!!!!

Cards in this Booster Pack can be used in Neo-Standard decks together with any cards with "SAO/" in its card number, including cards from Sword Art Online Re:Edit released in April 2017!!

Product Information
Featuring 3 pieces of original Weiss Schwarz artwork drawn by the animation studio!
SP Gold Foil/Hot Stamp signed cards from the various
Japanese voice cast are randomly inserted in packs!!
Kirito : Yoshitsugu Matsuoka
Asuna : Haruka Tomatsu
Yui : Kanae Ito
Leafa : Ayana Taketatsu
Silica : Rina Hidaka
Lisbeth : Ayahi Takagaki
Sinon : Miyuki Sawashiro
Yuna : Sayaka Kanda
-100 types of cards + 22 Parallel
-8 cards per pack
-20 packs per display
-16 displays per carton
◆Box toppers & Carton topper
4 exclusive playmats will be included in every carton!!
Also, each display will contain 1 of the 4 PR cards!!
▼Carton topper playmat design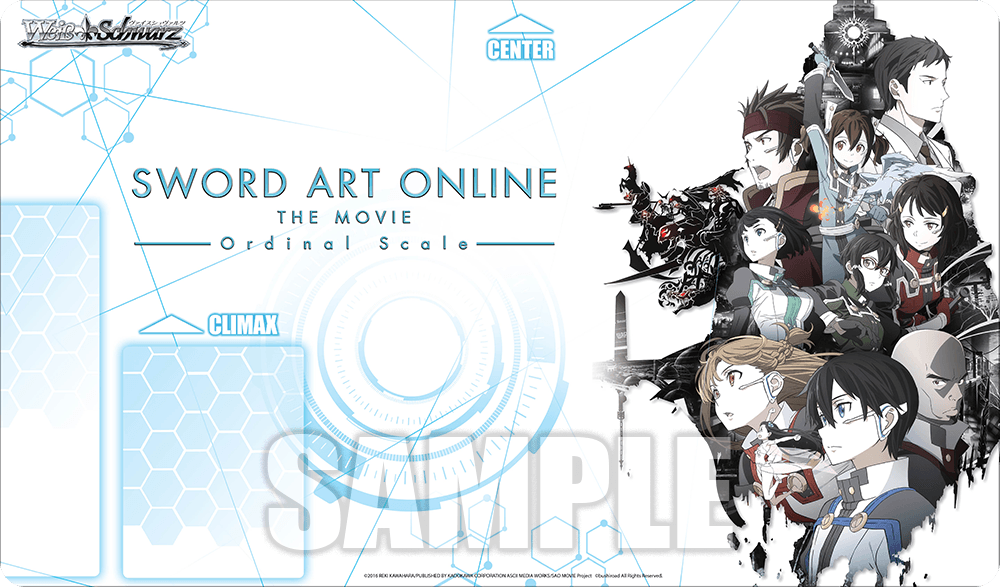 ※ First print run only.
※Image is for illustration purpose only. Product specifications are subjected to change.
▼Blu-ray/DVD set + Exclusive PR card!


Neo-Standard Products
※ English edition cards cannot be used in official Japanese edition tournaments.
※ Weiß Schwarz English Edition does not include gold/silver campaign coupon.