Booster Pack Sword Art Online -Alicization-
NOW ON SALE
Release Date: February 28, 2020
■ Booster Pack Sword Art Online -Alicization-

The original light novel sold over 22 million copies worldwide.
The wildly-popular anime series returns again to Weiß Schwarz with its third season!

The fascinating characters and key scenes of the virtual world "Underworld" are contained in this Booster Pack!

☆★☆★☆

★SIGN CARDS★

Every deck has a chance to contain a sign card by the voice cast!

◆ Yoshitsugu Matsuoka (as Kirito) ◆
◆ Nobunaga Shimazaki (as Eugeo) ◆
◆ Ai Kayano (as Alice Zuberg and Alice Synthesis Thirty) ◆
◆ Haruka Tomatsu (as Asuna Yuuki) ◆

☆★☆★☆

The cards in this Booster Pack may be used together with cards which have their card number beginning with 「SAO/」!

Total 100 types of cards + 31 types (Parallel)
8 cards per pack
20 packs per display
16 displays per carton
◆ Box toppers
1 of 6 exclusive PR cards in every display box!
◆ Carton toppers
4 English Edition exclusive Rubber Playmats included in every carton!
▼ Carton topper playmat design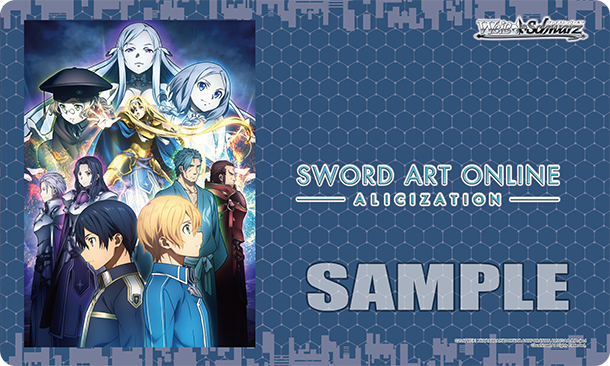 ※ First print run only.
※ Image is for illustration purpose only. Product specifications are subjected to change.
Blu-ray set + Exclusive PR card!


※Please note that the English edition version of "Memories That Shouldn't Exist, Alice" is different from the Japanese edition of the card "あるはずのない記憶" アリス.
Neo-Standard Products
※ English edition cards cannot be used in official Japanese edition tournaments.
※Weiß Schwarz (English Edition) does not include gold/silver campaign coupons.