Booster Pack Miss Kobayashi's Dragon Maid
NOW ON SALE
Release Date: November 18, 2022

Meet Kobayashi, your average office worker who lives a boring life until she saves the life of a female dragon and they began to live together. Tohru the dragon will do anything to pay off her debt of gratitude, whether Kobayashi likes it or not.

The well-received manga now has 12 volumes and is ongoing!

"Miss Kobayashi's Dragon Maid", now coming to Weiß Schwarz!
Product Information
SIGNED CARDS
Every pack you purchase has a chance to contain a hot stamped autographed card by the author of the manga series, Coolkyousinnjya!
▶ Click to display rarity distribution!
100 types of cards + 61 types (Parallel)
| | |
| --- | --- |
| SSP (Super Special) | 3 |
| OFR (Over-Frame Rare) | 8 |
| MDR (Maid Dragon Rare) | 50 |
| RR (Double Rare) | 10 |
| R (Rare) | 22 |
| U (Uncommon) | 28 |
| C (Common) | 28 |
| CR (Climax Rare) | 4 |
| CC (Climax Common) | 8 |
9 cards per pack, 16 packs per display
18 displays per carton
1 of 4 exclusive PR cards in every display box!
1 English Edition exclusive stitched playmat in every carton!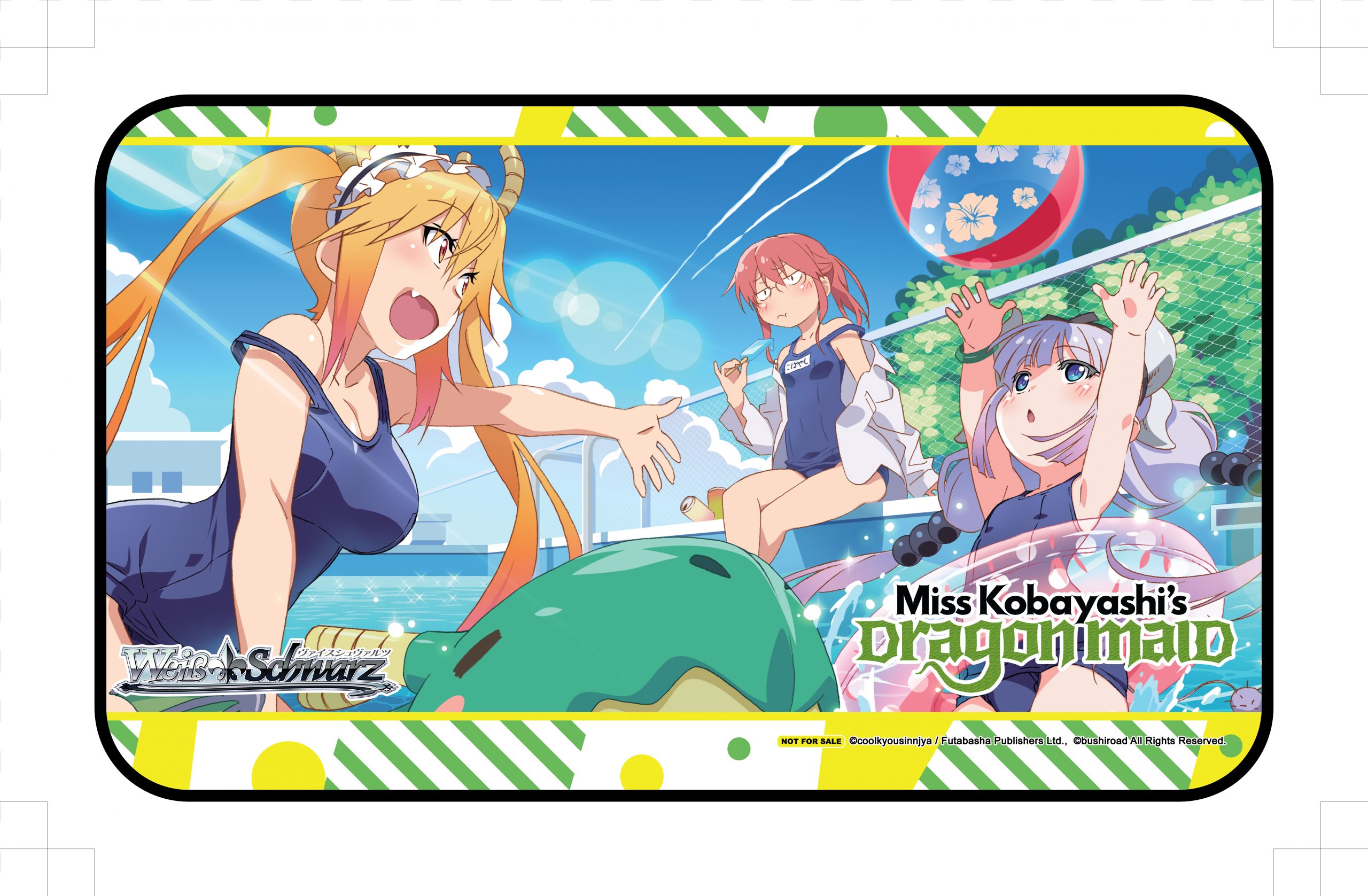 The cards in this Booster Pack may be used together with cards that have card numbers beginning with 「KMD/」!

Featured Cards
Hot stamped author sign cards for Miss Kobayashi, Tohru and Kanna! (SSP)
Special Maid Dragon Rare cards unique to this set! (MDR)
Tournament Store Assist PR Pack!
Each Miss Kobayashi's Dragon Maid Tournament Store Assist PR Pack will contain 1 of 4 special foil PR cards, and can be redeemed with any purchase of any 1 display of the following product:
Weiß Schwarz English Edition Booster Pack Miss Kobayashi's Dragon Maid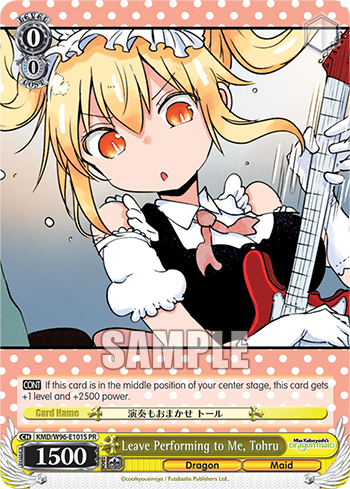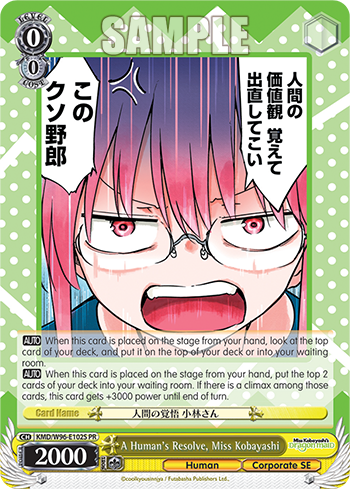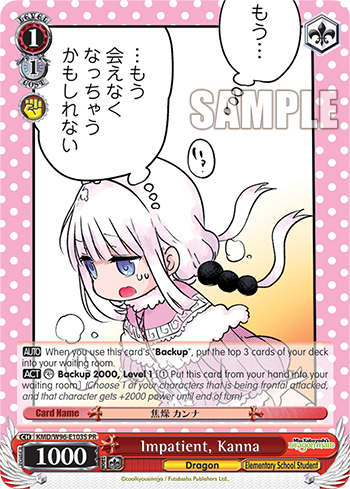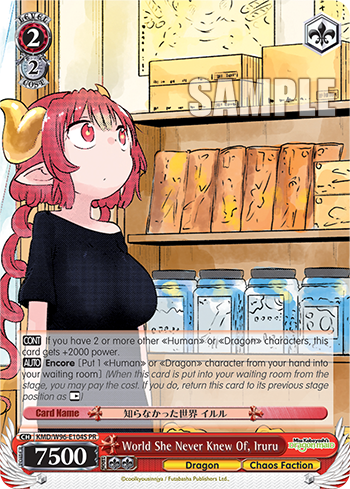 More information about the Tournament Store Assist PR Pack Campaign can be found here.

* Please note that all cards are still in development and may be changed.
* Limited to 5 packs per person. Subject to availability while stocks last.
Neo-Standard Products
Trial Deck+

Miss Kobayashi's Dragon Maid
※ Rules Sheet, Playmat, and Deck Manual included
※ The contents of each deck (excluding parallel cards) are exactly the same.
※ Weiß Schwarz (English Edition) does not include gold/silver campaign coupon.
※ This product is intended for players aged 13 and above.
※ ONLY FOR SALE FOR THE FOLLOWING TERRITORIES: Philippines, Singapore, Malaysia, Indonesia, Taiwan, Australia, New Zealand, Germany, United Kingdom, France, Italy, Greece, Portugal, Belgium, Denmark, Netherlands, Spain, Sweden, Bulgaria, Switzerland, Austria, United States of America, Canada, Mexico, Chile, Hungary, Finland, Slovakia, Poland, Lithuania, Luxembourg, Russia, Norway, Czech Republic, Slovenia, Malta, Croatia, Estonia, Israel, Saudi Arabia, Kuwait