Booster Pack Kaguya-sama: Love is War
06/25/2021(Fri) ON SALE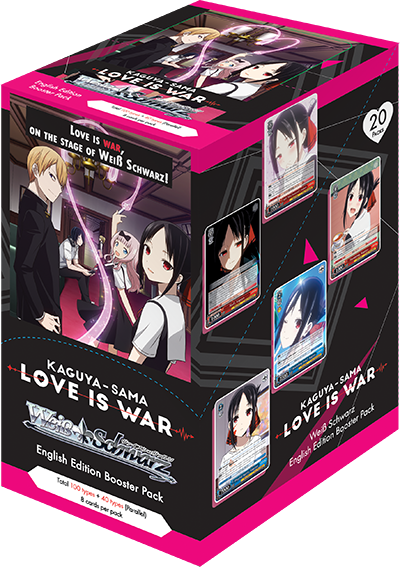 ■ Booster Pack Kaguya-sama: Love is War

A romantic battle of the brains.
A battle of the sexes in which neither side can afford to be honest.

With unspoken feelings hidden in their hearts, they continue making their wish for the other person to confess their love.

Love is war, now on the stage of Weiß Schwarz!

Product Information
Every pack you purchase has a chance to contain a foiled SP card!
The artwork for the SP cards in this product have been modified from their Japanese counterparts. In place of the the hand-written quotes, character names and voice actors' signatures, there will be designed quotes, character names and design elements unique to this title.
These changes are uniform and the list of cards with the card numbers affected, are as follows:
KGL/S79-E001SP
KGL/S79-E002SP
KGL/S79-E024SP
KGL/S79-E026SP
KGL/S79-E050SP
KGL/S79-E073SP
KGL/S79-E075SP
☆★☆★☆
The cards in this Booster Pack may be used together with cards with card number beginning with 「KGL/」!
Total 100 types of cards + 40 types (Parallel)
8 cards per pack
20 packs per display
16 displays per carton
◆ Box toppers
1 of 4 exclusive PR cards in every display box!
◆ Carton toppers
1 English Edition exclusive Stitched Playmat included in every carton!
▼ Carton topper playmat design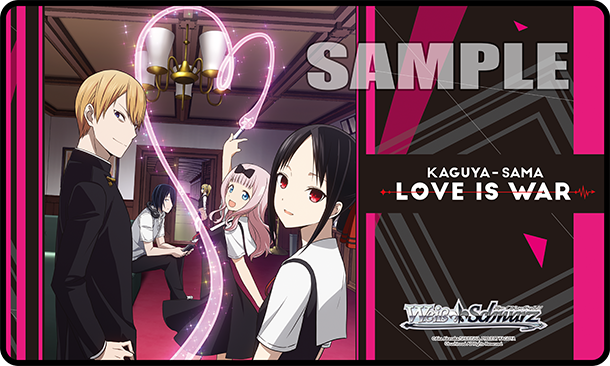 ※ First print run only.
※ Image is for illustration purpose only. Product specifications are subjected to change.
Neo-Standard Products
Trial Deck+

Kaguya-sama: Love is War
※ This product is intended for players aged 13 and above.
※ Weiß Schwarz (English Edition) does not include gold/silver campaign coupon.