Hey Weiß Schwarz Meisters, the Trial Deck+, Booster Pack & Supply Set products for the English Original title, Mob Psycho 100 are set to hit your LGS' shelves on December 18th, 2020!
Pre-orders for this set are ending soon so if you haven't placed yours yet, don't forget to do so soon!
It ain't Mob Psycho 100 without its signature 100% from the anime series!
With 100 days left to its release, what better card to unveil than our card number 100 from the set!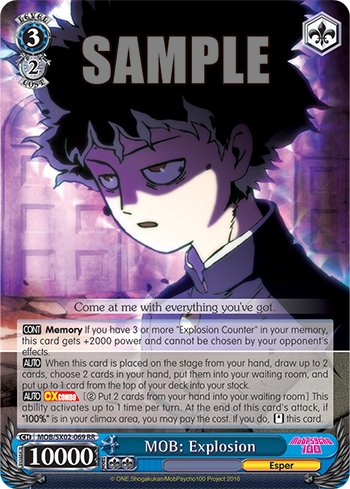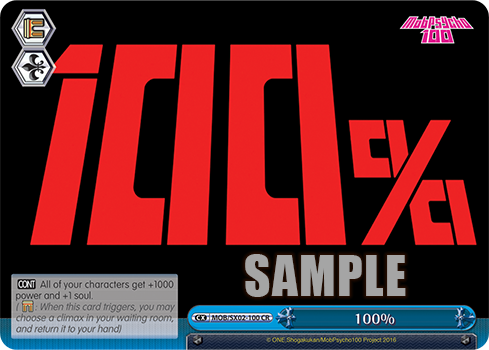 A blue GATE climax, 100% CX Combos with MOB: Explosion, which gains additional power and cannot be chosen by your opponent's effects if you have 3 or more Explosion Counter in your memory.
Check out the 2 variations of Explosion Counter that will be available in the set! (Version a was previously revealed on 24 August.)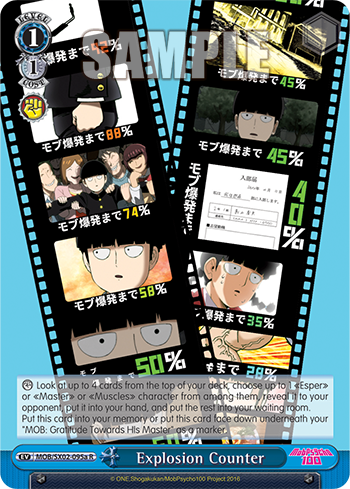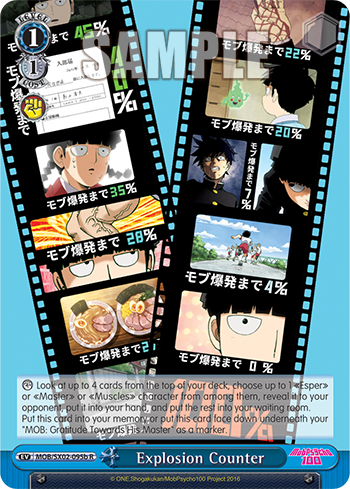 The CX Combo allows you to pay 2 cost and put 2 cards from your hand into your waiting room at the end of the card's attack to STAND the card again for another attack!
That's the end of our special showcase for Mob Psycho 100! We hope you've enjoyed the cards we've unveiled so far. Remember to check this set when it comes out on December 18th this winter!
Check out the interview with the developer from August 17th!
Check out the card reveals from August 24th!
Check out the card reveals from August 31st!
Note: Products are still under development and may be subject to change.