Trial Deck+ Mob Psycho 100
NOW ON SALE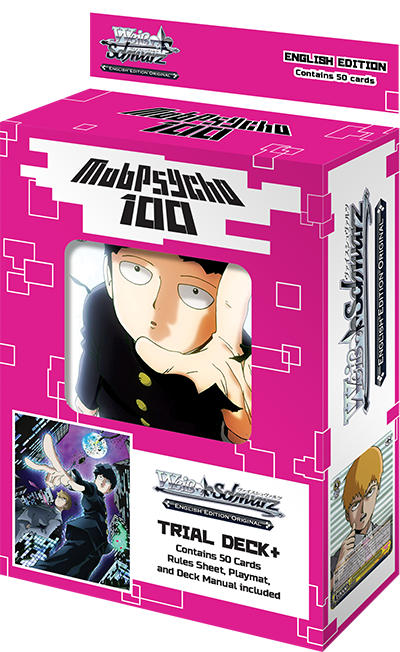 Release Date: December 18, 2020
■ Trial Deck+ Mob Psycho 100

※ 11/06/2020 – Cards in this product may only be used in official tournaments in the following regions: United States, Canada, Mexico, Chile, United Kingdom, Netherlands, Belgium, Germany, France, Austria, Spain, Italy, Greece, Taiwan, Hong Kong, Philippines, Malaysia, Indonesia, Singapore, Australia and New Zealand.

Shigeo Kageyama, a.k.a. "Mob," is a teenager who has trouble expressing himself, but who also happens to be a powerful esper. Mob is determined to live a normal life and keeps his powers suppressed, but when his emotions surge to a level of 100%… what choices will Mob make?


Mob Psycho 100 Coming to Weiß Schwarz as an English Edition Original!

Product Information
SIGN CARDS
Stand a chance to obtain a hot stamped autographed card by the following member of the cast with every deck you purchase!
◆ Setsuo Ito (as Shigeo MOB Kageyama) ◆
☆★☆★☆
PARALLEL CARDS
Parallel cards are randomly sealed into decks!
Every deck contains 2 shiny cards!
◆ [RRR] Rare cards with special embossing (3 types) ◆
◆ [SP] Sign card of voice cast (1 type) ◆
☆★☆★☆
The cards in this Trial Deck+ may be used together with cards with card number beginning with 「MOB/」!
20 types of cards + 6 parallels
50 Cards per Deck
6 Decks per Display
8 Displays per Carton
※Rules Sheet, Playmat, and Deck Manual included.
※The contents of each deck (excluding parallel cards) are exactly the same.
Neo-Standard Products
※ This product is intended for players aged 13 and above.
※ Weiß Schwarz (English Edition) does not include gold/silver campaign coupon.
Check out the cards that will come in this product!