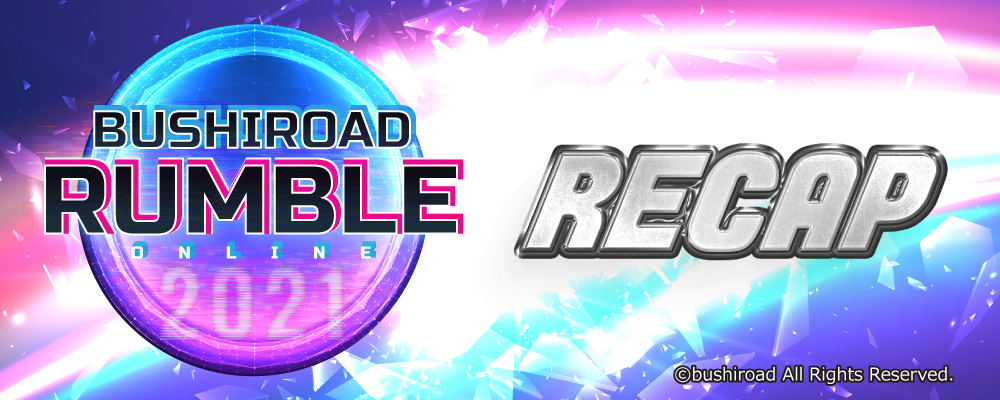 The recently concluded Bushiroad Rumble Online 2021 (BRO2021) saw over 300 participants battling tooth and nail for the coveted Lie Ren PR card and title of champion, with a record of 4,000 views across the two days! Here's a short recap of each of the finals in case you missed it.
Asia-Oceania – Date A Live (Vince) vs. Date A Live (Kisa)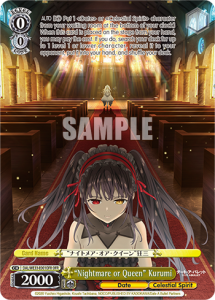 The Asia-Oceania region finals saw a Date A Live mirror match, with Vince bringing a slightly updated version of the Date A Live deck featuring cards from the latest Neo Standard release
Extra Booster Date A Bullet
, such as
"Nightmare or Queen" Kurumi
whose effect offers additional search and an easy way to reach level 1. Given the tournament's open decklist format, Vince used the knowledge that his opponent had excluded this card to his advantage, opting to side attack for lower soul damage. Without additional ways to clock damage, Kisa was locked out of his level 1 plays while Vince was free to extend his mid-game advantage.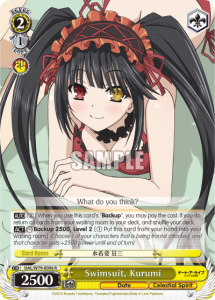 Another important card that saw play was
Swimsuit, Kurumi
, whose Backup effect allowed Vince to avoid refresh damage.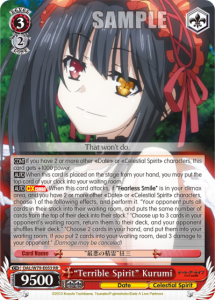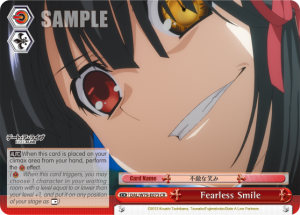 The match eventually came down to a tri-lane setup of "Terrible Spirit" Kurumi whose damage output proved too much for Kisa to handle, allowing Vince to walk away with the W.
Check out Vince's decklist here, and the match VOD here.
Europe – BOFURI: I Don't Want to Get Hurt, so I'll Max Out My Defense. (Tim) vs. Date A Live (Vince)
The Europe region finals saw a surprising contender in BOFURI: I Don't Want to Get Hurt, so I'll Max Out My Defense. piloted by Tim who was built the deck as a counter to Standby decks that aim to overwhelm the opponent by accelerating high level cards into play.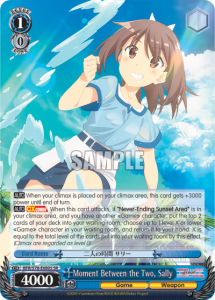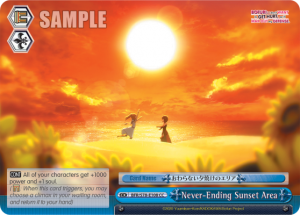 With a generous total of 8,000 power, the level 1 climax combo of Moment Between the Two, Sally allowed Tim to contest most level 1 to level 2 boards and come out ahead on both resources and board state.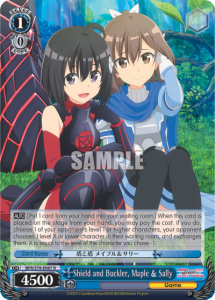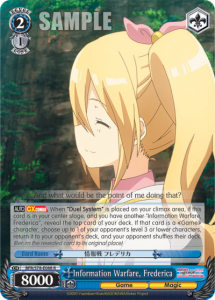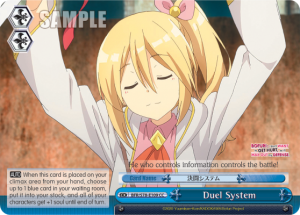 The inclusion of Shield and Buckler, Maple & Sally and Information Warfare, Frederica also meant that Tim could bounce opposing characters out of stage and force Vince into a resource deficit.
Check out Tim's decklist here, and the match VOD here.
North America/Latin America – That Time I Got Reincarnated As a Slime (Joey) vs. Sword Art Online (Wybee)
The North America/Latin America region finals saw Joey's That Time I Got Reincarnated As a Slime staging a huge comeback against Wybee's Sword Art Online.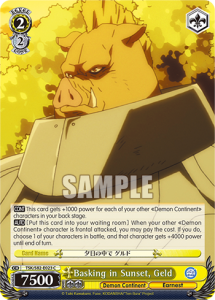 Due to the lower number of level 1 options in Joey's deck, much of his early-to-mid game strategy relied on making use of Standby to bring out
Basking in Sunset, Geld
in order to stabilize the board state. In contrast, Wybee's deck ran strong midgame plays that allowed him to build an oppressive board for little to no cost.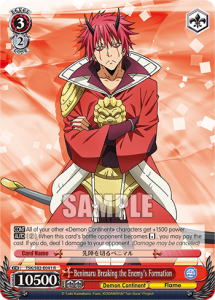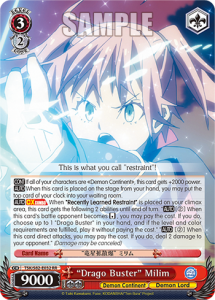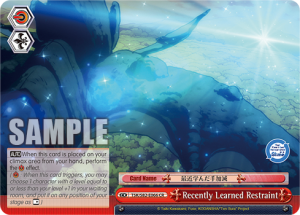 Joey was eventually able to stabilize and develop a full board of 3 Benimaru Breaking the Enemy's Formation and 2 "Drago Buster" Milim. Thanks to the whopping +4,500 power boost provided by Benimaru Breaking the Enemy's Formation, Wybee was unable to backup with enough power to prevent the on-reverse damage from "Drago Buster" Milim from kicking in. Despite the unfavorable board state, Wybee was able to hold out the turn and refresh his deck for a second-chance at cancelling damage. Joey opted to replace his full board with level 0s and swing for one, reducing the chances of any unfortunate damage cancellation and finally securing his W.
Check out Joey's decklist here, and the match VOD here.
Closing thoughts
Congratulations to all the winners for their amazing performances! We're truly thankful to all the players, casters, local stores, and behind-the-scene teams who made BRO2021 a success! Feel free to drop us an email (sg_support@bushiroad.com) if you have any comments or feedback.