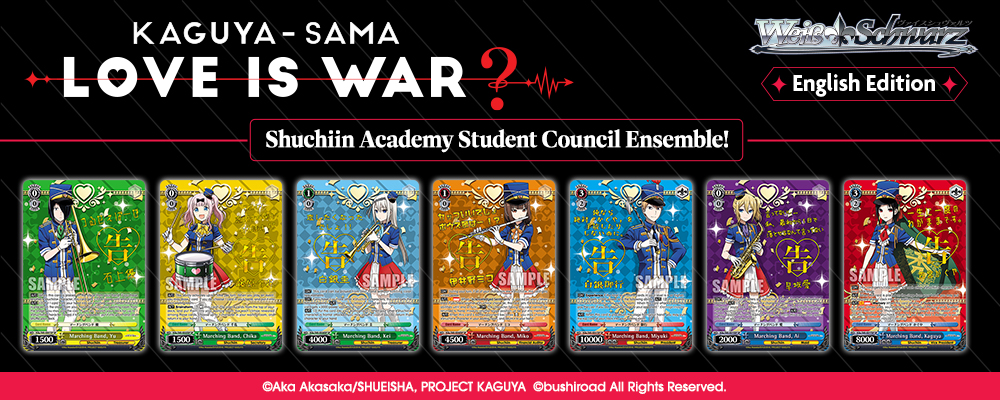 Valentine's Day is fast approaching and the Shuchiin Academy Student Council don their band uniforms to welcome the new year and season of love in Weiß Schwarz! Relive the iconic moments from the anime and seek advice from the veterans of love!
This article showcases some of the character-specific combinations we think you might enjoy!
The capable vice-president of the student council!
Marching Band, Kaguya
(KGL/S95-E077SP SP)
Unrivaled in beauty and brains, Kaguya Shinomiya leads the band with utmost grace!
Marching Band, Kaguya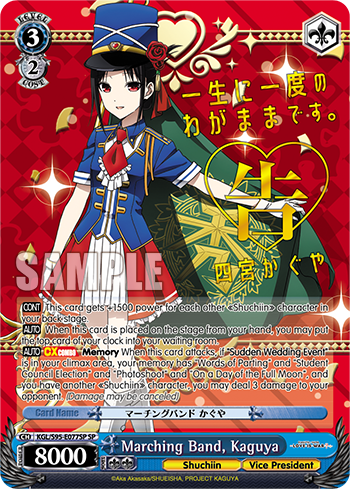 provides players with a unique way to build up towards the late game by utilizing multiple events throughout the game! With the events safely secured in your Memory, the Sudden Wedding Event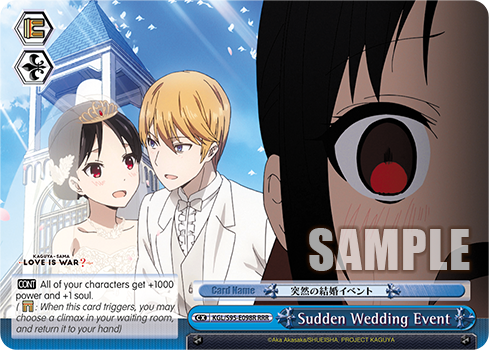 climax combo dishes out the final damage needed to close out the game!
Adding colors to her monochrome life!
Charge up Marching Band, Kaguya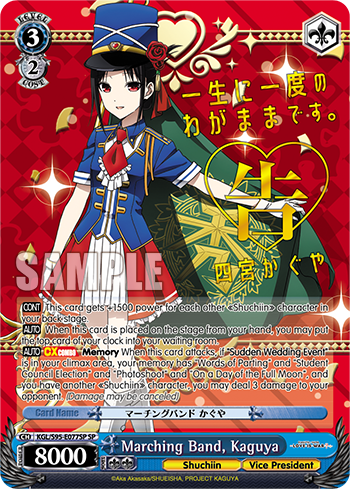 with these key events that transpired in season 2 of the anime! Words of Parting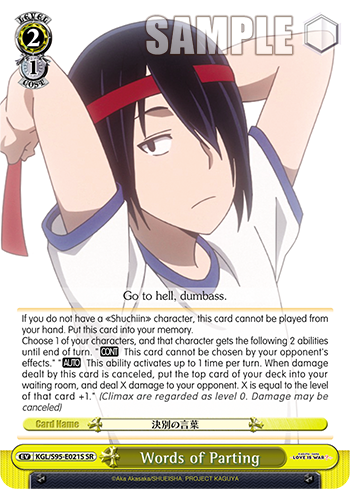 guarantees that a character of your choice is safe from chosen effects and increases the chance of dealing damage leading into the late game. Student Council Election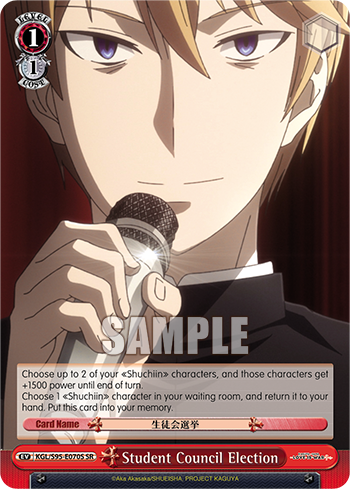 allows you to return a key character from the waiting room while boosting the power of your characters on the stage.
Photoshoot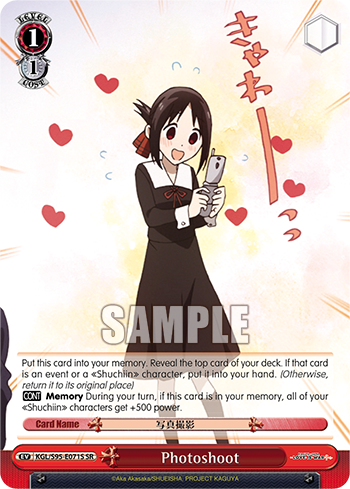 provides valuable card advantage and a permanent boost to your characters while it's in the memory. Lastly, On a Day of the Full Moon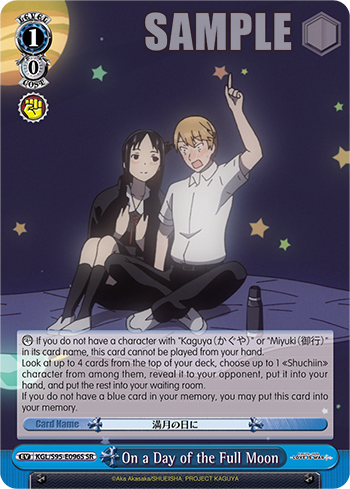 is a cheap way to increase card advantage while thinning out your deck to increase the chances of an opportune cancel! Together, these work in tandem to ensure you'll be marching towards victory with Marching Band, Kaguya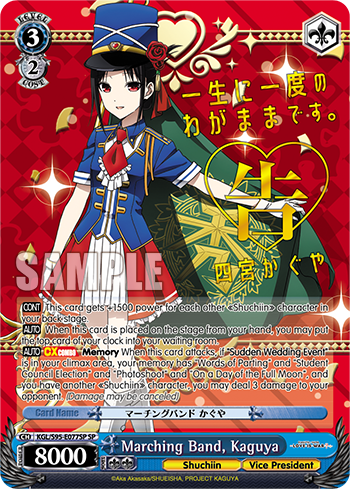 dealing maximum damage!
Miyuki "I've never been rejected before" Shirogane
Marching Band, Miyuki
(KGL/S95-E051SP SP)
Student Council President Miyuki Shirogane is a trusted individual whom people seek advice from! He'll be leading the ensemble alongside his clarinet. Marching Band Miyuki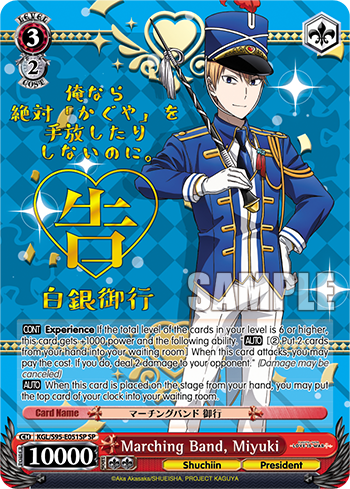 is a powerful late-game finisher that heals and deals chip damage to close out the game.
President by day, smooth criminal by night!
Under the night sky, Miyuki turns into the smoothest gentleman! If left to his own devices, Miyuki vows to do whatever it takes to take back the Moon Princess, Kaguya! Reaching Out, Miyuki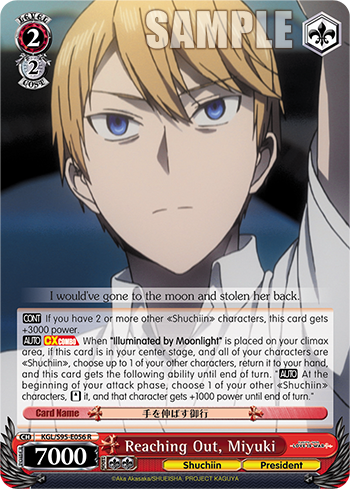 can be a huge threat on the board with 10,000 power and can be brought out easily with the Standby effect of Illuminated by Moonlight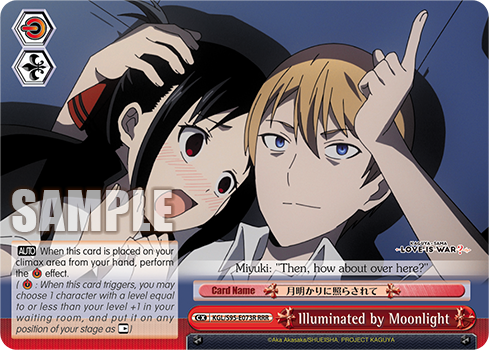 . His climax combo encompasses different powerful effects such as bouncing a character back to your hand to preserve resources, or re-standing your Standby target for an additional attack!
He is the Love Master.
Marching Band, Yu
(KGL/S95-E001SP SP)
Accompanied by his trusty trombone, Yu Ishigami starts his rant on love and society. Despite his cynical outlook on life & love, you can always count on Yu to lend a helping hand!
Are you a brief or boxer person?
Marching Band, Yu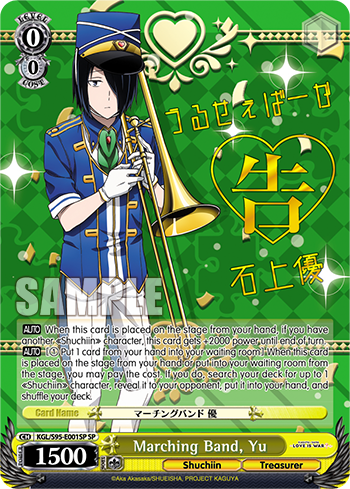 is a powerful tech card that can be splashed into any deck to search out their level one characters on the fly! Yu will always have something to say regarding briefs! Ever since Miyuki pulled him into the student council, Yu has become more comfortable in expressing some of his thoughts. For the Sake of Justice, Miyuki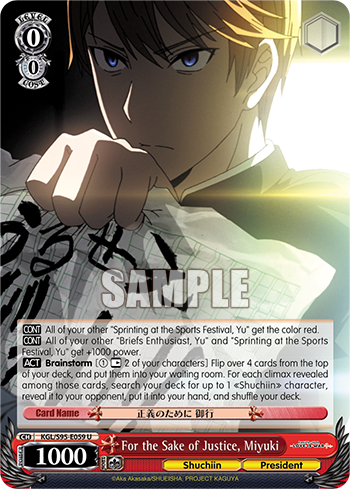 is an excellent support card that provides a power boost to specific Yu characters, as well as the Brainstorm ability! Briefs Enthusiast, Yu
is a staple for those interested in building a Yu deck. The Assertion of a Member of the Briefs Faction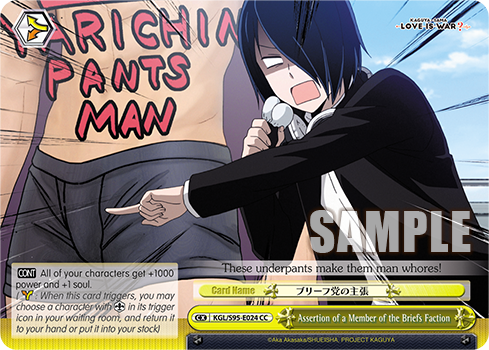 climax combo provides a unique way to close out the game by bouncing himself to hand and repeating his on-play effect the next turn!
You can count on Chika for your love consultations!
Marching Band, Chika
(KGL/S95-E025SP SP)
The multi-talented love detective Chika Fujiwara has arrived with drums in hand! You can tackle any challenges in love as she's got your back!
Chika has a bunch of events depicting her antics in the show Marching Band, Chika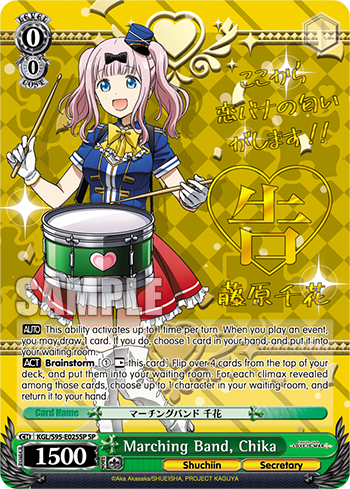 capitalizes on those events to filter your hand and cycle through your deck!
Chika Mama to the rescue!
There is a famous saying: behind every successful man, there lies a superwoman supporting him. This encapsulates the foundation of Miyuki's and Chika's relationship. Leave It to Mama, Chika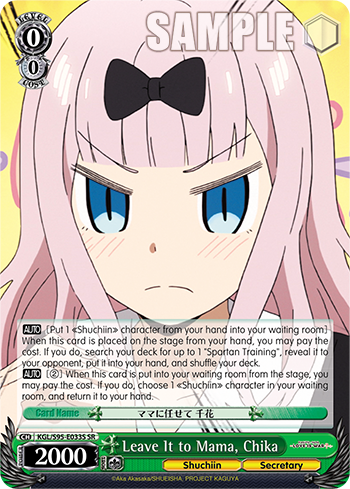 searches out her grueling Spartan Training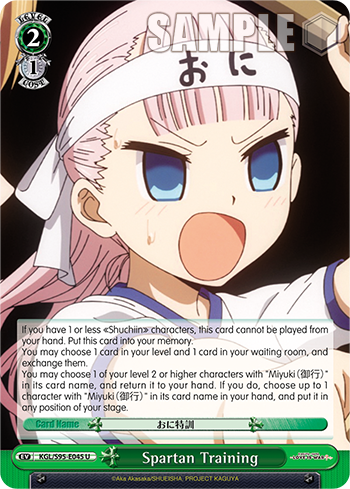 which in turn fetches other Miyuki-related cards. One such target would be Harvest Moon, Miyuki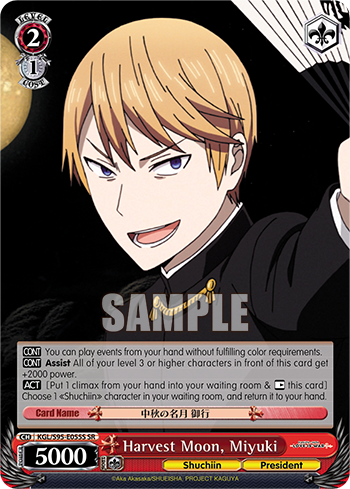 , who provides a valuable power boost to your level 3 characters!
No man can resist her charms and beauty!
Marching Band, Ai
(KGL/S95-E075SP SP)
Kaguya Shinomiya's capable maid shows off her skills on the saxophone!
Marching Band, Ai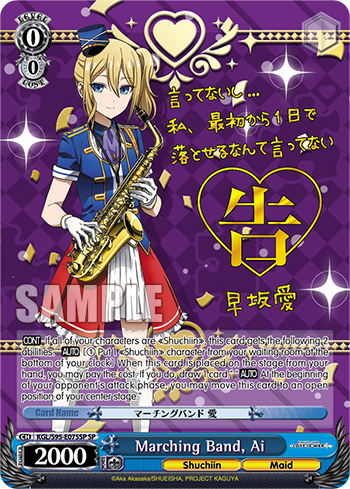 effectively replaces herself whenever she enters the stage by allowing you to draw a card. She is also a center stage runner, making her slightly more difficult for your opponent to deal with!
The multiple facets of Ai Hayasaka!
Ai Hayasaka is a professional at her job and carries multiple personas to execute the most difficult of tasks! Excited Over the Latest Model, Ai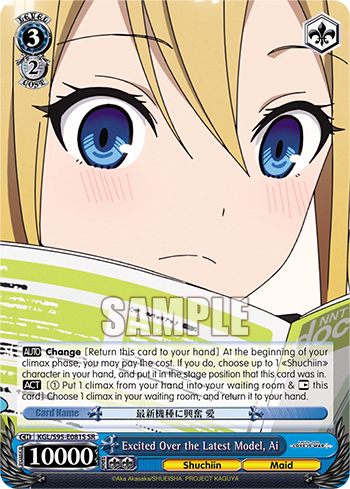 represents her love and interest in technology. When she is trying to get into grab Miyuki's attention, Ai changes into Anti-Shirogane Fashion, Herthaka Ver.2! Her cuteness and beauty in this form will capture any man's heart. Maid's Counterattack, Ai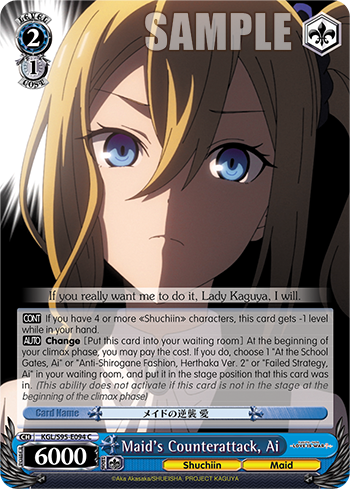 is her base form as a maid of the Shinomiya household, being able to get on the stage early to help Kaguya! Last but not least, Failed Strategy Ai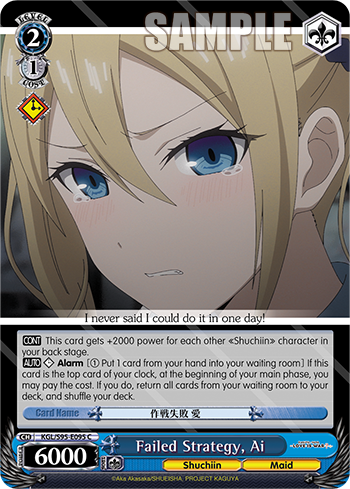 provides a handy deck refresh to bring back your climaxes for more potential cancels!
No hanky-panky on the school grounds!
Marching Band, Miko
(KGL/S95-E050SP SP)
You can be assured that Miko will perform a perfect arrangement on the flute!
Marching Band, Miko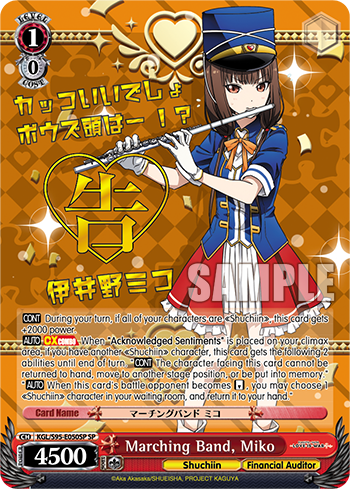 can lock down slippery opponents with escape mechanisms while retrieving a character from the waiting room upon their defeat!
The ideal Financial Auditor!
Miko has quickly risen to be a fan favorite in both anime and manga adaptations. Her growth throughout season 2 of the anime is reflected on the stage of Weiß Schwarz! Honor Student with High Morals, Miko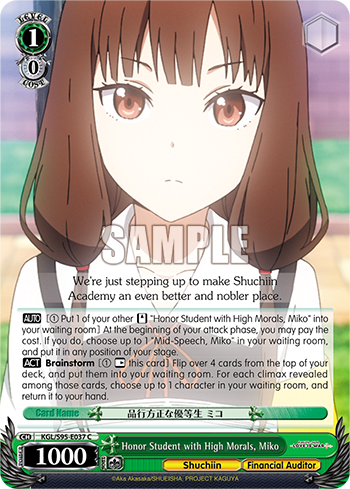 comes with a nifty Brainstorm ability and can replace another copy of herself into Mid-Speech, Miko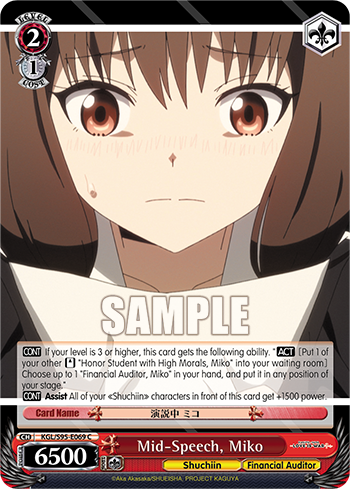 before leveling up into Financial Auditor, Miko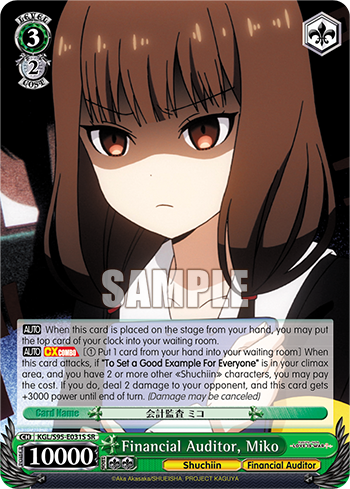 With her climax combo To Set a Good Example For Everyone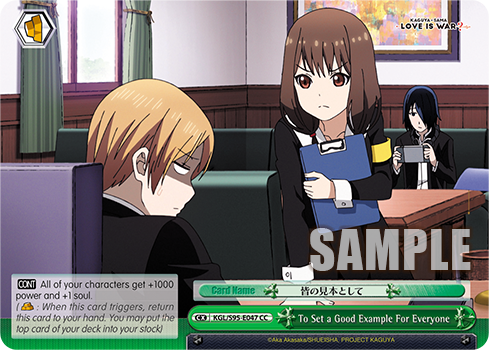 , she becomes the main late-game character to finish off your opponents!
She is currently in her rebellious stage!
Marching Band, Kei
(KGL/S95-E036SP SP)
The Student Council President's little sister serenades the fans with her trumpet and beauty!
Marching Band, Kei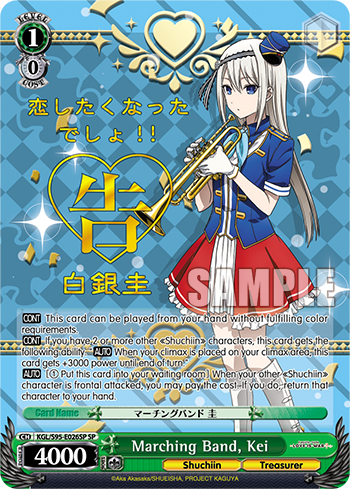 has no color restrictions and can be a valuable asset in almost any deck! Aside from boosting her power, Kei can protect her allies from attacks by bouncing them back to hand!
Always curious about his love life!
Kei has a habit of idling near her brother whenever he is mulling over his love life, in hopes of finding out more about the mysterious woman. This set introduces Kei Wanting to Fall in Love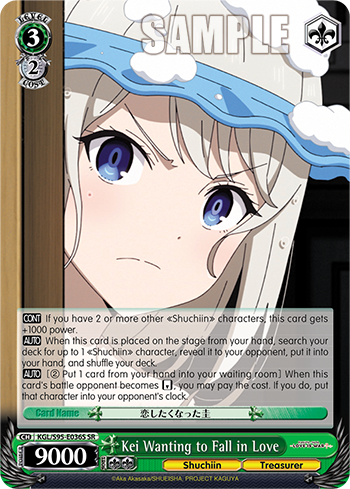 , a late-game character that possesses a search effect on top of being able to kick opposing foes into your opponent's clock! A Romantic Battle of the Brains? Miyuki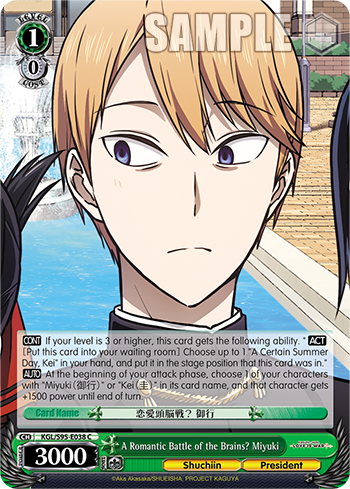 is always looking out to provide as much support to his sister as possible!