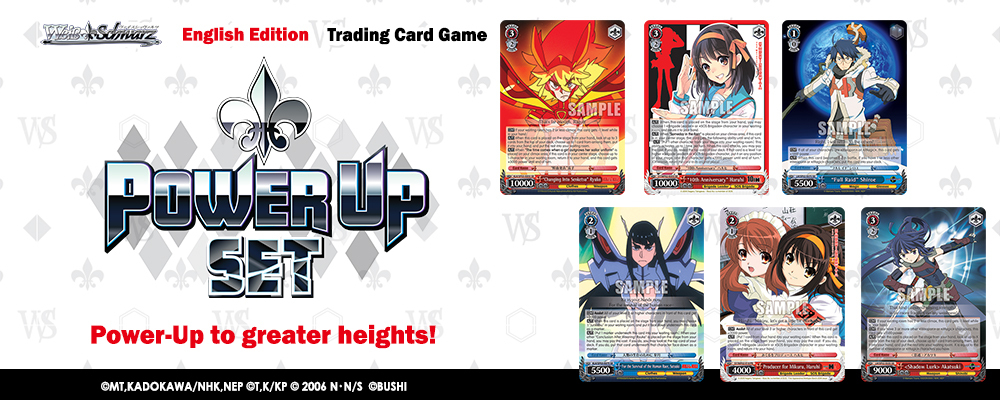 Mark the return of these popular anime classics with the Power Up Sets! Whether you're a fan or player, these sets are a great chance to add to your collection or take your decks to new heights! Don't miss out if you're a fan of these popular anime series!
Hits the buttons below to find out more about each set!
KILL la KILL
The flames of war in the Honnōji Academy continue to escalate on the stage of Weiß Schwarz! In the Honnōji Academy, only high-rank students will be allowed to wear Goku Uniforms!
Will you be one of them?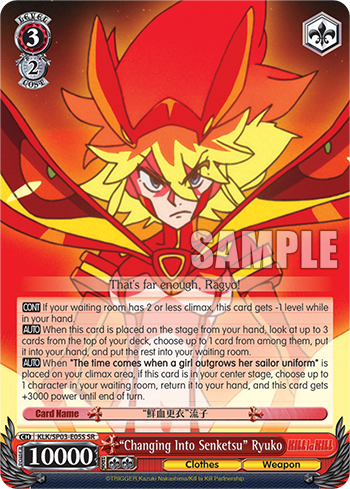 "Changing Into Senketsu" Ryuko
(KLK/SP03-E05S SR)
Ryuko transforms into Senketsu for her return to Weiß Schwarz!
"Changing Into Senketsu" Ryuko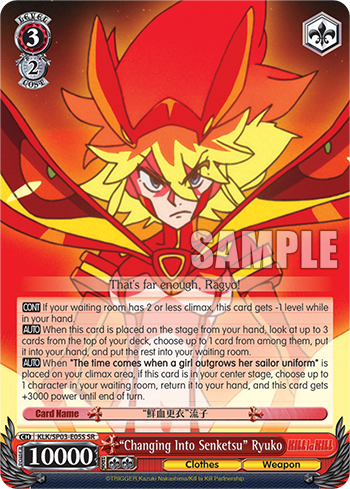 is a staple thanks to her Auto ability to enter the stage early, while also allowing you to peek at your top cards and strategize your next attacks!
The "The time comes when a girl outgrows her sailor uniform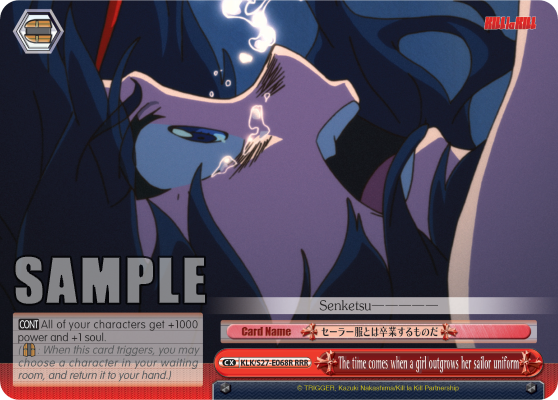 " climax combo allows you to replenish your hand, thereby increasing your chances of winning in the next turn!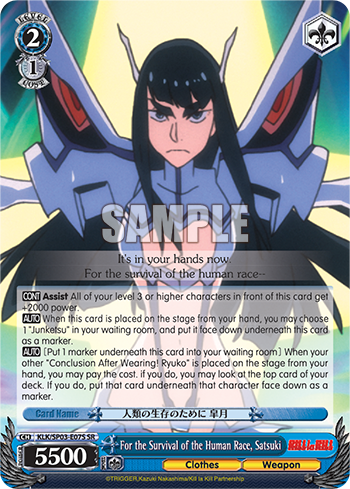 For the Survival of the Human Race, Satsuki
(KLK/SP03-E07S SR)
Satsuki stages her comeback with her incredible Kamui Junketsu's power!
Satsuki's ability makes her a great supporter by providing her high-leveled buddies on the stage with 2,000 power!
Her third ability is a good match for "Conclusion After Wearing! Ryuko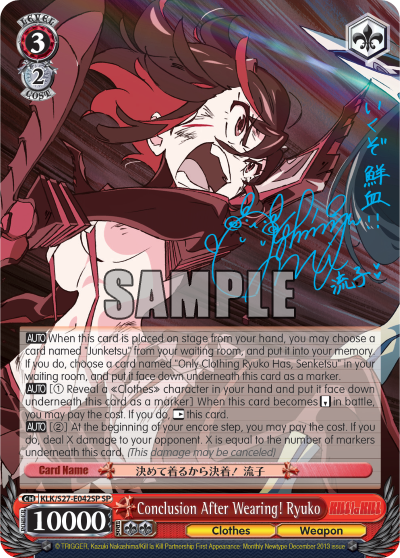 " that was in the previous booster pack by adding another marker so Ryuko can deal more damage to opponents!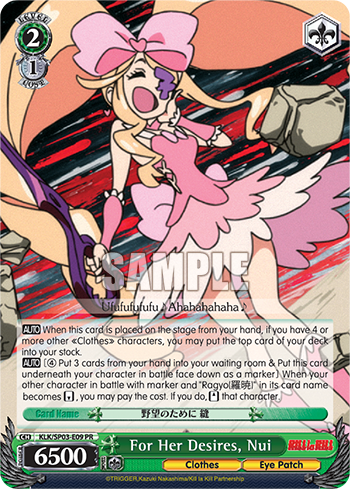 For Her Desires, Nui
(KLK/SP03-E09 PR)
Don't be fooled by Nui's cheerful and lovely lolita girl demeanor… she is definitely frantic and insane!
For Her Desires, Nui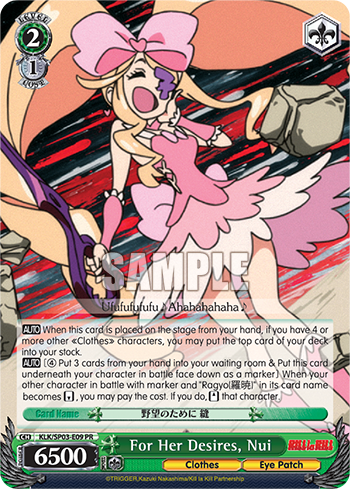 is a valuable stock generator to help higher-leveled cards appear on the stage in future turns!
Nui also works well as a supporter of CEO of REVOCS, Ragyo
Her ability acts as a pseudo-resurrection tool to allow Ragyo to remain active on the stage and dish out more damage in the following turn!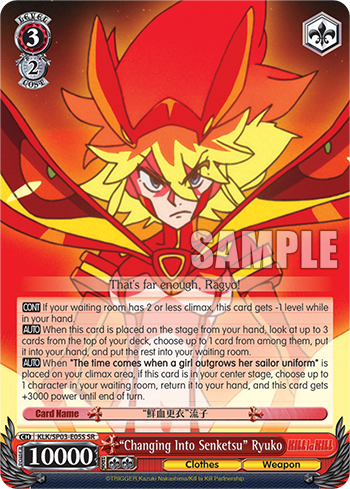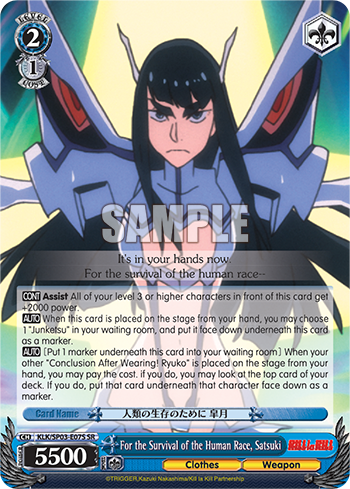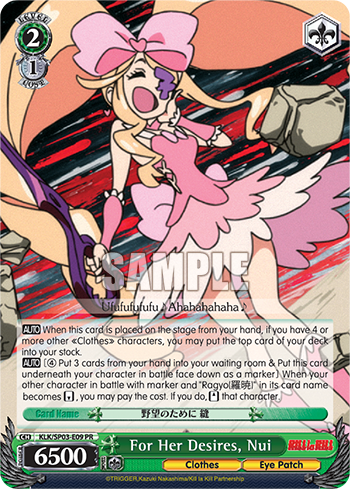 LOG HORIZON
Can you survive in this new reality when the game becomes more than just a game? Shiroe and his guild Log Horizon reenter Weiß Schwarz's battlefield!
Boost your fighting power with the help of Log Horizon members!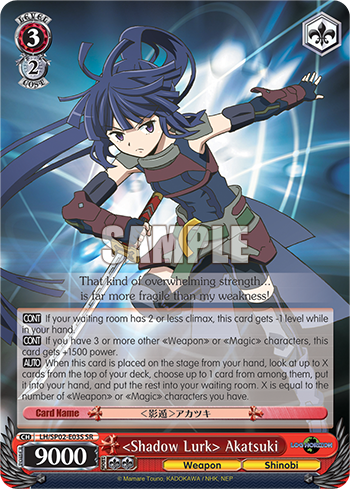 <Shadow Lurk> Akatsuki
(LH/SP02-E03S SR)
Even on the stage of Weiß Schwarz, Akatsuki remains devoted to her Lord!
<Shadow Lurk> Akatsuki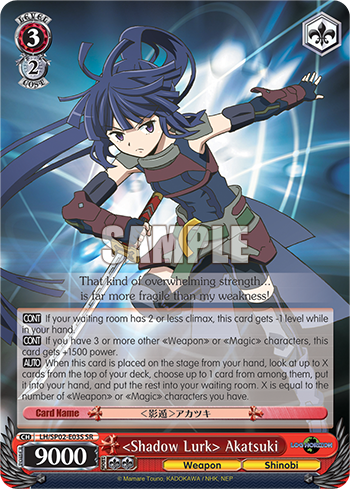 is able to come onto the stage early and press the advantage!
Utilize her ability to search out key cards that will be useful in the upcoming turns!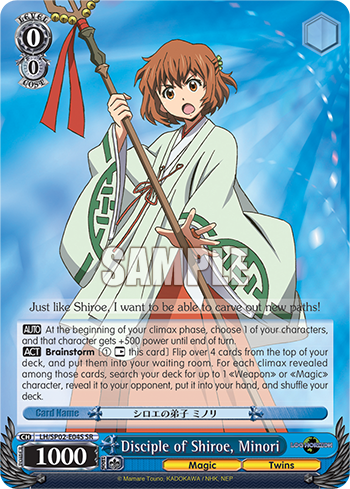 Disciple of Shiroe, Minori
(LH/SP02-E04S SR)
Minori, the strategist, is back! She will continue to forge new grounds in Weiß Schwarz!
Her Brainstorm ability helps to accelerate the cycle through your deck and search out desired cards for the upcoming turns!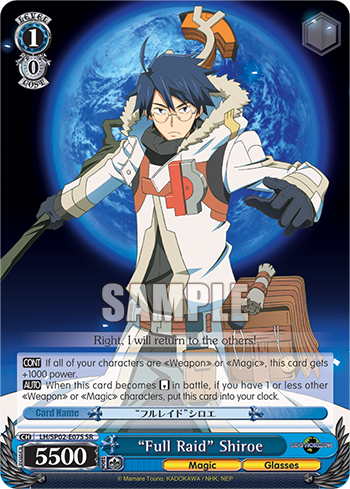 "Full Raid" Shiroe
(LH/SP02-E07S-SR)
Watch out! Black-Heart Glasses Shiroe is ready for an all-out raid!
With his friends and party by his side, "Full Raid Shiroe"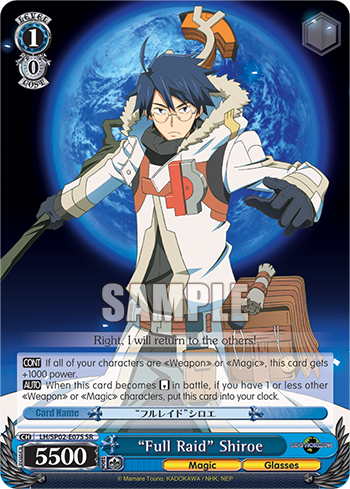 gains an extra 1,000 power to defeat his foes!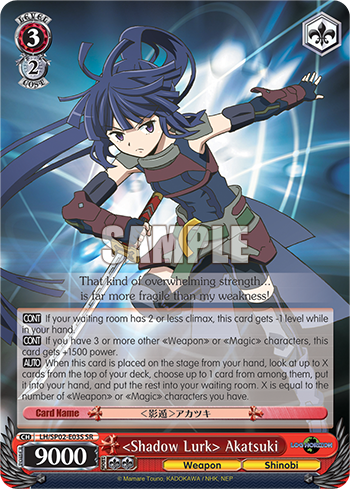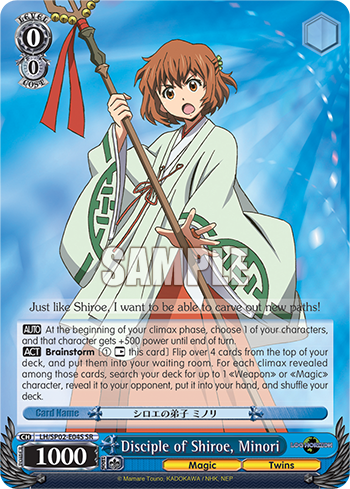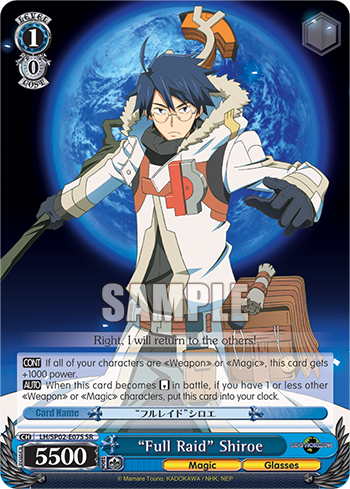 The Melancholy of Haruhi Suzumiya
Are you a believer in paranormal beings and powers? Welcome back! The SOS Brigade is gathering again in Weiß Schwarz!
Haruhi Suzumiya's adventure with her members resumes again!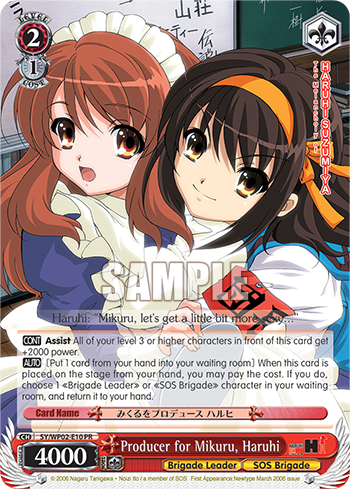 Producer for Mikuru, Haruhi
(SY/WP02-E10 PR)
Get ready for SOS Brigade's cutest duo! Roll camera, and action!
Producer for Mikuru, Haruhi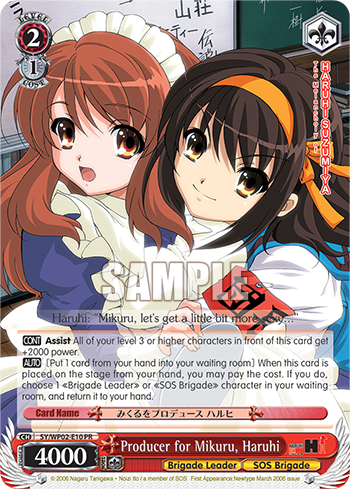 provides a substantial boost for her allies to dominate the late game!
When Producer for Mikuru, Haruhi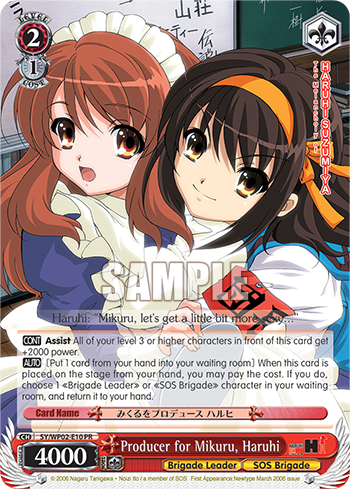 enter the stage, you can even retrieve your fellow characters in a pinch!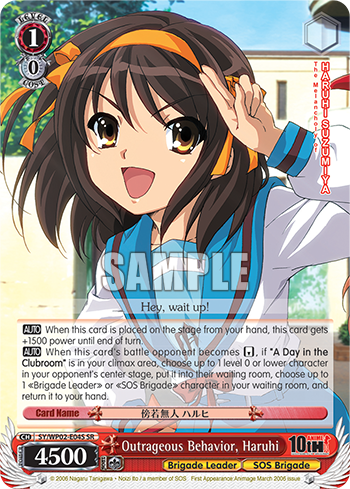 Outrageous Behavior, Haruhi
(SY/WP02-E04S SR)
Haruhi wants to break the boredom with battles in Weiß Schwarz!
Supercharge your stock with the A Day in the Clubroom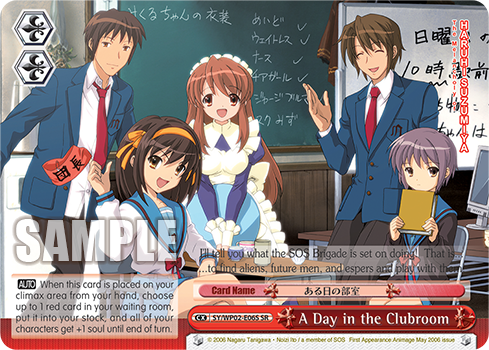 climax combo! Not only does the climax helps to generate stock, but the climax combo also helps you to bring back your SOS Brigade buddies for the upcoming turns!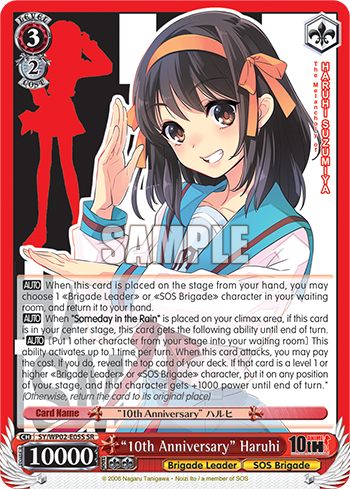 "10th Anniversary", Haruhi
(SY/WP02-E05S SR)
The classic Haruhi Suzumiya will never fade even after 10 years!
"10th Anniversary"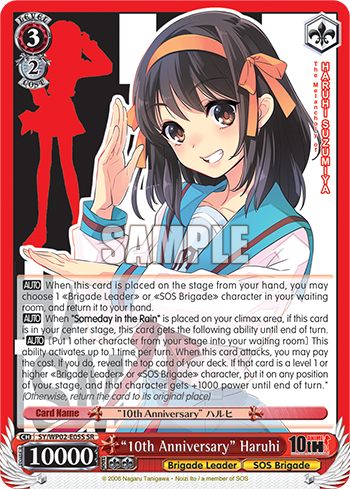 Haruhi is perfect for retrieving characters from your waiting room to maintain card advantage! The "Someday in the Rain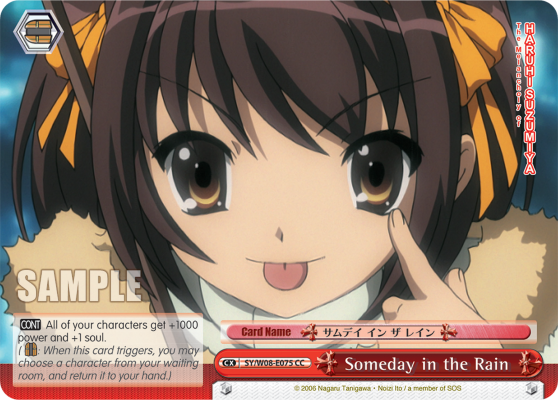 " climax combo helps to find your SOS Brigade companions and unite them on the stage while granting them an additional 1,000 power!
This is a must-have card to complete your collection!