Release Date: January 13, 2017
■ Booster Pack To Loveru Darkness 2nd

The characters of the To Loveru Darkness 2nd series have finally landed on Earth in the English Edition of Weiss Schwarz!
Embark on an extraterrestrial romance with To Loveru Darkness 2 with this latest Booster Pack!

6 types of exclusive SP Gold Foil/Hot Stamp signed cards from the following Japanese voice cast are inserted randomly in packs!!

Momo-Belia-Deviluke: Aki Toyosaki
Yami: Misato Fukuen
Mea Kurosaki: Yuka Iguchi
Nana-Astar-Deviluke: Kanae Ito
Mikan Yuki: Kana Hanazawa
Yui Kotegawa: Kaori Nazuka

-100 types of cards + 18 Parallel
-8 cards per pack
-20 packs per display
-16 displays per carton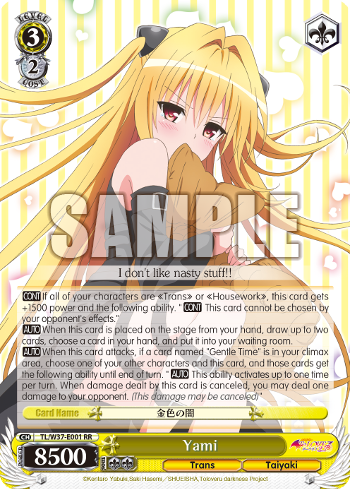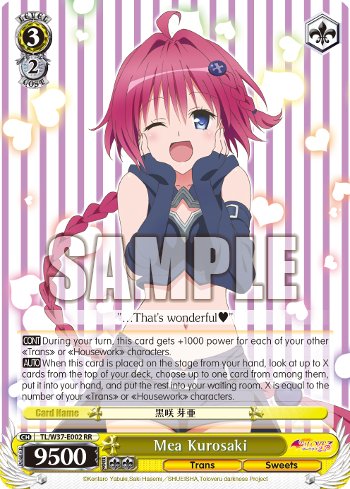 ※ There will be no changes to the Card Abilities with reference to the Japanese Edition.
Neo-Standard Products
Trial Deck

To Loveru Darkness 2nd
※ English and Japanese edition cards may be played together in tournament formats (Excluding Japan). However, language restriction may apply in major tournament formats.
※ English edition cards cannot be used in official tournaments that are held within Japan.
※ Weiß Schwarz English Edition does not include gold/silver campaign coupon.