Trial Deck+ Saekano: How to Raise a Boring Girlfriend
NOW ON SALE
Release Date: October 28, 2022

One spring day, I came face to face with my destiny.

Inspired by an encounter with his dream heroine, Tomoya seeks help from his acquaintances to make his dream of creating the ultimate dating sim a reality! Saekano: How to Raise a Boring Girlfriend now coming to the world of Weiß Schwarz!
Product Information
Changes to SP cards! (SP)
Please note that the artwork for the following SP cards has been modified for the English Edition:
SHS/W56-TE13SP: Fated Encounter? Megumi

Every deck you purchase has a chance to contain a hot stamped Special Rare (SP) card with special embossing and hot stamp!
20 types of cards + 6 types (Parallel)
50 cards per deck, 6 decks per display
8 displays per carton
The cards in this Trial Deck+ may be used together with cards that have card numbers beginning with 「SHS/」!

Featured Cards
Secret hot stamped Megumi with unique quote! (SP)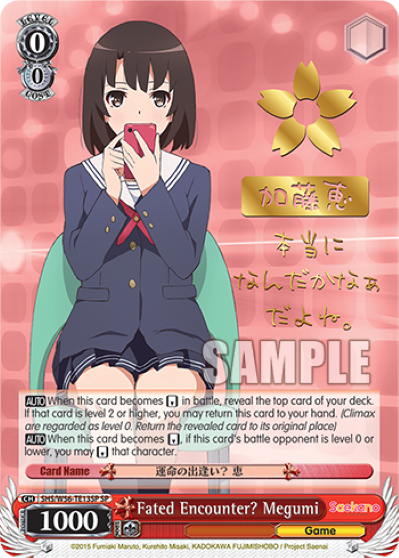 Alternate rare swimsuit illustrations for the heroines! (RRR)
Neo-Standard Products
Booster Pack

Saekano: How to Raise a Boring Girlfriend
※ Rules Sheet, Playmat, and Deck Manual included
※ The contents of each deck (excluding parallel cards) are exactly the same.
※ Weiß Schwarz (English Edition) does not include gold/silver campaign coupon.
※ This product is intended for players aged 13 and above.
※ ONLY FOR SALE FOR THE FOLLOWING TERRITORIES: U.S.A., Canada, Mexico, Chile, United Kingdom, France, Germany, Italy, Greece, Spain, Portugal, Netherlands, Austria, Belgium, Denmark, Sweden, Bulgaria, Switzerland, Hungary, Finland, Slovakia, Poland, Lithuania, Luxembourg, Norway, Czech Republic, Slovenia, Malta, Croatia, Estonia, Israel, Saudi Arabia, Kuwait, Taiwan, Singapore, Malaysia, Indonesia, Philippines, Australia, New Zealand