Supply Set RWBY
NOW ON SALE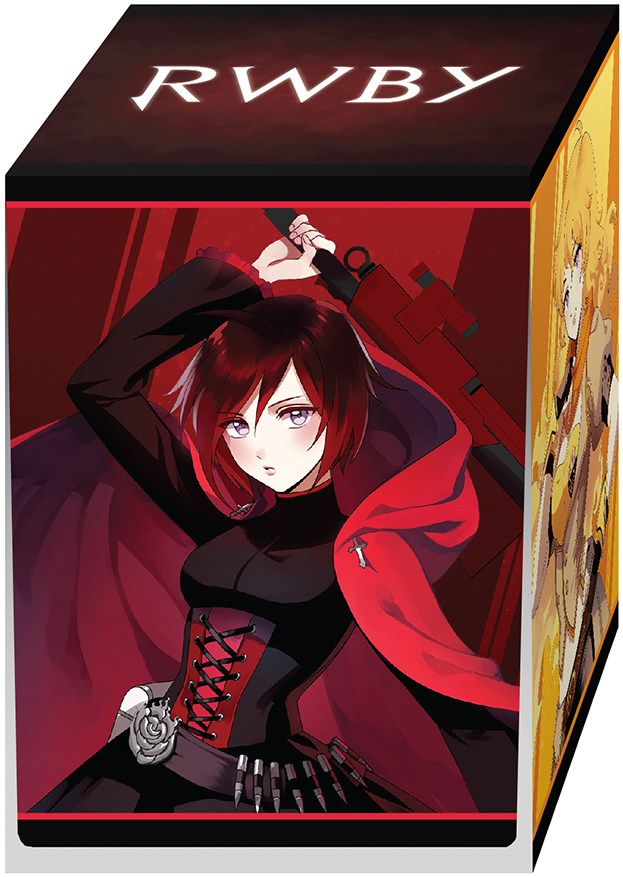 Release Date: December 22, 2021

The future-fantasy world of Remnant is filled with ravenous monsters, treacherous terrain, and more villains than you can shake a sniper-scythe at. Fortunately, Beacon Academy is training Huntsmen and Huntresses to battle the evils of the world, and Ruby, Weiss, Blake, and Yang are ready for their first day of class.

RWBY is coming to Weiß Schwarz as an English Edition Original!
Product Information
Each supply set provides you with the necessary supplies to protect, store, and transport your precious decks! Each supply set will also include a bonus PR card and 5 booster packs to help you get started!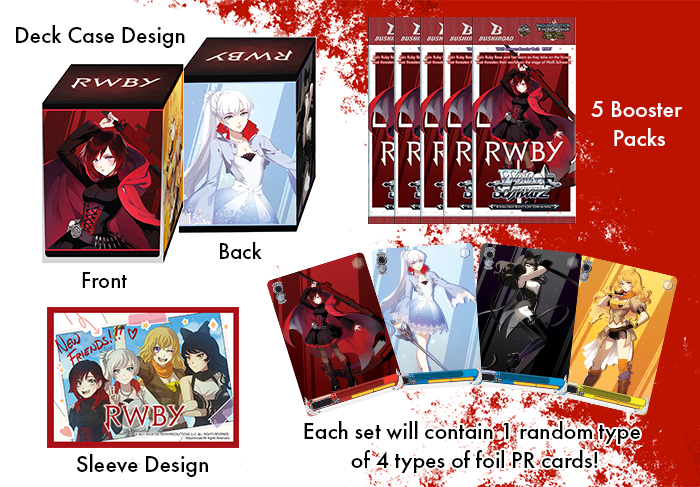 Each set contains the following:
◆ 1x Deck Case
Size: 98 x 75 x 65mm
Holds up to:
75x Double-Sleeved Cards
65x Triple-Sleeved Cards
※Estimated with most inner/outer sleeves
◆ 1 Pack of 60x Sleeves
Made specifically for Weiß Schwarz cards!
Size: 67 x 92mm
Front: Transparent
Back: 5C (4C+White)
※Can be used in official tournaments
◆ 5x Booster Packs
◆ 1x PR cards (1 of 4 exclusive foiled designs)
The cards in this Supply Set may be used together with cards that have card numbers beginning with 「RWBY/」!

Featured cards from the supply set!
1 of 4 exclusive foil PR cards with every supply set!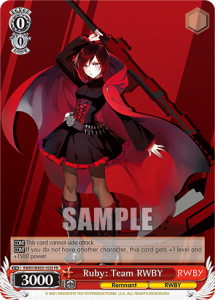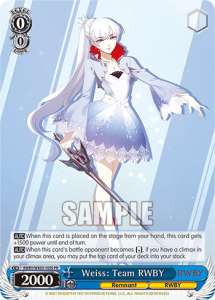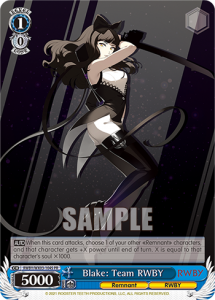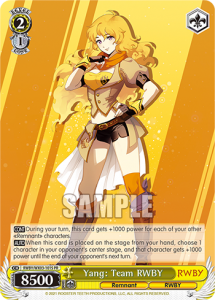 Neo-Standard Products
※ This product is intended for players aged 13 and above.
※ English edition cards cannot be used in official Japanese edition tournaments.
※ ONLY FOR SALE IN THE FOLLOWING TERRITORIES:
USA, CAN, CHL, GBR, DEU, BEL, PRT, SWE, NLD, ESP, FRA, ITA, GRC, PHL, AUS, NZL, SGP, MYS, IDN, THA, HKG, JPN, VNM, CRI, PRI, PER, MEX