Booster Pack Rascal Does Not Dream of Bunny Girl Senpai
NOW ON SALE
Release Date: November 15, 2019
■ Booster Pack Rascal Does Not Dream of Bunny Girl Senpai

A bittersweet story, in which we encounter several girls and their vulnerabilities.

Featuring original artwork from both the animation studio and the illustrator for the light novel series!

Also within this set are 2 secret rarity cards types!

☆★☆★☆

Every pack you purchase has a chance to contain a sign card by the following voice cast!!!

◆ Asami Seto (as Mai Sakurajima) ◆
◆ Nao Toyama (as Tomoe Koga) ◆
◆ Atsumi Tanezaki (as Rio Futaba) ◆
◆ Maaya Uchida (as Nodoka Toyohama) ◆
◆ Yurika Kubo (as Kaede Azusagawa) ◆
◆ Inori Minase (as Shoko Makinohara) ◆

☆★☆★☆

The cards in this Booster Pack may be used together with cards with card number beginning with 「SBY/」!

Total 100 types of cards + 32 types (Parallel)
8 cards per pack
20 packs per display
16 displays per carton
◆Box toppers
1 of 6 exclusive PR cards in every display box!
◆Carton toppers
4 English Edition exclusive Rubber Playmats included in every carton!
▼Carton topper playmat design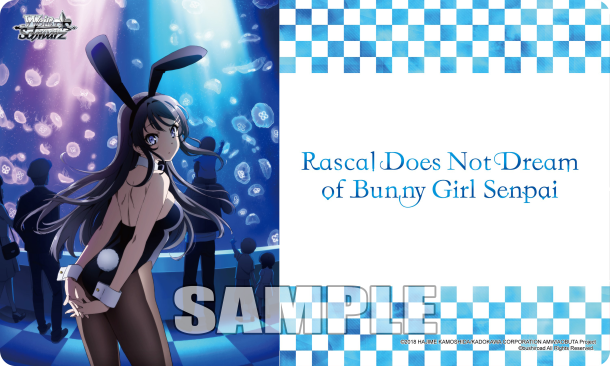 ※ First print run only.
※Image is for illustration purpose only. Product specifications are subjected to change.
Blu-ray set + Exclusive PR card!


※Please note that the English edition version of "Ephemeral Existence, Mai Sakurajima" is different from the Japanese edition of the card "泡沫の存在 桜島 麻衣".

Neo-Standard Product
Trial Deck+

Rascal Does Not Dream of Bunny Girl Senpai
※ English edition cards cannot be used in official Japanese edition tournaments.
※ Weiß Schwarz English Edition does not include gold/silver campaign coupon.