Booster Pack Batman Ninja
NOW ON SALE
Release Date: July 19, 2019
■ Booster Pack Batman Ninja

※Cards in this product may be used in official Japanese Edition tournaments outside of Japan, Korea, China, Hong Kong, and Taiwan.

This time and place has its own rules.
If we're going to win, it's time we finally played by them.

The villains of Gotham are uniting their forces to take over feudal Japan!

Witness the Samurai Spirit materialize!

Using ancient "gadgets" and armor, watch as the forces of good
and HAHAHAHAHAHAHA battle it out on the Weiß Schwarz stage!

Featuring an iconic BLAST FROM THE PAST!

Product Information
Every pack you purchase has a chance to contain a sign card by the following voice cast!!!
◆ Roger Craig Smith (as Batman)◆
◆ Grey Griffin (as Catwoman)◆
The cards in this Booster Pack may be used together with cards with card number beginning with 「BNJ/」!
-100 types of cards + 22 Parallel
-8 cards per pack
-20 packs per display
-16 displays per carton
◆Box toppers
1 of 7 exclusive PR cards in every display box!
◆Carton toppers
4 English Edition exclusive Rubber Playmats included in every carton!
▼Carton topper playmat design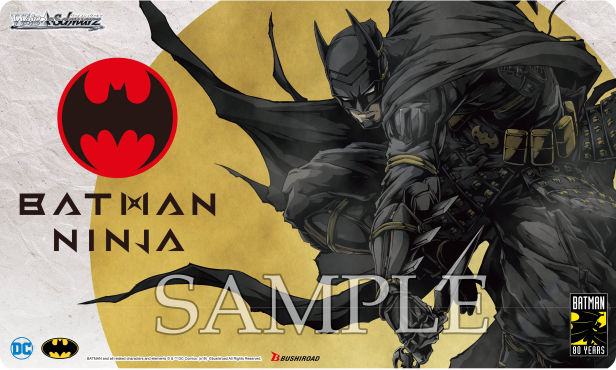 ※ First print run only.
※Image is for illustration purpose only. Product specifications are subjected to change.
Neo-Standard Product
※ Weiß Schwarz English Edition does not include gold/silver campaign coupon.