Booster Pack Tokyo Revengers
NOW ON SALE
Join Takemichi Hanagaki in his quest to save his ex-girlfriend from the cruel future that awaits her by amending the past! Takemichi has to get close to the members of the fearsome Tokyo Manji Gang and make use what he knows to protect the ones important to him.

Tokyo Revengers is now coming to Weiß Schwarz!
Product Information
SIGNED CARDS
Every pack you purchase has a chance to contain a hot stamped autographed card by the following members of the cast:
◆ Yuuki Shin as Takemichi Hanagaki
◆ Azumi Waki as Hinata Tachibana
◆ Yuu Hayashi as Manjiro Sano
◆ Masaaki Mizunaka as Keisuke Baji
◆ Yoshitsugu Matsuoka as Takashi Mitsuya
◆ Yumi Uchiyama as Emma
◆ Shou Karino as Chifuyu Matsuno
▶ Click to display rarity distribution!
100 types of cards + 52 types (Parallel)
| | |
| --- | --- |
| SSP (Super Special) | 7 |
| TRV (Tokyo Revengers Rare) | 14 |
| RRR (Triple Rare) | 8 |
| SR (Super Rare) | 23 |
| RR (Double Rare) | 10 |
| R (Rare) | 22 |
| U (Uncommon) | 28 |
| C (Common) | 28 |
| CR (Climax Rare) | 4 |
| CC (Climax Common) | 8 |
9 cards per pack, 16 packs per display
18 displays per carton
1 of 6 exclusive PR cards in every display box!
1 English Edition exclusive stitched playmat in every carton!
The cards in this Booster Pack may be used together with cards that have card numbers beginning with 「TRV/」!

Featured Cards
Hot stamped autographed cards by the voice actors! (SSP)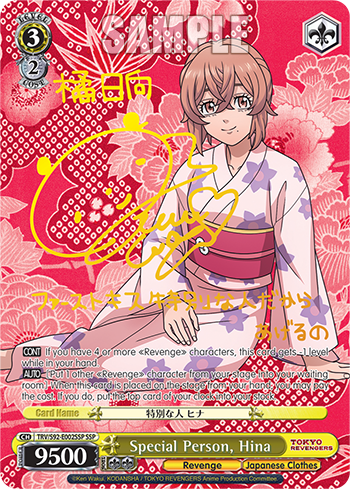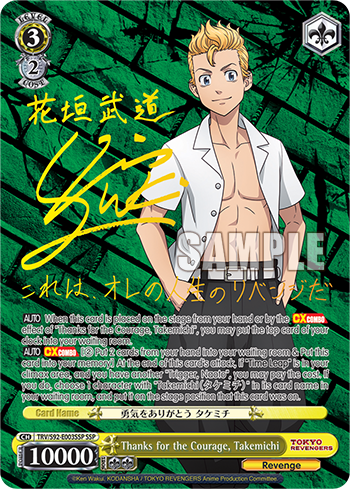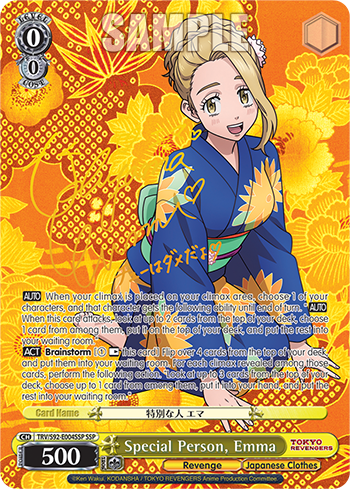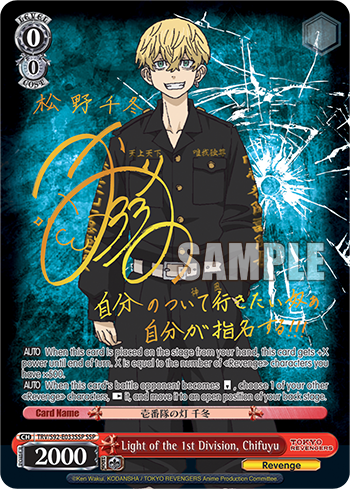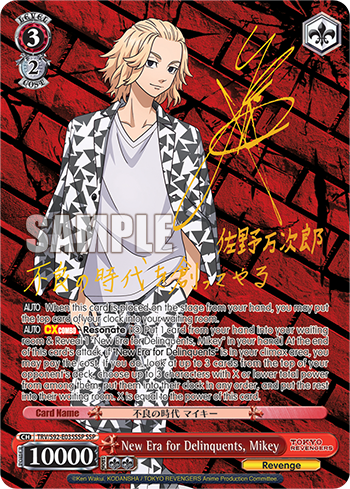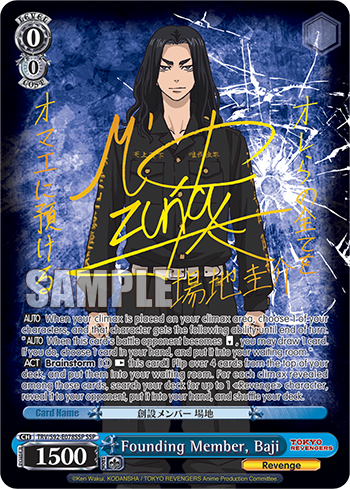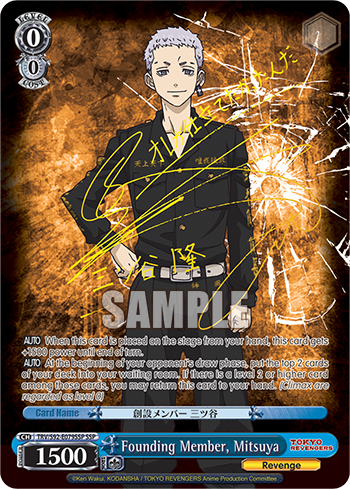 Hot stamped cards with iconic quotes from the anime! (TRV)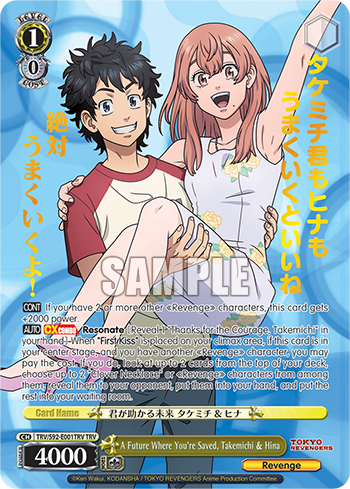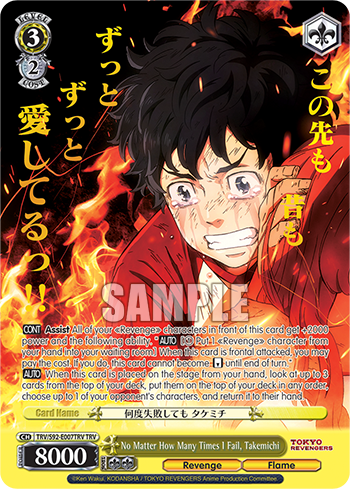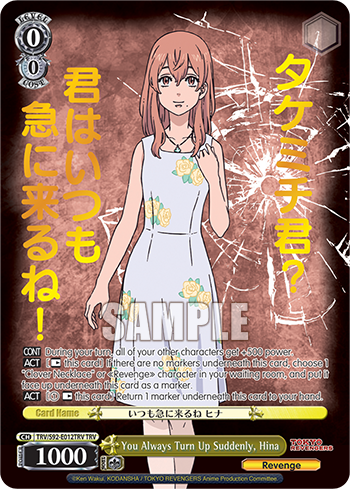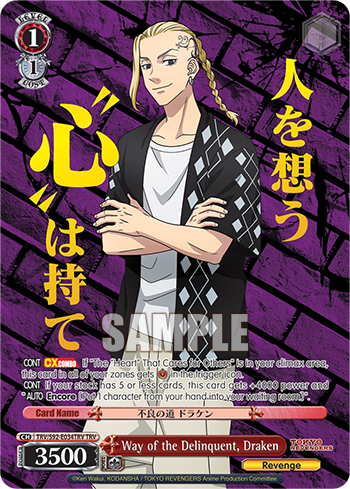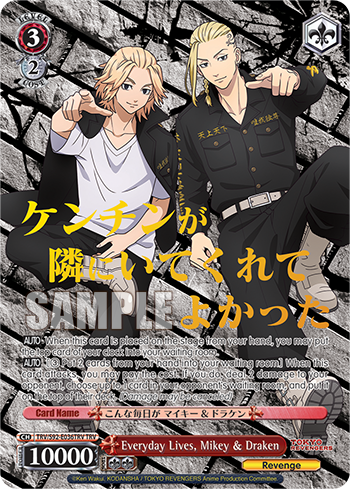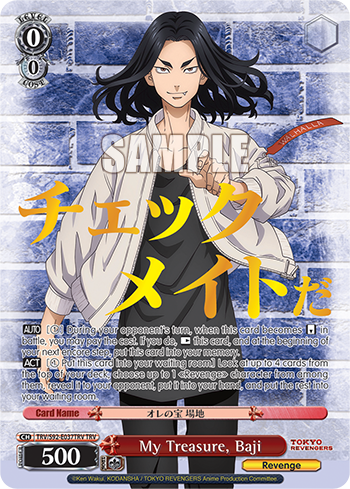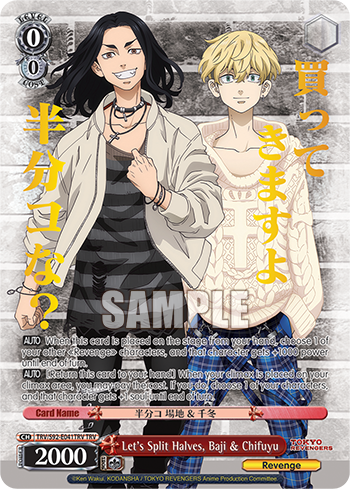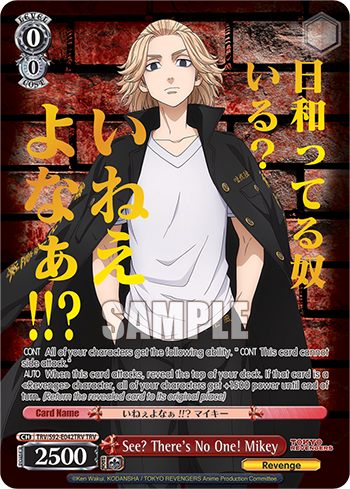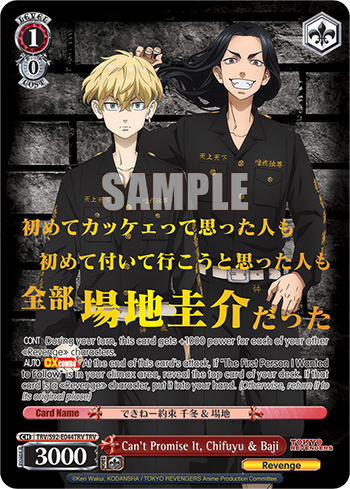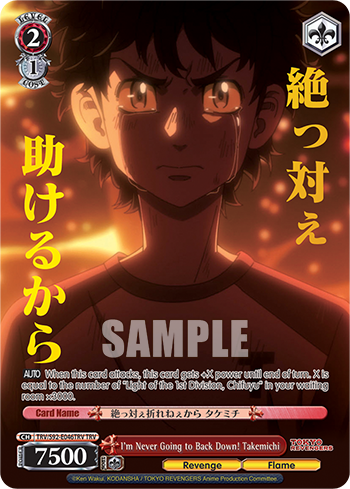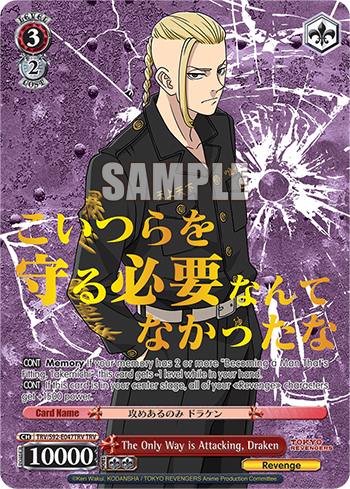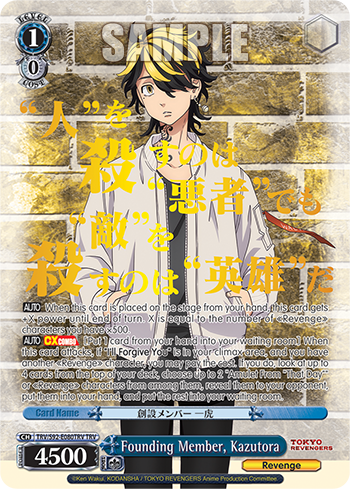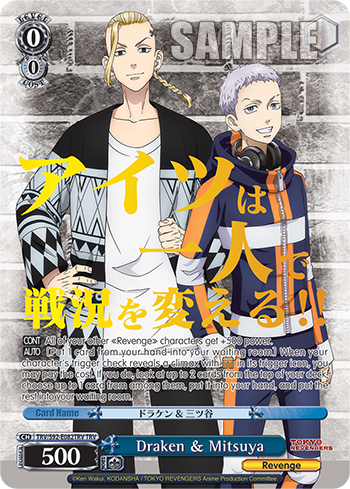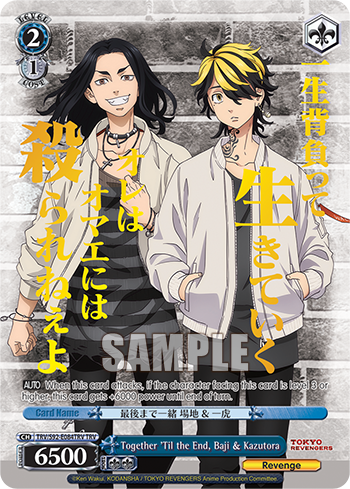 Box toppers! 1 of 6 PR cards in every display box!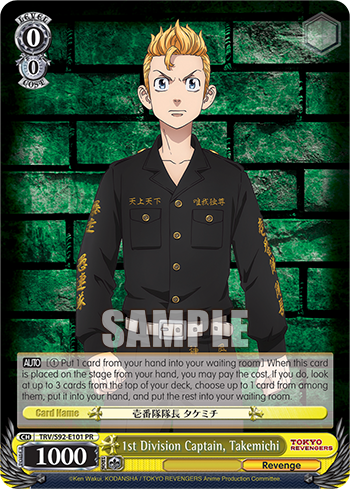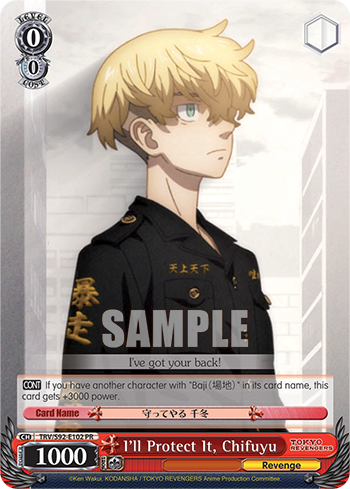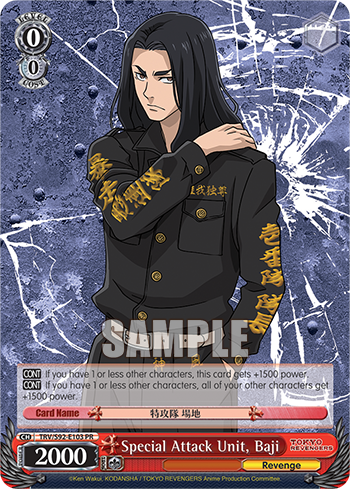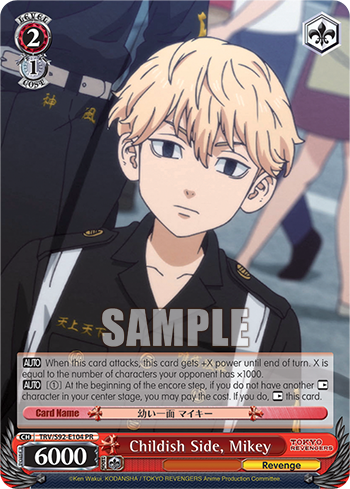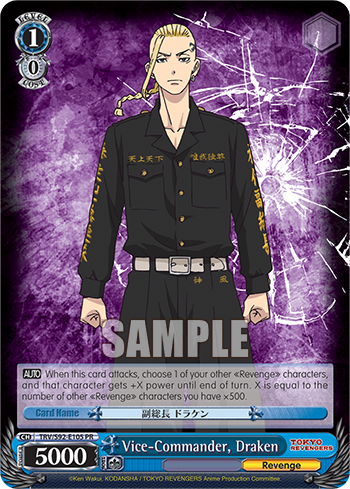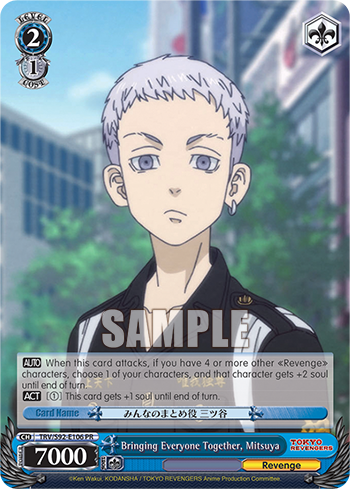 Tournament Store Assist PR Pack!
Each Tournament Store Assist PR Pack will contain one of six special foil PR cards, and can be redeemed with any purchase of one display of the following product, while stocks last:
Booster Pack Tokyo Revengers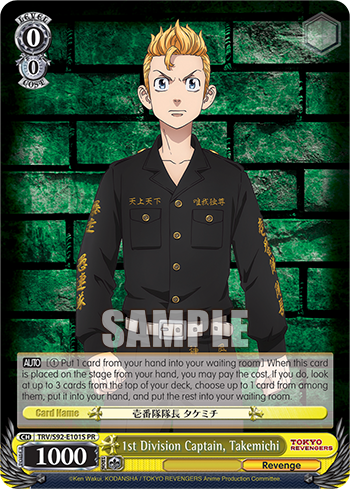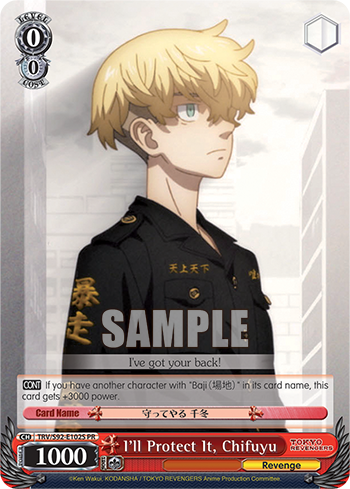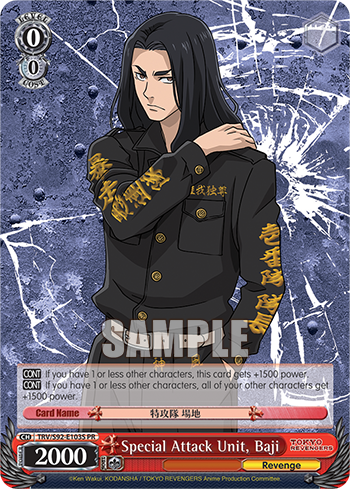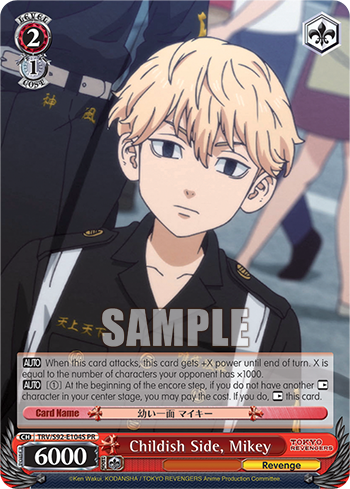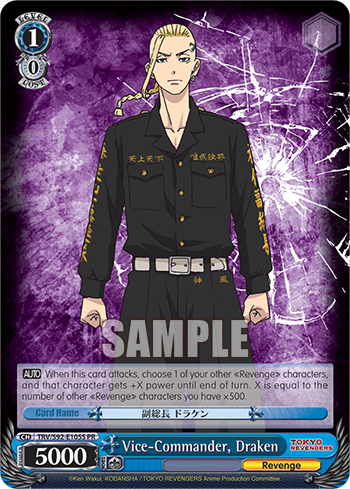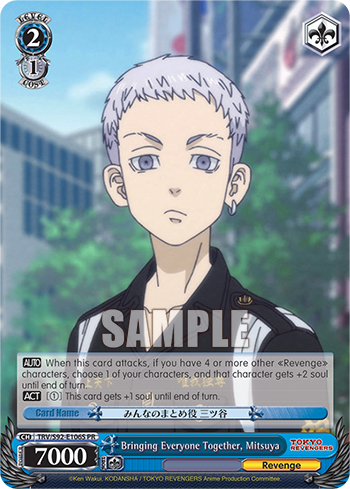 More information about the Tournament Store Assist PR Pack Campaign can be found here.
Neo-Standard Products
Trial Deck+

Tokyo Revengers
※ This product is intended for players aged 13 and above.
※ Weiß Schwarz (English Edition) does not include gold/silver campaign coupon.
※ ONLY FOR SALE IN THE FOLLOWING TERRITORIES: United States, Canada, Germany, United Kingdom, Sweden, France, Italy, Portugal, Belgium, Spain, Mexico, Costa Rica, Peru, Brazil, Chile, Colombia, Austria, Netherlands, Australia, New Zealand, Philippines, Singapore, Malaysia, Taiwan