Booster Pack That Time I Got Reincarnated as a Slime
NOW ON SALE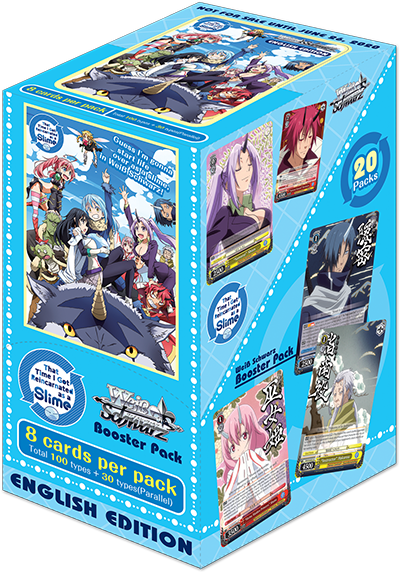 Release Date: July 31, 2020
■ Booster Pack That Time I Got Reincarnated as a Slime

Guess I'm gonna start life over as a slime, in Weiß Schwarz!

A hugely popular anime series with season 2 already announced in March 2019!
Join Rimuru as it embarks on a new journey in a new world… as a slime!

Product Information
☆SIGN CARDS☆
Every pack you purchase has a chance to contain a Sign card!
◆ Miho Okasaki (as Rimuru) [2 variations] ◆
◆ Yumiri Hanamori (as Shizu) ◆
◆ Sayaka Senbongi (as Shuna) ◆
◆ M.A.O (as Shion) ◆
◆ Rina Hidaka (as Milim) ◆
☆★☆★☆
The cards in this Booster Pack may be used together with cards with card number beginning with 「TSK/」!
Total 100 types of cards + 30 types (Parallel)
8 cards per pack
20 packs per display
16 displays per carton
◆ Box toppers
1 of 5 exclusive PR cards in every display box!
◆ Carton toppers
1 English Edition exclusive Stitched Playmat included in every carton!
▼ Carton topper playmat design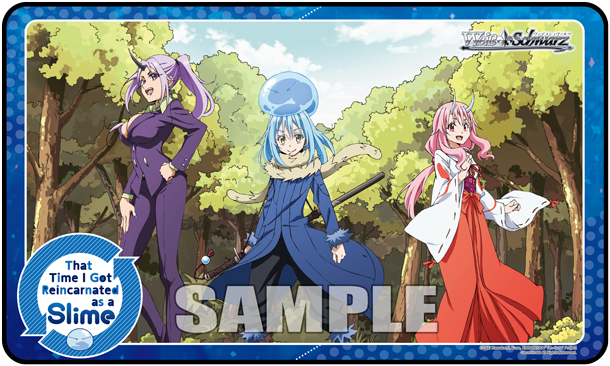 ※ First print run only.
※ Image is for illustration purpose only. Product specifications are subjected to change.
Neo-Standard Product
Booster Pack

That Time I Got Reincarnated as a Slime Vol.2

Trial Deck+

That Time I Got Reincarnated as a Slime
※ This product is intended for players aged 13 and above.
※ English edition cards cannot be used in official Japanese edition tournaments.
※ Weiß Schwarz (English Edition) does not include gold/silver campaign coupon.