Booster Pack Saekano: How to Raise a Boring Girlfriend
NOW ON SALE
Release Date: October 28, 2022

Inspired by an encounter with his dream heroine, join Tomoya in his fun-filled journey to realize his dreams of creating the ultimate dating sim! Together with the support of his friends, Tomoya is one step closer to making his dream a reality.

One spring day, I came face to face with Weiß Schwarz. Saekano: How to Raise a Boring Girlfriend joins the stage!
Product Information
Changes to SP cards! (SP)
Please note that the artwork for the following SP cards has been modified for the English Edition:
SHS/W56-E001SP: Qualities of a Maiden, Eriri

SHS/W56-E002SP: Tomoya's Beloved Disciple

SHS/W56-E032SP: Ideal Girl, Megumi

SHS/W56-E059SP: Pride of Creators, Utaha

SHS/W56-E081SP: icy tail, Michiru

▶ Click to display rarity distribution!
100 types of cards + 23 types (Parallel)
| | |
| --- | --- |
| SP (Special) | 5 |
| RRR (Triple Rare) | 6 |
| SR (Super Rare) | 12 |
| RR (Double Rare) | 10 |
| R (Rare) | 22 |
| U (Uncommon) | 28 |
| C (Common) | 28 |
| CR (Climax Rare) | 4 |
| CC (Climax Common) | 8 |
9 cards per pack, 16 packs per display
18 displays per carton
1 of 5 exclusive PR cards in every display box!
1 English Edition exclusive stitched playmat in every carton!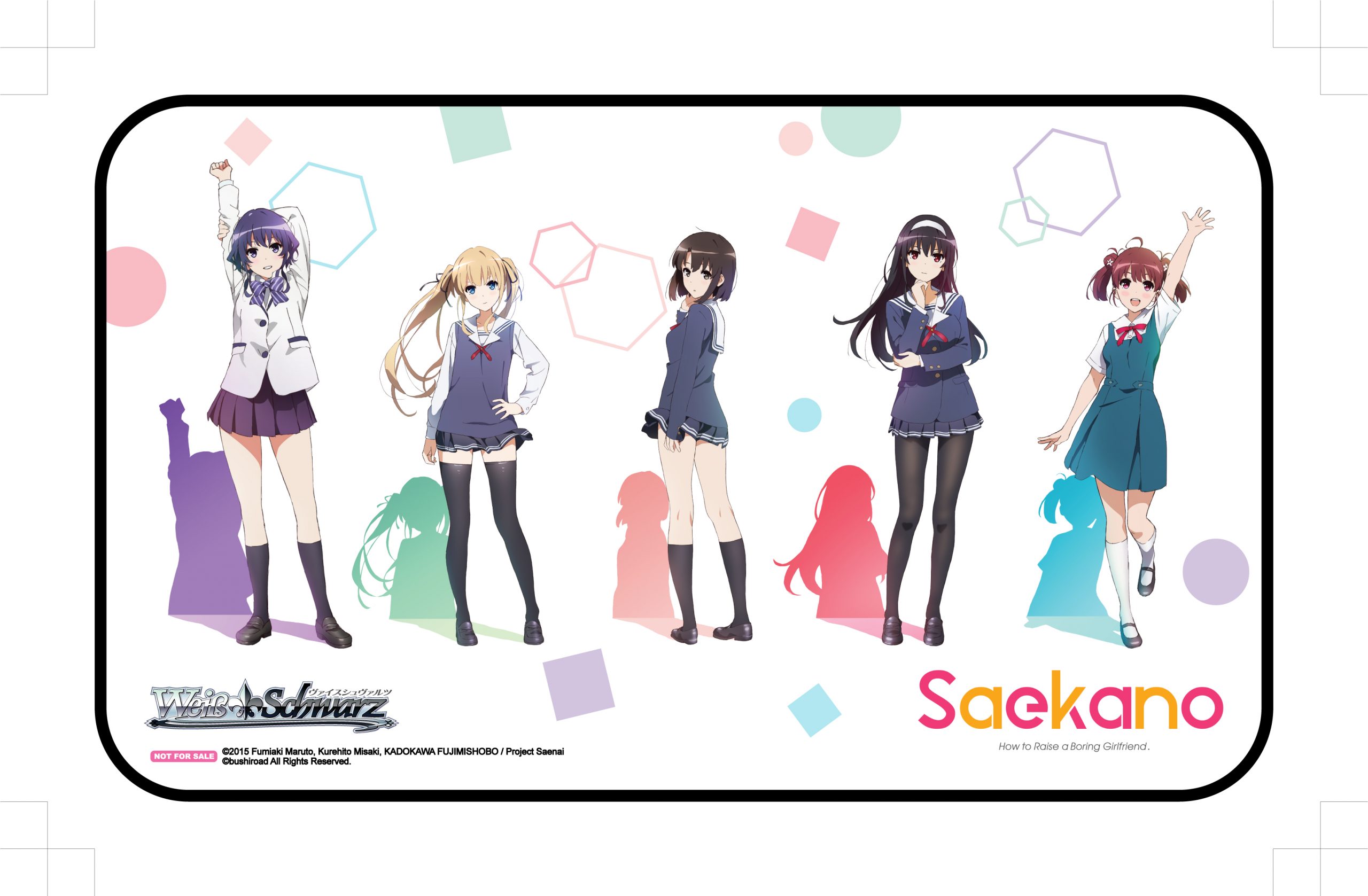 The cards in this Booster Pack may be used together with cards that have card numbers beginning with 「SHS/」!

Featured Cards
Serialized hot stamped cards for each heroine with unique quotes! (SSP)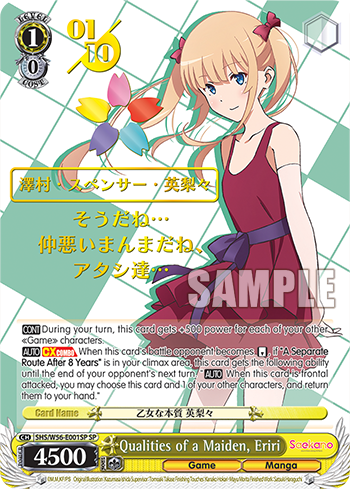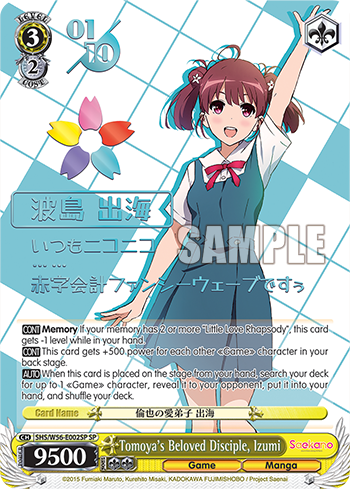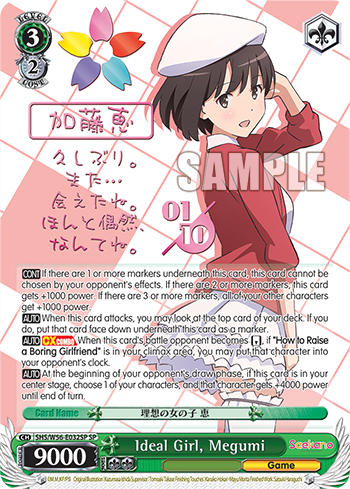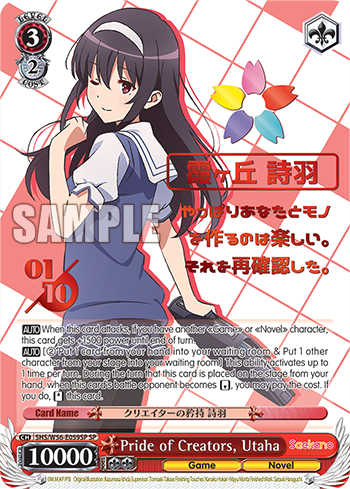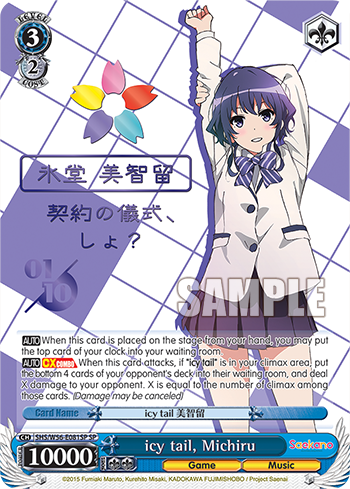 Tournament Store Assist PR Pack!
Each Saekano: How to Raise a Boring Girlfriend Tournament Store Assist PR Pack will contain 1 of 5 special foil PR cards, and can be redeemed with any purchase of any 1 display of the following product:
Weiß Schwarz English Edition Booster Pack Saekano: How to Raise a Boring Girlfriend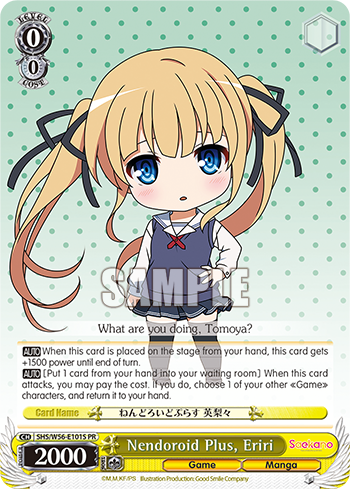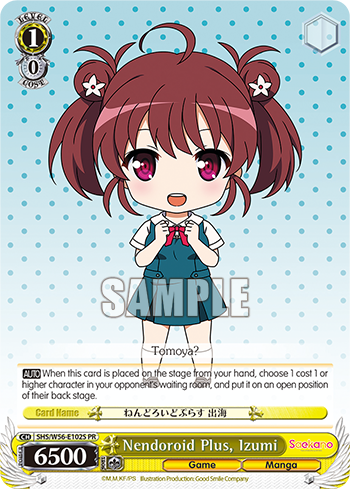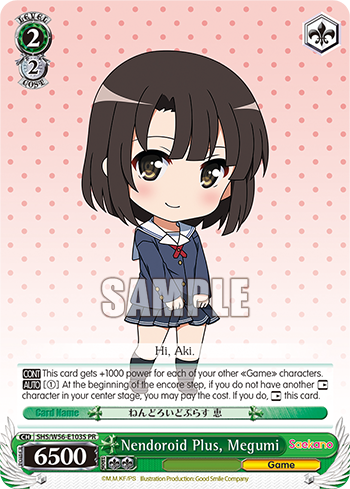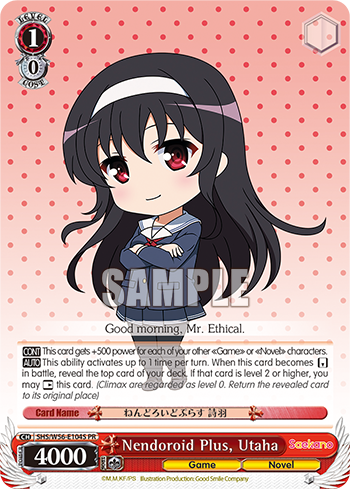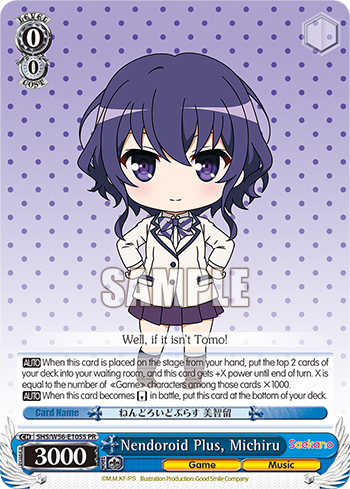 More information about the Tournament Store Assist PR Pack Campaign can be found here.

* Please note that all cards are still in development and may be changed.
* Limited to 5 packs per person. Subject to availability while stocks last.
Neo-Standard Products
Trial Deck+

Saekano: How to Raise a Boring Girlfriend
※ This product is intended for players aged 13 and above.
※ Weiß Schwarz (English Edition) does not include gold/silver campaign coupon.
※ ONLY FOR SALE FOR THE FOLLOWING TERRITORIES: U.S.A., Canada, Mexico, Chile, United Kingdom, France, Germany, Italy, Greece, Spain, Portugal, Netherlands, Austria, Belgium, Denmark, Sweden, Bulgaria, Switzerland, Hungary, Finland, Slovakia, Poland, Lithuania, Luxembourg, Norway, Czech Republic, Slovenia, Malta, Croatia, Estonia, Israel, Saudi Arabia, Kuwait, Taiwan, Singapore, Malaysia, Indonesia, Philippines, Australia, New Zealand