Booster Pack SAO Alternative – Gun Gale Online –
NOW ON SALE
Release Date: May 17, 2019
■ Booster Pack SAO Alternative – Gun Gale Online –

Squad Jam… game, start!

Starring "LLENN", "Fukaziroh", "Pitohui", "M",
and other 'Squad Jam' rivals,
such as the Amazons group "SHINC".

Gun your way to victory in Weiß Schwarz, using weapons such as "P-chan", "Suitcase", "Smokescreen", and many more!

Product Information
Multiple cards that strengthen the simultaneously released Trial Deck+ are available!
Every pack you purchase has a chance to contain a sign card by the following voice cast!!!
◆ Tomori Kusunoki (as LLENN) ◆
◆ Yoko Hikasa (as Pitohui) ◆
◆ Chinatsu Akasaki (as Fukaziroh) ◆
The cards in this Booster Pack may be used together with cards with card number beginning with 「GGO/」!
-100 types of cards + 27 Parallel
-8 cards per pack
-20 packs per display
-16 displays per carton
◆Box toppers
1 of 4 exclusive PR cards in every display box!
◆Carton toppers
4 English Edition exclusive Rubber Playmats included in every carton!
▼Carton topper playmat design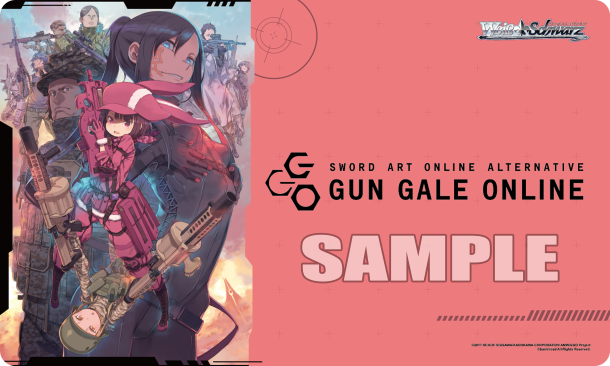 ※ First print run only.
※Image is for illustration purpose only. Product specifications are subjected to change.
Blu-ray/DVD set + Exclusive PR card!


※Please note that the English edition version of "Confident in Her Dexterity! LLENN" is different from the Japanese edition of the card "足に自信あり!レン".

Neo-Standard Product
Trial Deck+

SAO Alternative – Gun Gale Online –
※ Weiß Schwarz English Edition does not include gold/silver campaign coupon.