Booster Pack Re:ZERO -Starting Life in Another World- Vol.2
NOW ON SALE
Release Date: August 2, 2019
■ Booster Pack Re:ZERO -Starting Life in Another World- Vol.2

No matter how many resets it may take… I swear that I'll save all of you!

How will Subaru utilize his power against the cunning Witch Cult members?
Can his ability help in this battle?
Which ending will this set of choices
lead to?

The battle with the Witch Cult has begun, in this
Weiß and Schwarz world!

Multiple cards that strengthen
the Trial Deck+ & Booster Pack
previously released on 21 Dec 2018!

Product Information
Every pack you purchase
has a chance to contain a card signed
by the following voice cast!!!
◆ Yusuke Kobayashi (as Subaru Natsuki) ◆
◆ Rie Takahashi (as Emilia) ◆
◆ Inori Minase (as Rem) ◆
◆ Rie Murakawa (as Ram) ◆
◆ Satomi Arai (as Beatrice) ◆
The cards in this Booster Pack may be used together with cards with card number beginning with 「RZ/」!
-100 types of cards + 27 Parallel
-8 cards per pack
-20 packs per display
-16 displays per carton
◆Box toppers
1 of 5 exclusive PR cards in every display box!
◆Carton toppers
4 English Edition exclusive Rubber Playmats included in every carton!
▼Carton topper playmat design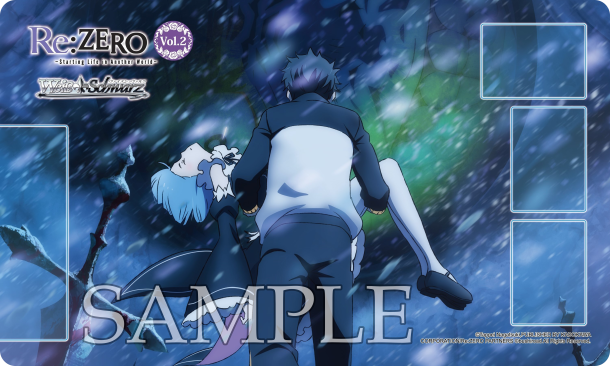 ※ First print run only.
※Image is for illustration purpose only. Product specifications are subjected to change.
Neo-Standard Product
※ Weiß Schwarz English Edition does not include gold/silver campaign coupon.