Booster Pack Revue Starlight
NOW ON SALE
Release Date: June 14, 2019
■ Booster Pack Revue Starlight

The "Revue"… has already begun.

The Stage Girls pull off their greatest battle performance yet,
on the stage of Weiß Schwarz!

Scenes from all 12 episodes
will be included! Relive characters
taking on "Position Zero",
or that momentous "Revue Duet" again!

Featuring 9 pieces of original artwork from the animation studio!

Product Information
Every pack you purchase
has a chance to contain
a hot stamped sign card OR
a hand signed full body portrait
of the following voice cast!!!
◆ Momoyo Koyama (as Karen Aijo) ◆
◆ Suzuko Mimori (as Hikari Kagura) ◆
◆ Maho Tomita (as Maya Tendo) ◆
◆ Hinata Sato (as Junna Hoshimi) ◆
◆ Haruki Iwata (as Mahiru Tsuyuzaki) ◆
◆ Moeka Koizumi (as Nana Daiba) ◆
◆ Aina Aiba (as Claudine Saijo) ◆
◆ Teru Ikuta (as Futaba Isurugi) ◆
◆ Ayasa Ito (as Kaoruko Hanayagi) ◆
The cards in this Booster Pack may be used together with cards with card number beginning with 「RSL/」!
-100 types of cards + 50 Parallel
-8 cards per pack
-20 packs per display
-16 displays per carton
◆Box toppers
1 of 6 exclusive PR cards in every display box!
◆Carton toppers
4 English Edition exclusive Rubber Playmats included in every carton!
▼Carton topper playmat design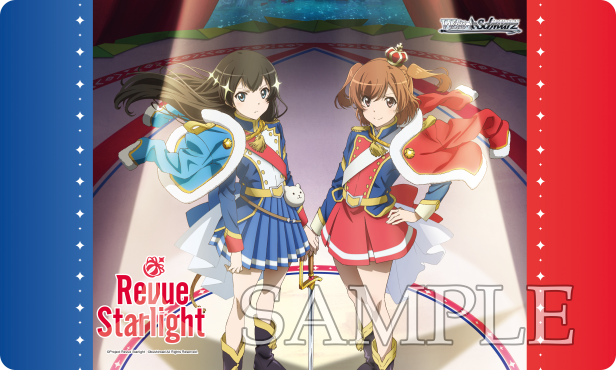 ※ First print run only.
※Image is for illustration purpose only. Product specifications are subjected to change.
Neo-Standard Product
Trial Deck+

Revue Starlight
※ Weiß Schwarz English Edition does not include gold/silver campaign coupon.