Booster Pack Magia Record: Puella Magi Madoka Magica Side Story
NOW ON SALE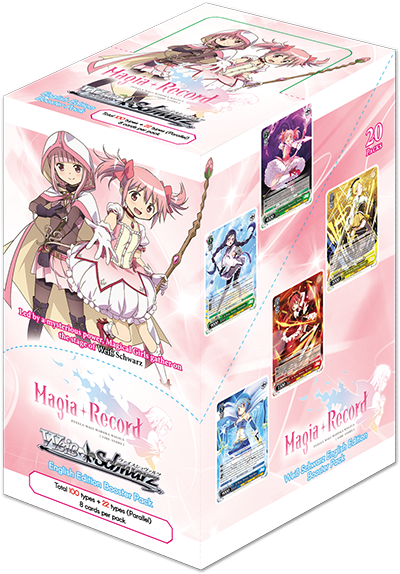 Release Date: February 26, 2021
■ Booster Pack Magia Record: Puella Magi Madoka Magica Side Story

The popular smartphone game spin-off of the 2011 anime "Puella Magi Madoka Magica" joins the Weiß Schwarz lineup!

The Booster Pack will feature the main characters Iroha Tamaki and Yachiyo Nanami, as well as the many other characters that appear in the game!

You can enjoy this set alone, or create a neo-standard deck combined with "Puella Magi Madoka Magica"

Product Information
☆SIGN CARDS☆
Every pack you purchase has a chance to contain a Sign card!
◆ Momo Asakura (as Iroha Tamaki) ◆
◆ Sora Amamiya (as Yachiyo Nanami) ◆
◆ Ayane Sakura (as Felicia Mitsuki) ◆
◆ Shina Natsukawa (as Tsuruno Yui) ◆
◆ Yui Ogura (as Sana Futaba) ◆
◆ Aoi Yuki (as Madoka Kaname) ◆
◆ Chiwa Saito (as Homura Akemi) ◆
☆★☆★☆
The cards in this Booster Pack may be used together with cards with card number beginning with 「MR/」 and 「MM/」!
Total 100 types of cards + 22 types (Parallel)
8 cards per pack
20 packs per display
16 displays per carton
◆ Box toppers
1 of 5 exclusive PR cards in every display box!
◆ Carton toppers
1 English Edition exclusive Stitched Playmat included in every carton!
▼ Carton topper playmat design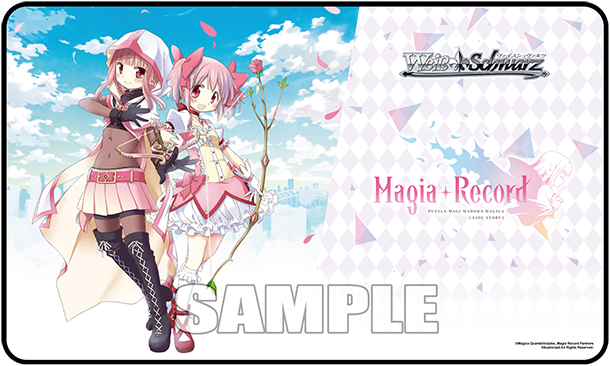 ※ First print run only.
※ Image is for illustration purpose only. Product specifications are subjected to change.
Neo-Standard Products
※ This product is intended for players aged 13 and above.
※ Weiß Schwarz (English Edition) does not include gold/silver campaign coupon.