Booster Pack KanColle : Arrival! Reinforcement Fleets from Europe!
NOW ON SALE
Release Date: November 9, 2018

■ Booster Pack KanColle : Arrival! Reinforcement Fleets from Europe!

Will you be the ADMIRAL of these girls, and lead the fleet to victory?

Foreign vessels have arrived on scene, searching for an admiral to lead the fleet! Joining them are popular Fleet Girls like Kashima and Taiho!

Create your own deck with a ton of new fun cards included in this Booster Pack!

Product Information
SP sign cards from the various Japanese voice actors randomly inserted in packs!!
Amagi: Yui Horie
Italia: Misaki Kuno
Taiho: Mamiko Noto
Bismarck: Aya Endo
Prinz Eugen: Ari Ozawa
Kashima / Ro-500: Ai Kayano
WHAT'S MORE, SP versions of existing KanColle cards from the following Japanese voice actors are included as carton toppers!!!
Akashi: Risa Taneda
Akatsuki: Aya Suzaki
Hatsukaze: Sarah Emi Bridcutt
The cards in this Booster Pack may be used together with cards with card number beginning with 「KC/」!
-100 types of cards + 25 Parallel
-8 cards per pack
-20 packs per display
-16 displays per carton
◆Box toppers
1 of 4 exclusive PR cards in every display box!
◆Carton toppers
2 of 3 SP versions of existing KanColle cards
&
4 English Edition exclusive Rubber Playmats included in every carton!
▼Carton topper playmat design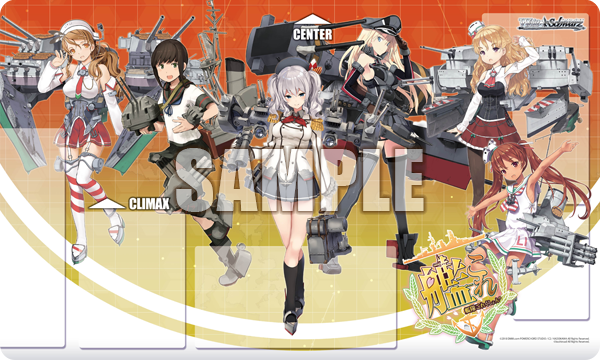 ※ First print run only.
※Image is for illustration purpose only. Product specifications are subjected to change.
Neo-Standard Product
※ English edition cards cannot be used in official Japanese edition tournaments.
※ Weiß Schwarz English Edition does not include gold/silver campaign coupon.