Booster Pack Goblin Slayer
NOW ON SALE
Release Date: January 31, 2020
■ Booster Pack GOBLIN SLAYER

The anime series "GOBLIN SLAYER" which aired from October to December 2018 joins Weiß Schwarz!

Based on the popular light novel of the same name published by GA Bunko that has sold more than 3 million copies! This is a dark fantasy story where a stoic protagonist, who hides his face under a helmet, fully utilizes his experiences and knowledge to take down goblin after goblin.

The world of GOBLIN SLAYER is reenacted through 100 types of cards in this Booster Pack.

Experience the story of Goblin Slayer and the other adventurers with Weiß Schwarz!

Product Information
★SIGN CARDS★
Every pack has a chance to contain a sign card by the voice cast!
◆ Yuuichirou Umehara (as Goblin Slayer) ◆
◆ Yui Ogura (as Priestess) ◆
◆ Nao Toyama (as High Elf Archer) ◆
◆ Yuka Iguchi (as Cow Girl) ◆
◆ Aya Endo (as Sword Maiden) ◆
☆★☆★☆
The cards in this Booster Pack may be used together with cards with card number beginning with 「GBS/」!
Total 100 types of cards + 28 types (Parallel)
8 cards per pack
20 packs per display
16 displays per carton
◆ Box toppers
1 of 5 exclusive PR cards in every display box!
◆ Carton toppers
4 English Edition Exclusive Rubber Playmats included in every carton!
▼ Carton topper playmat design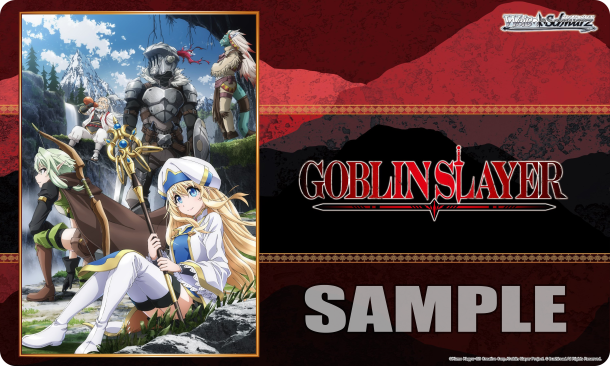 ※ First print run only.
※ Image is for illustration purpose only. Product specifications are subjected to change.
Neo-Standard Products
Trial Deck+

GOBLIN SLAYER
※ English edition cards cannot be used in official Japanese edition tournaments.
※ Weiß Schwarz English Edition does not include gold/silver campaign coupon.