Booster Pack Fujimi Fantasia Bunko
NOW ON SALE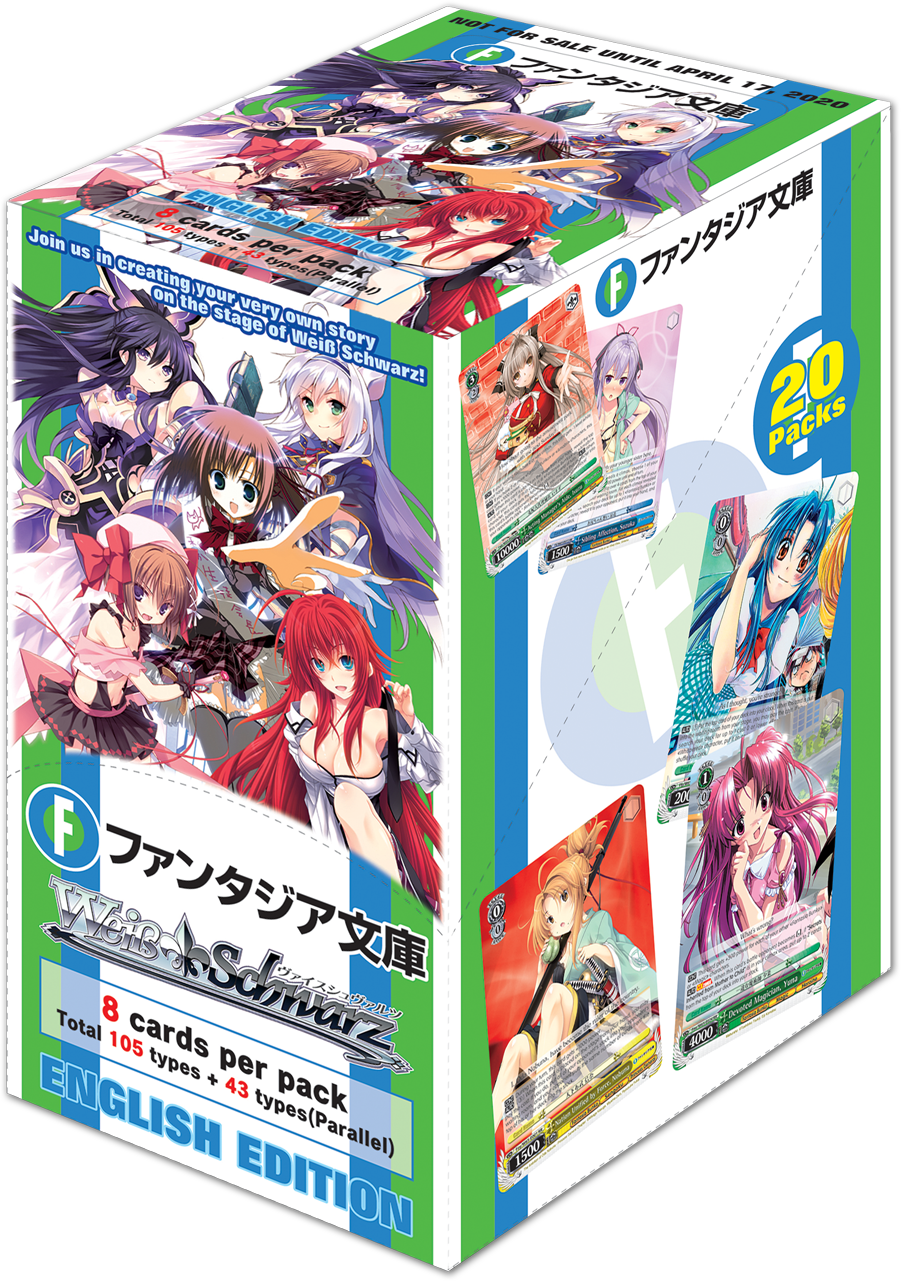 Release Date: May 29, 2020
■ Booster Pack Fujimi Fantasia Bunko

Weiß Schwarz "Fujimi Fantasia Bunko" features the following titles:

Is This a Zombie?
Student Council's Discretion
Highschool DxD
Akashic Records of Bastard Magic Instructor
Date A Live
The Ambition of Oda Nobuna
Amagi Brilliant Park
Maburaho
Full Metal Panic!
Ore ga Suki nano wa Imōto dakedo Imōto ja nai
AntiMagic Academy "The 35th Test Platoon"
The Legend of the Legendary Heroes
Slayers
Our Last Crusade or the Rise of a New World
Tokyo Ravens
Chaika – The Coffin Princess
Do You Love Your Mom and Her Two-Hit Multi-Target Attacks?
Sky Wizards Academy

The cards in this Booster Pack may be used together with cards which have their card number beginning with 「F**/」!

※Note that cards in the Fujimi Fantasia Bunko series have card numbers beginning with F(capital letter) and **(2 small letters).

Product Information
★SIGN CARDS★
| | | |
| --- | --- | --- |
| Light Novel Title | Authors (FBR Rarity) | Voice Cast (SP rarity) |
| Student Council's Discretion | Sekina Aoi | Iori Nomizu (as Mafuyu Shiina) |
| Date A Live | Koushi Tachibana | Asami Sanada (as Kurumi Tokisaki) |
| Highschool DxD | Ichihei Ishibumi | Azumi Asakura (as Asia Argento) |
| Akashic Records of Bastard Magic Instructor | Taro Hitsuji | Akane Fujita (as Sistine Fibel) |
☆★☆★☆
Total 105 types of cards + 43 types (Parallel)
8 cards per pack
20 packs per display
16 displays per carton
◆ Box toppers
1 of 8 exclusive PR cards in every display box!
◆ Carton toppers
1 of 5 FBR rarity cards included in every carton!
※The carton topper cards are the same FBR cards that can be found in this product.
Neo-Standard Product
Trial Deck+

Fujimi Fantasia Bunko
※ This product is intended for players aged 13 and above.
※ English edition cards cannot be used in official Japanese edition tournaments.
※Weiß Schwarz (English Edition) does not include gold/silver campaign coupon.