Booster Pack Fate/Grand Order Absolute Demonic Front: Babylonia
NOW ON SALE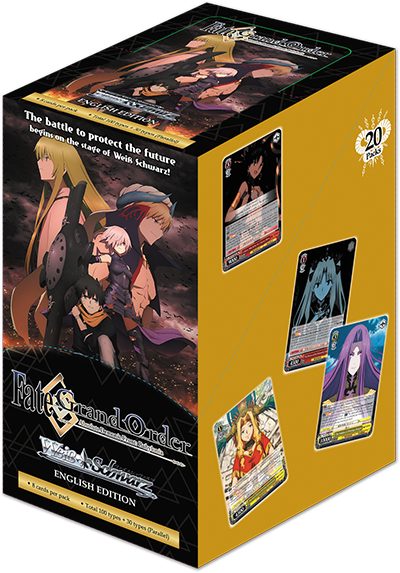 Release Date: January 22, 2021
■ Booster Pack Fate/Grand Order Absolute Demonic Front: Babylonia

The Booster Pack of this extremely popular anime will be released!

In addition to containing cards of characters that are not in the Trial Deck+, there are also illustrations exclusive to this product.

Capturing the impactful story of the Seventh Singularity, you won't want to miss this as a fan of the title!

Do check out the Trial Deck+ together as well!

Product Information
☆SIGN CARDS☆
Every pack you purchase has a chance to contain a Sign card!
◆ Rie Takahashi as Mash Kyrielight ◆
◆ Tomokazu Seki as Gilgamesh ◆
◆ Yu Kobayashi as Kingu ◆
◆ Kana Ueda as Ishtar / Ereshkigal ◆
☆★☆★☆
The cards in this Booster Pack may be used together with cards with card number beginning with 「FGO/」!
This title is not Neo-Standard compatible with 「APO/」, 「FS/」, or 「FZ/」.
Total 100 types of cards + 30 Parallel
8 cards per pack
20 packs per display
16 displays per carton
◆ Box toppers
1 of 5 exclusive PR cards in every display box!
◆ Carton toppers
1 English Edition exclusive Stitched Playmat included in every carton!
▼ Carton topper playmat design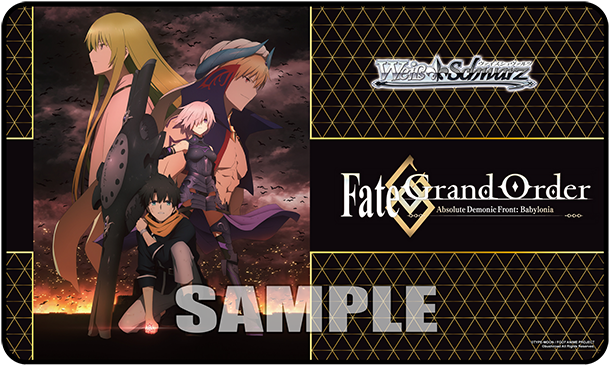 ※ First print run only.
※ Image is for illustration purpose only. Product specifications are subjected to change.
Neo-Standard Products
Trial Deck+

Fate/Grand Order Absolute Demonic Front: Babylonia

Booster Pack

Fate/Grand Order THE MOVIE Divine Realm of the Round Table: Camelot
※ This product is intended for players aged 13 and above.
※ Weiß Schwarz (English Edition) does not include gold/silver campaign coupon.