Dear Weiß Schwarz Meisters,
Thank you for your continuous support.
In a response to the feedback that we received about the overlapping release date with Kaguya-sama: Love is War, the release date for Booster Pack Fate/Stay night [Heaven's Feel] Vol.2, has been revised to July 9, 2021.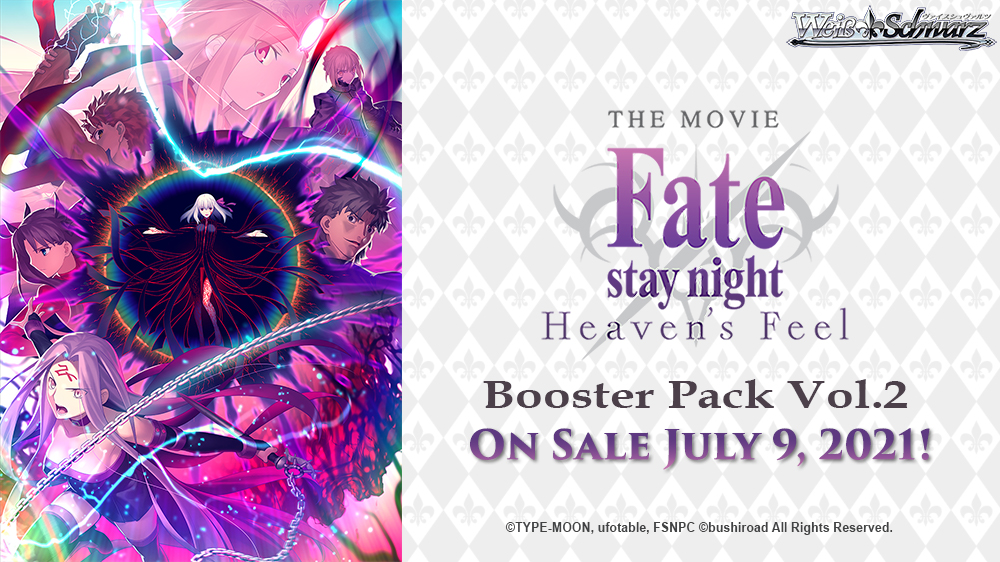 As announced earlier, the artwork for the SP and SEC cards in this product, have been modified from their Japanese counterparts. The respective changes for the SP and SEC cards are as follows:








The changes are uniform and the list of cards with the card numbers affected, are as follows:
| | |
| --- | --- |
| Card Number | Card Name |
| FS/S77-E002SP | Trigger Off, Shirou |
| FS/S77-E003SP | Oath of the Sword, Saber |
| FS/S77-E018SP | Keeping to Her Convictions, Rider |
| FS/S77-E042SP | Resolution to Fight, Rin |
| FS/S77-E043SP | Makiri's Grail, Sakura |
| FS/S77-E044SP | Onyx Beauty, Saber Alter |
| FS/S77-E078SP | Dress of Heaven, Illya |
| FS/S77-E017SEC | "spring song", Sakura |
We have also heard from many of our players about their concerns arising from the recent announcements of changes to artwork for some of our upcoming releases, and would like to reassure players that we will endeavor to maintain the same artwork as their Japanese counterparts as much as possible.
Thank you.