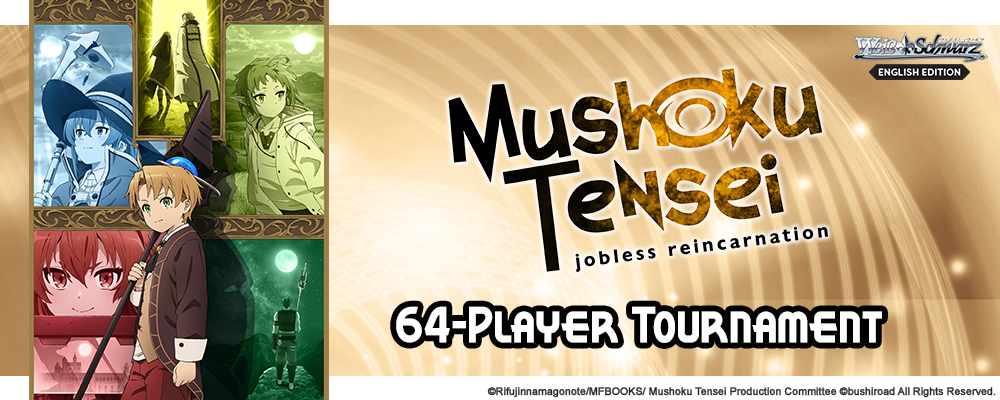 To celebrate the release of our newest English Edition title, Mushoku Tensei: Jobless Reincarnation, we will be holding a 64-player tournament via Bushiroad Remote Fight!
Don't miss the opportunity to compete and win Mushoku Tensei: Jobless Reincarnation products! Those who use a Mushoku Tensei: Jobless Reincarnation deck and place first will win additional prizes!
Schedule Date: April 23, 2022
Check In (pre-registered): 9:30 – 10:00 AM PST
Check in for waiting list: 10:00 – 10:30 AM PST
Winners will receive prizes and the first place player will also be featured in an upcoming issue of our E-Newsletter.
Pre-Registration Link: https://forms.gle/KkegxLVz5gmPcWbSA
* Incomplete/Incorrect entries will be disregarded.
Rules:
1) Players may only use decks built with Weiss Schwarz English Edition titles; deck title does not have to be Mushoku Tensei: Jobless Reincarnation.
2) Players must submit a deck list and are not allowed to switch cards in between games. (Staff reserves the right to deck check at any time.)
3) Players must be present for their game or they will be disqualified from the tournament.
4) Player's board must be fully in view to participate.
5) Player's hands may not leave the camera's view.
6) Only licensed card supplies (sleeves, mats) may be used. A first offense will result in a warning and asking the offending player to change sleeves/mats. A second offense will result in a game loss.
[o] All Bushiroad products, all generic licensed products (Dragon Shields, Ultra Pro, Ultimate Guard)
[x] Other TCG, products that include fan art (e.g. Comiket sleeves)
7) Connectivity issues that happen on a player's end will result in an auto loss on said player.
8) Players are not allowed to stream their own matches.
9) After shuffling, players must cut their deck into 3 equal piles and label the piles as 1, 2, and 3. Opponent will get to choose the order in which the piles are stacked.
10) Organizers/Judges will announce the time remaining (5 or 10 minutes) before the end of the round. Each player is responsible for their own timekeeping should they miss out on the notifications and pings from the judges.
11) At the end of the round, the round will enter Overtime. Players have 10 minutes to finish 3 extra turns. After 10 minutes or end of the third turn, whichever comes first, the winner is decided in the following manner:
The player with the least damage wins the game. If the level is the same, the player with less clock wins the game. If the clock is the same, the game ends in a double loss.
For More Details on how to join click: https://en.bushiroad.com/remotefight/
※ Terms and Conditions:
The 64 Player Tournament is only open to legal residents in the following countries: Philippines, Australia, Singapore, Indonesia, New Zealand, Taiwan, Germany, the United Kingdom, France, Italy, Portugal, Belgium, Netherlands, Spain, Sweden, Switzerland, Austria, USA, Canada, Mexico, Brazil, Chile, Colombia, Costa Rica, Peru except for employees of Bushiroad, their close relatives and anyone otherwise connected to the company.
Entry in the 64 Player Tournament will be deemed as an acceptance of its terms and conditions.
a) Entry must meet all requirements as specified, to be eligible for winning. Entries that are incomplete or do not adhere to the rules or specifications may be disqualified.
b) Entries with inappropriate images/language will be disqualified.
c) Entries will be accepted starting from 25 March 2022, 11:00 PDT and ending on 21 April 2022, 11:00 PDT.
d) Bushiroad International Pte Ltd will not be responsible for entries that are not received for whatever reason.
e) Bushiroad International Pte Ltd reserves the right, in its sole discretion, to cancel, amend, suspend or modify the terms and conditions without prior notice.
f) The prize items shall be at the sole discretion of Bushiroad International Pte Ltd. No cash or other substitution shall be permitted, except at the discretion of Bushiroad International Pte Ltd.
g) Bushiroad Pte Ltd reserves the right to substitute the items with another without prior notice.
h) Winner will be notified via Discord direct message within 72 hours of the conclusion of the event. If a winner cannot be contacted or fails to claim the prize item(s) within 48 hours of notification, the item may be forfeited.
i) The recipient of the prize must be 18 years of age or older to accept the prize. Otherwise a parent or legal guardian may claim the prize for the winner.
j) Winner will be notified when the item is delivered.
k) Bushiroad International Pte Ltd's decision in all matters related to the contest will be final and no correspondence will be entered into.
l) Winner agrees to the use of his/her name, image, as well as their entries in any publicity material, without any further compensation, notice, review, or consent. Information submitted with an entry is subject to the Privacy Policy stated on Bushiroad's website. For more details on our Privacy Policy, please click here.
m) By entering the 64 Player Tournament, the entrant agrees to release and hold harmless Bushiroad, its subsidiaries, affiliates, partners, directors and employees from any liability, illness, injury, death, loss, litigation, claim, or damage that may occur, directly or indirectly, whether caused by negligence or not, from: (i) his/her participation in this contest and/or his/her acceptance, possession, use, or misuse of any prizes or any portion thereof; (ii) technical failures of any kind, including but not limited to the malfunction of any computer, cable, network, hardware, or software, or other mechanical equipment; (iii) the unavailability or inaccessibility of any transmissions, telephone, or Internet service; (iv) unauthorized human intervention in any part of the entry or the contest process; (v) electronic or human error in the administration of the contest or the processing of entries.
n) This 64 Player Tournament is in no way sponsored, endorsed or administered by, or associated with Facebook, Instagram, Twitter, Discord, and Google.