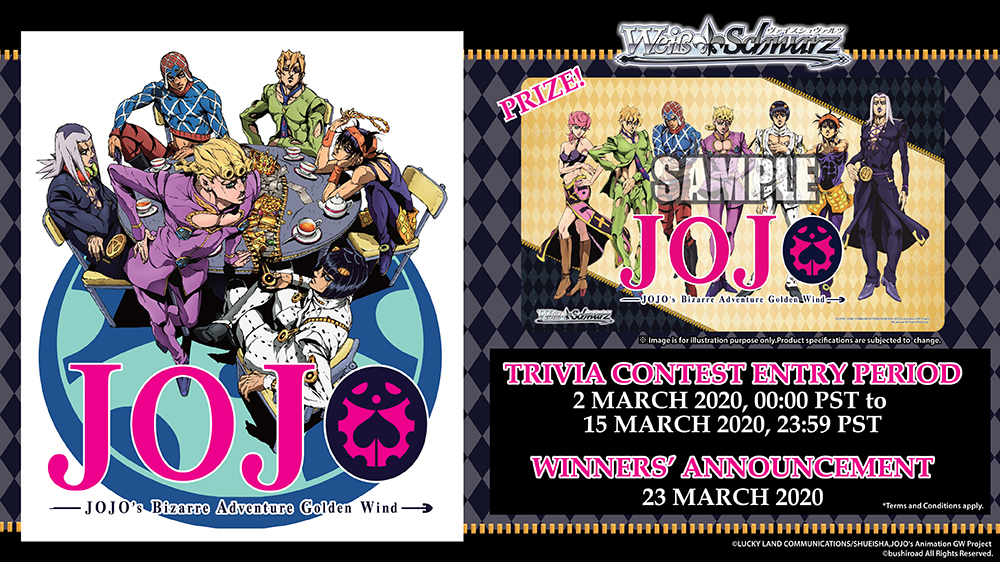 Hey Weiß Schwarz Meisters!
Here are the answers and winners for our JoJo's Bizarre Adventure: Golden Wind TRIVIA CONTEST on Facebook and Instagram!
☆★☆★☆
The answers to our trivia quiz are:
WEEK 1 – I, GIORNO GIOVANNA, HAVE A DREAM.
WEEK 2 – THIS TASTE IS THE TASTE OF SOMEONE WHO'S LYING!
☆★☆★☆
Congratulations to the following winners who will be receiving a JoJo's Bizarre Adventure: Golden Wind Playmat!
On Facebook:
• Matthew Vicencio
• Michael Wang
On Instagram:
• deletingmessiah
• lancblader
At the same time, a big thank you to everyone who took part in our contest! Remember to stay tuned to our website, Facebook page or Instagram for more contests in the future!