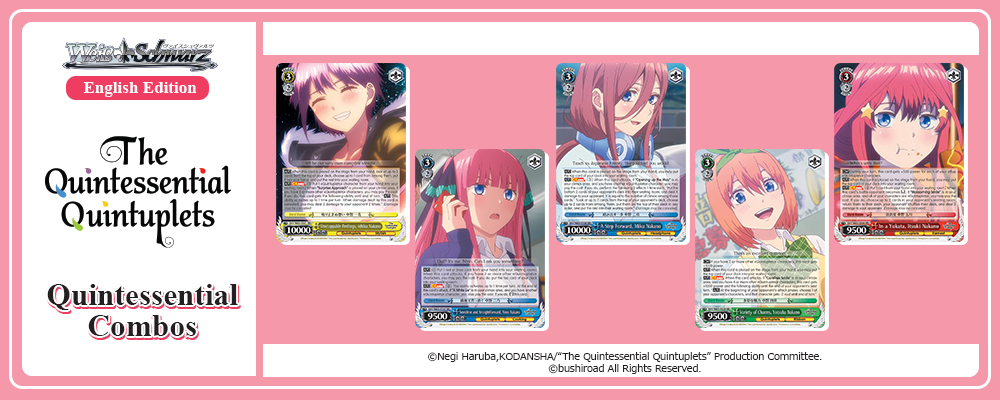 Feature: Quintessential Combos!
Meet the quintuplets!
Recreate the daily life of high school student Futaro Uesugi and his various encounters with the quintuplets as they make their debut on the Weiß Schwarz stage! Check out the official product listing here.
There's something for everyone in this set as each sister brings their own unique flavor to the late game! You'll be spoilt for choice building decks around your favorite playstyle, sister, or both! Here are our favorite combos for each sister.
Ichika in a million!
The immutable hand of love marches forth, just like the damage from Unstoppable Feelings, Ichika Nakano!
When the Surprise Approach climax combo is active and damage from your first attack is canceled, your opponents will suffer a nasty total of four additional burn damage! What's more, her first effect lets you put one out of three cards from the top of your deck into your hand when she is first placed onto stage, ensuring you'll always have a resource handy to activate the climax combo!
It takes Nino to tango!
Fashionably style on your opponents with Sensitive and Straightforward, Nino Nakano!
Sensitive and Straightforward, Nino Nakano gains the ability to attack twice when the A White Lie climax is in play, and thanks to her first effect, each attack lets you heal one damage, further widening the gap with your opponent!
Miku's the charm!
She may be timid, but A Step Forward, Miku Nakano ain't weak!
True to its name, the Opening up the Way climax combo will clear the path to victory by granting A Step Forward, Miku Nakano two nifty deck thinning effects when she attack! The first sends two cards from the bottom of your opponent's deck to the waiting room, burning for one damage for each climax sent to the waiting room in this way; while the second lets you look at the top two cards of your opponent's deck and either rearrange them or send them to the waiting room. Capitalize on this utility for strategic outplays!
Fantastic Yotsuba!
Charm your way to victory with Variety of Charms, Yotsuba Nakano!
A Carefree Smile from Yotsuba will make any opponent weak in their knees! This unique climax combo causes an opposing character to become uncontrollably infatuated, resulting in a debuff that reduces their soul damage by two during the next turn!
It's Itsuki o'clock somewhere!
In a Yukata, Itsuki Nakano channels the fiery passion of youth!
The Blossoming Smile of the youngest sister will disrupt your opponent's plans! When the opposing character becomes reversed, you can return two characters from your opponent's waiting room to their deck, preventing any waiting room retrieval or 'Change' shenanigans. The cherry on top? Your opponent will take three damage!