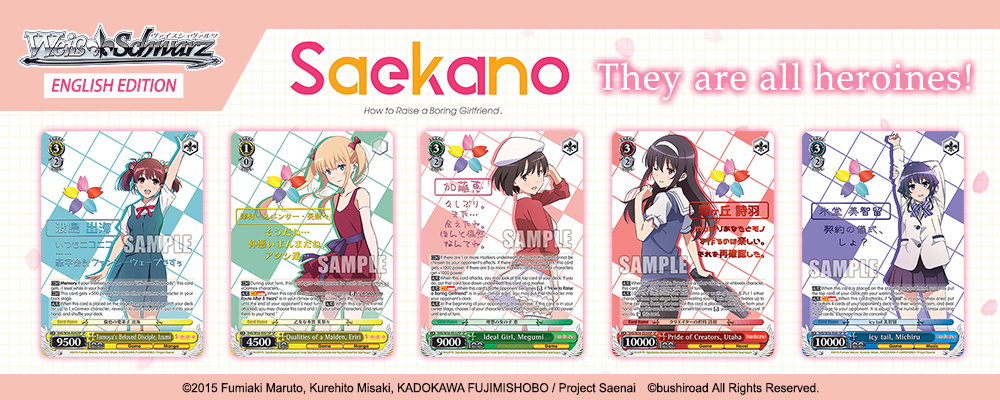 Tomoya and his circle have finally entered the Weiß Schwarz this Autumn in the hopes to find fresh materials for their dating simulator game! Experience the sweet and heart thumping moments with your favorite girls from the first season once again!
Create your own dating simulator experience with the lovely girls in this set!
The ideal girl takes center stage!
As expected of the main heroine, Megumi boasts huge late game potential with her powerful level three that comes equipped with a plethora of useful effects to overpower your opponents! To accelerate the process, Megumi also comes with level one and two cards that serve as key combo pieces to send Ideal Girl, Megumi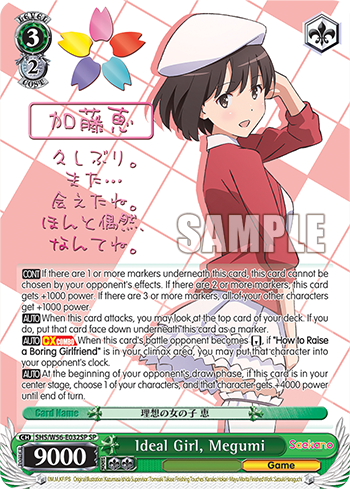 to the memory! Ideal Girl, Megumi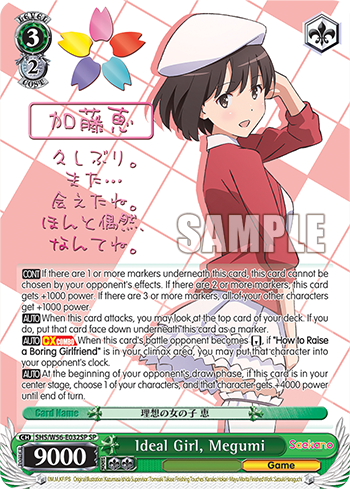 has abilities ranging from innate card protection to power boosts depending on how many markers are underneath. Her climax combo How to Raise a Boring Girlfriend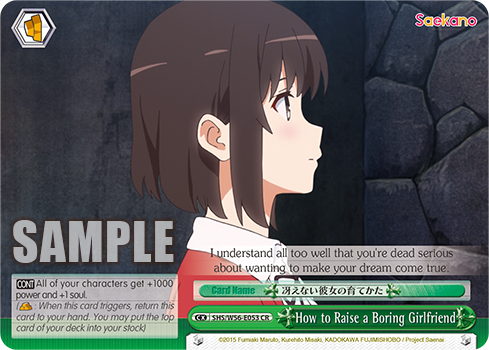 sends fallen opponents directly into the clock, which in most cases, will prove to be a powerful game-ending ability!
The genius artist in the flesh!
"Egoistic Lily" enters the stage with beautiful artworks that showcases her feminine side! For fans who are interested to build a deck focusing on Eriri, she comes with a staple level one and an interesting climax combo with A Separate Route After 8 Years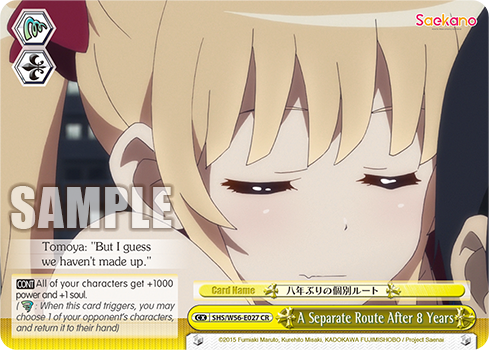 . Eriri provides temporary protection for herself and an ally if they are frontal attacked by returning them to your hand! This makes your opponent reconsider their frontal attack for a turn, especially if it sends back characters with abilities that activate when they re-enter the stage! Eriri also has a few options in the late game — Tsundere Trope Childhood Friend, Eriri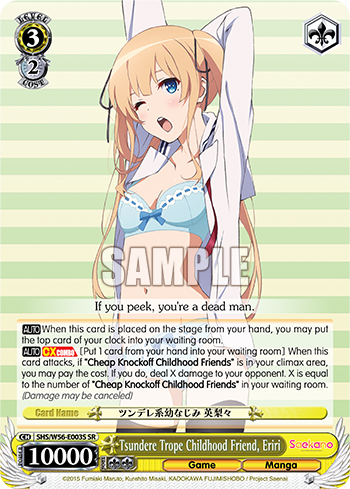 and her climax combo Cheap Knockoff Childhood Friends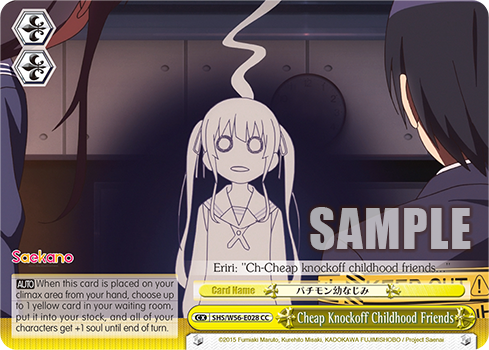 to deal additional damage; or Illustration In-Charge, Eriri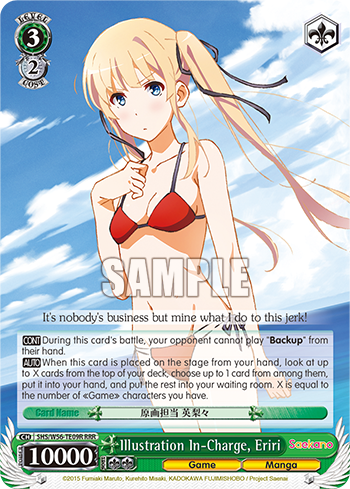 to search out the last key piece and close out the game!
The aggressive and passionate writer!
Utaha's red color representation reflects her fiery attitude towards her writing and love! A deck centering around Utaha has some powerful climax combos that allows you to retrieve characters from the waiting room with relative consistency. Starting off with First Autograph Event, Utaha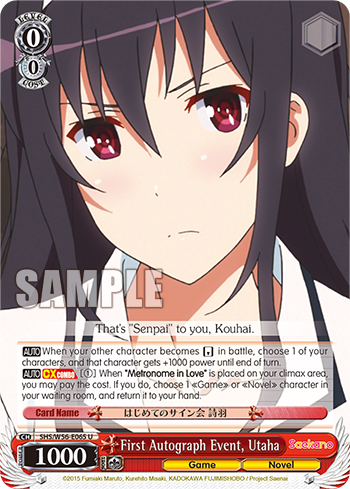 , she comes equipped with a climax combo, Metronome in Love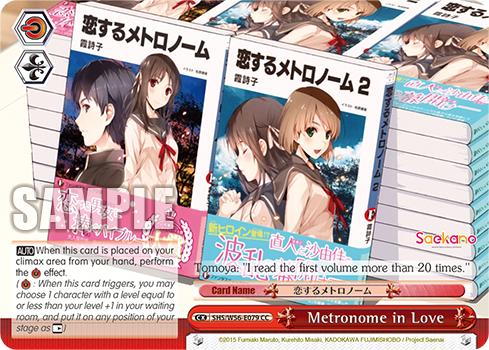 , that allows her to grab key characters from the waiting room. As a Standby climax, Metronome in Love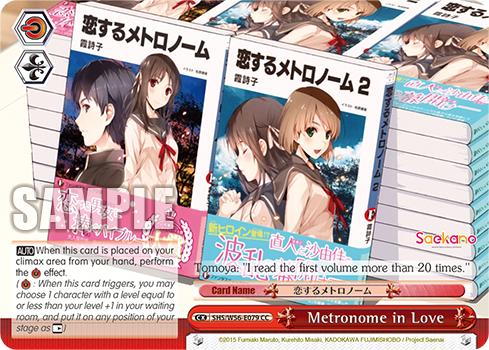 allows you to bring even stronger characters onto the stage! Beginning of a Long Night, Utaha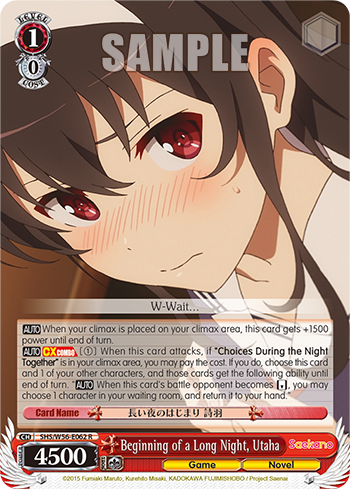 and her climax combo Choices During the Night Together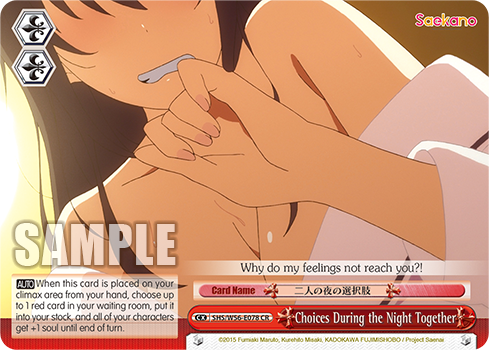 carries on the trend of bringing back characters from the waiting room, strengthening your mid and late game! Finally, Pride of Creators, Utaha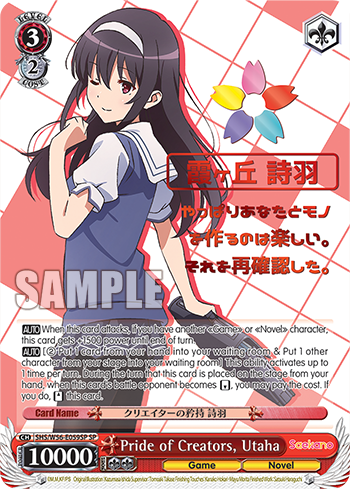 will be the main driving force of damage in the late game due to her potential of re-standing during the turn she was placed on stage!
The eternally grateful junior!
Izumi comes with a few nifty cards for fans who want to build a deck centering around her! Tomoya's Beloved Disciple, Izumi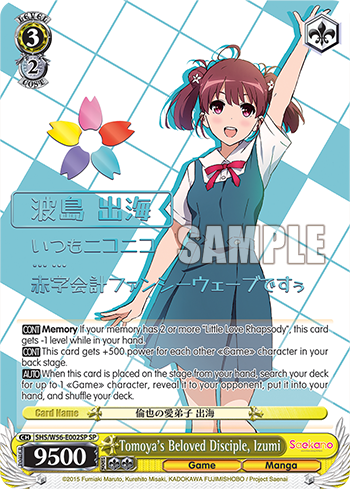 is the staple level three that can enter the stage early depending on how many Little Love Rhapsody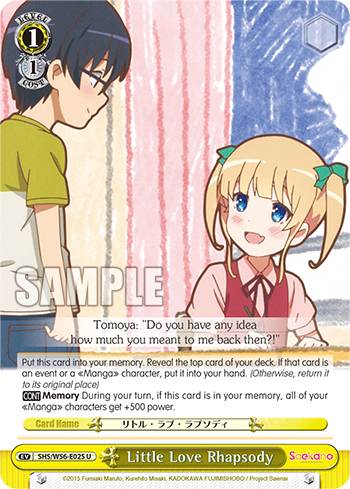 there are in the memory. Her search ability makes her valuable in any other decks that can splash in yellow! Little Love Rhapsody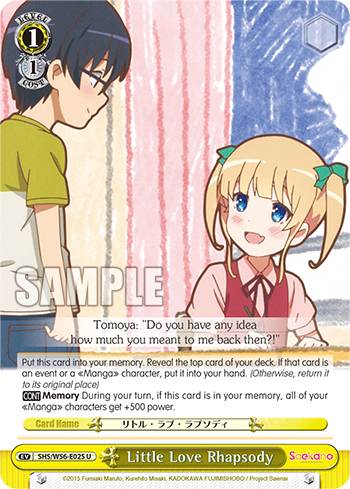 increases the odds of grabbing more characters off your deck. It also aids in deck compression by putting itself in the memory and providing an additional 500 power boost! Sold Out for the First Time, Izumi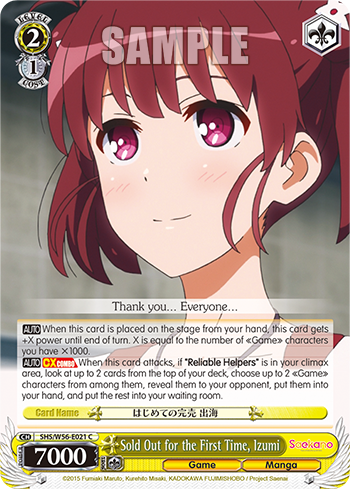 is the right card for those who are looking for a powerhouse with its powerful climax combo, Reliable Helpers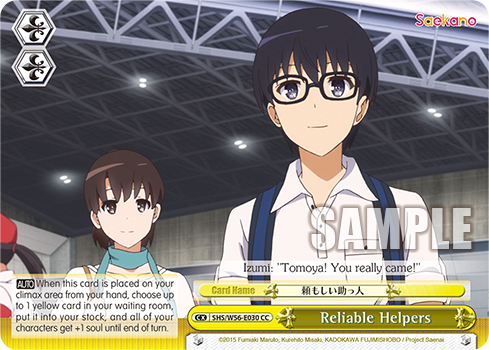 . Each time Sold Out for the First Time, Izumi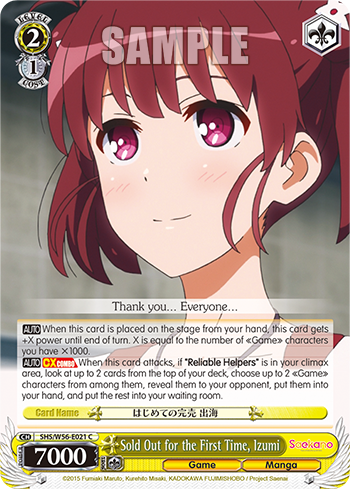 attacks, she is able to search out up to two characters from your deck, reinforcing your hands for more plays in the upcoming turns!
Michiru solidifies herself as the core of the group with cards emphasizing on the Resonate mechanic! icy tail, Michiru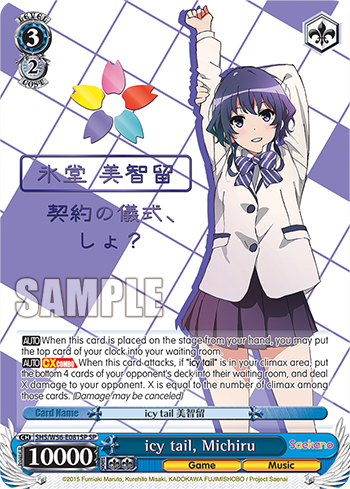 is the core card for this particular playstyle, and also serves as a powerful late game damage dealer. With her climax combo icy tail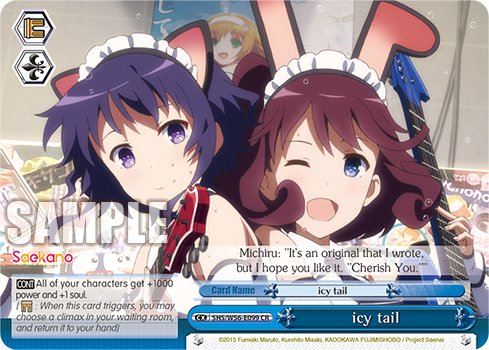 , icy tail, Michiru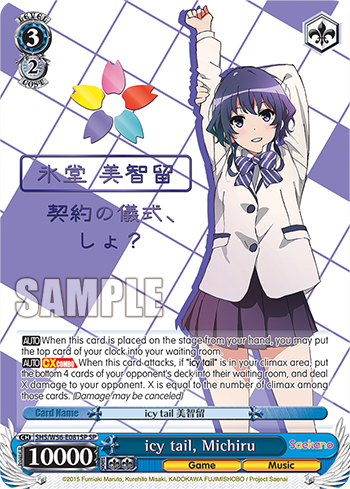 is able to thin out your opponent's deck and inflict additional damage to close out the game! Other cards in the deck play off having icy tail, Michiru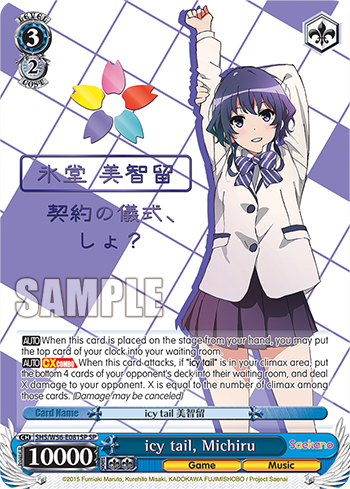 in hand to get bonus effects! Live Costume, Michiru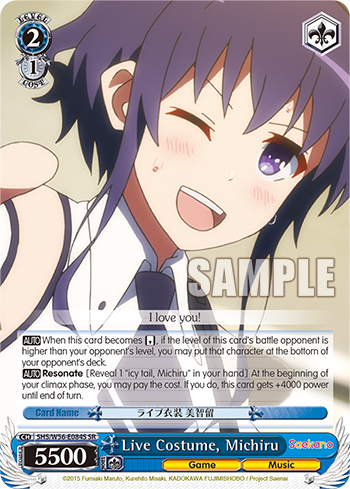 is able to swiftly dispatch higher-levelled characters while also boosting herself if you need a powerhouse on stage. Michiru's band member, icy tail, Ranko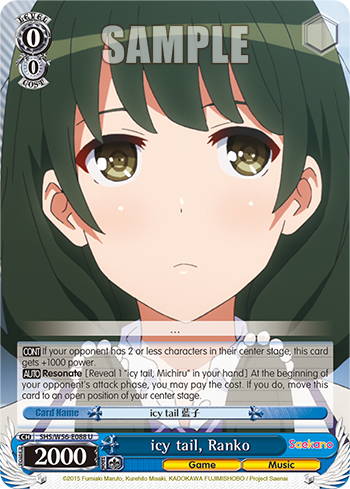 , also benefits from having icy tail, Michiru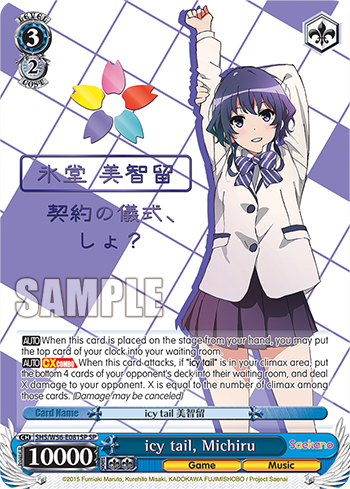 in hand, turning her into an effective center stage runner in the early game!