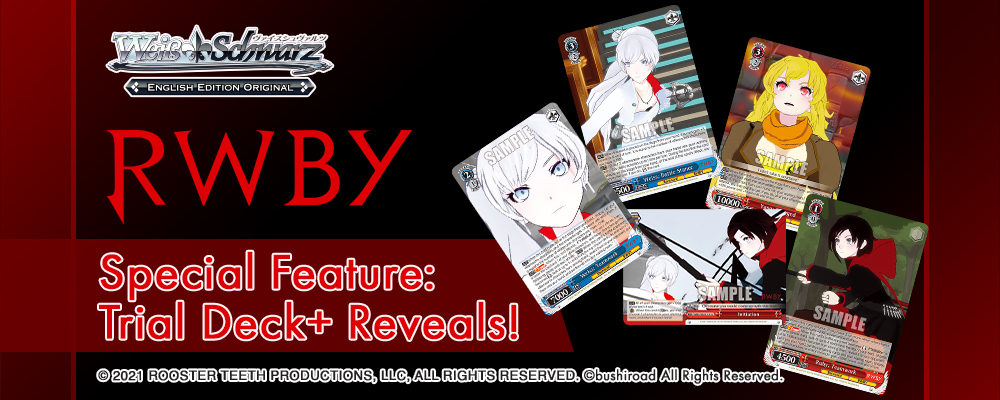 Commence your training to be Huntsmen and Huntresses in our latest English Edition Original! RWBY joins our exclusive lineup with the release of Trial Deck+, Booster Pack, and Supply Set this December! Check out the official product listing here.
CHARACTER CARDS
LEVEL 0
RWBY/WX03-001

3

Yang Xiao Long

RWBY/WX03-008

2

Yang: Framed

RWBY/WX03-041

4

Pyrrha: Fall Maiden's Vessel Candidate

RWBY/WX03-042

4

Nora Valkyrie

RWBY/WX03-056

4

Ruby: Life-Changing Scene
LEVEL 1
RWBY/WX03-058

2

Uniform Pyrrha

RWBY/WX03-076

4

Weiss Schnee

RWBY/WX03-081

2

Winter Schnee

RWBY/WX03-086

2

Blake: Focusing Her Sights

RWBY/WX03-087

1

Neptune Vasilias

RWBY/WX03-T08

1

Ren: Hunted
LEVEL 2
RWBY/WX03-050

1

Qrow Branwen
LEVEL 3
RWBY/WX03-044

4

Ruby Rose

RWBY/WX03-045

2

Salem

RWBY/WX03-060

1

Uniform Nora

RWBY/WX03-077

3

Blake Belladonna

RWBY/WX03-T19

2

Weiss: Battle Stance
CLIMAX CARDS
RWBY/WX03-072

4

Ruby's Awakening

RWBY/WX03-098

4

Team RWBY
The sweetest smile
They aren't just friends, they're family!
Don't be afraid to play aggressively early thanks to Weiss Schnee! Her Team RWBY climax combo is an essential early-to-mid game play that ensures you'll have the resources needed to lay on the aggression by guaranteeing two extra cards in hand!
Awaken the power within
Pyrrha is preparing to become the next Fall Maiden!
Both Pyrrha: Fall Maiden's Vessel Candidate and Uniform Pyrrha are essential pieces of your early game thanks to their ability to cycle through your deck while setting up for your late game finish. Seize every opportunity you have to send Pyrrha: Fall Maiden's Vessel Candidate to your memory, you'll want two in there!
The conditions are now clear for a devastating finish! Ruby Rose sweeps in with the Ruby's Awakening climax combo, allowing her to snipe her opponents from afar! In place of your regular attack, Ruby Rose deals three damage to your opponent while also sending the opposing level 3 or lower character to your opponent's clock. Talk about high impact!