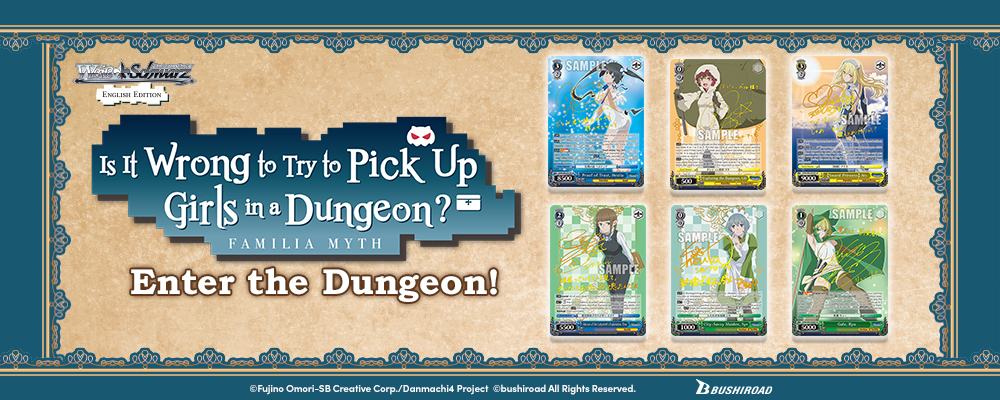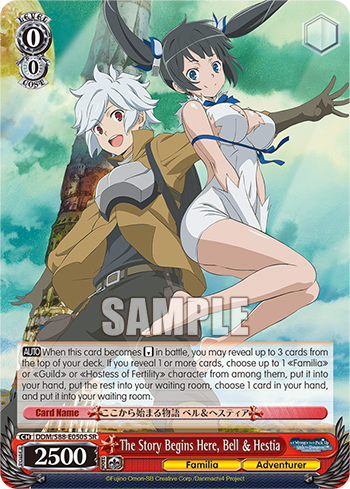 It's the start of a brand new story as Bell Cranel and his Goddess Hestia begin their adventures on the stage of Weiß Schwarz! Join the expedition when
Trial Deck+
and
Booster Pack
Is It Wrong to Try to Pick Up Girls in a Dungeon? launch this July!
Bell's going to need all the help he can get as he traverses the dungeon! Fortunately for him, he'll receive plenty of support on his journey from these wonderful allies!
Trust in Hestia!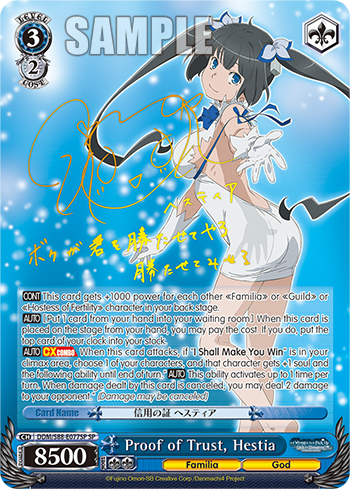 If Hestia says that she will make you win, you best believe she'll stay true to her words!
Her first Auto ability turns your damage into fresh, usable stock that you can use to pay out your various costs!
Then, close out the game with the I Shall Make You Win climax combo! At no additional cost, Hestia provides any character one additional soul on attack and the ability to burn for two if damage is cancelled!
Experience unparalleled swordsmanship!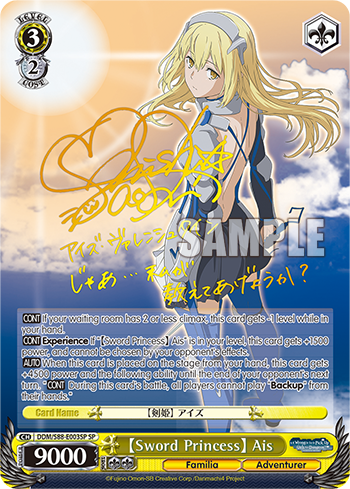 The beautiful and determined Ais is a fearsome threat that lives up to the title of a First Class Adventurer!
Not only is Ais able to come onto stage early, with another copy of herself in your level, Ais gets a permanent 1,500 boost in power and becomes untargetable, providing her immunity from any pesky anti-Standby tech cards!
Explore with confidence!
Behind every great adventurer are strategic minds quietly supporting their every move!
Exploring the Dungeon, Lili trudges forth to gather information with her abilities that provide consistent deck cycling and card draw to help thin out your deck! Meanwhile, Advisor of the Labyrinth's Exploration, Eina provides your level 3 characters a boost in power while preventing an opponent's character from calling on backup!
Take a rest at the Hostess of Fertility!
No adventure is complete without a visit to the Hostess of Fertility! At this wonderful pub, you'll meet the lovely waitresses, Syr and Ryu, who will ensure you're recharged for the journey ahead! City-Savvy Maiden, Syr is a powerful supporter who helps retrieve characters from your waiting room, while Gale, Ryu is able to refill your hand when her climax combo is active!