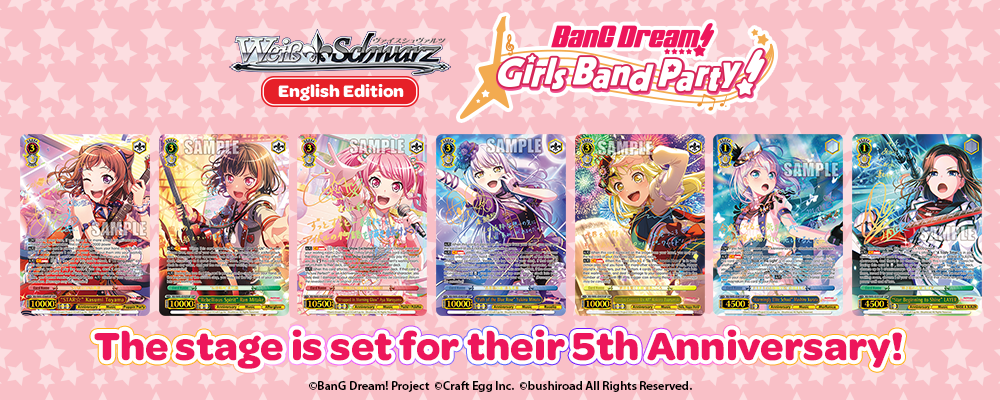 BanG Dream! Girls Band Party! is back on the stage of Weiß Schwarz to celebrate their 5th Anniversary! Join the party as your favorite bands gather on stage for the performance of a lifetime!
Looking for ways to strengthen your favorite bands' decks? Or perhaps you're itching to collect new and beautiful illustrations? Look no further, as this set will provide you with brand-new cards to give your collection an extra boost!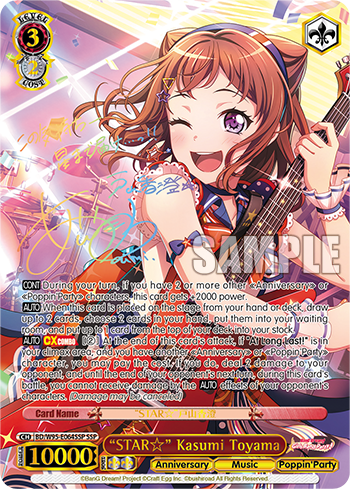 "STAR☆" Kasumi Toyama
(BD/W95-E064SSP SSP)
The happy-go-lucky leader of Poppin' Party takes center stage!
Kasumi enters the stage as a formidable late-game finisher! Deal bonus damage while mitigating your opponent's attacks with her climax combo "At Long Last!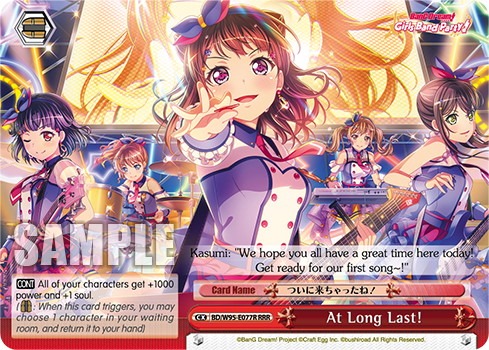 " to outlast them!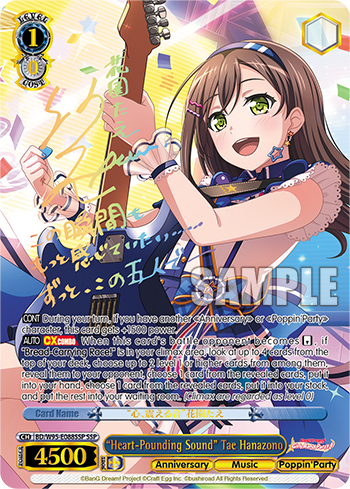 "Heart-Pounding Sound" Tae Hanazono
(BD/W95-E088SSP SSP)
Tae excitedly anticipates what the Year of the Rabbit could bring!
Bread is an excellent source of energy as proven by her climax combo "Bread-Carrying Race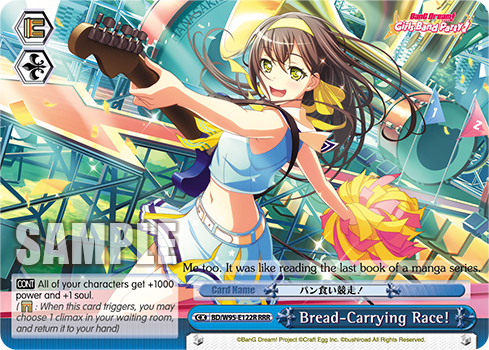 " that replenishes both your stock and hand to ensure you stay ahead of your opponent!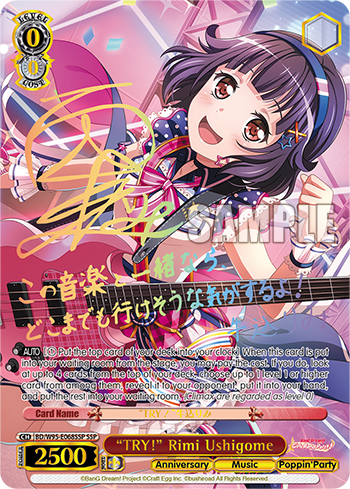 "TRY!" Rimi Ushigome
(BD/W95-E068SSP SSP)
Poppin'Party's sweets-loving bassist is here to bring a smile to your face!
Rimi's ability to cycle through your deck ensures you'll fetch important cards to continue your gameplan!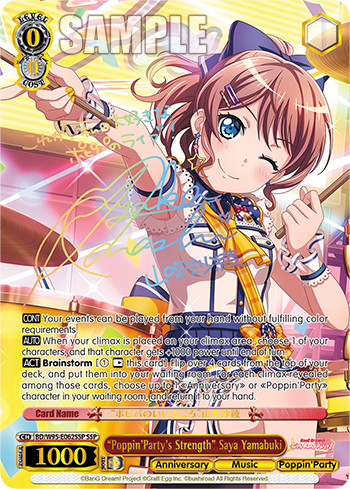 "Poppin'Party's Strength" Saya Yamabuki
(BD/W95-E062SSP SSP)
Rest assured; big sister Saya has got your back!
As the big sister of the group, Saya strives to support her members as much as possible. On top of having Brainstorm, Saya also gives a character of choice an additional 1,000 power boost whenever a climax is played!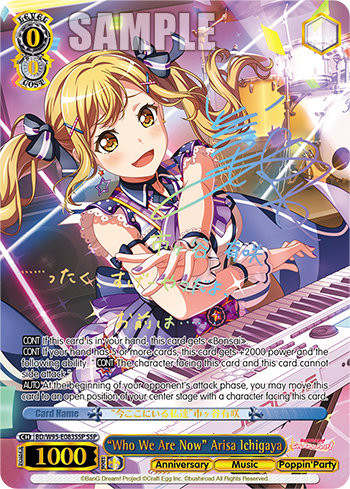 "Who We Are Now" Arisa Ichigaya
(BD/W95-E083SSP SSP)
Our favorite bonsai-loving keyboardist isn't always honest with her feelings!
Trying to catch her while her guard is down will prove to be a challenge! Arisa is able to run around the stage in the early game to ensure consistent damage!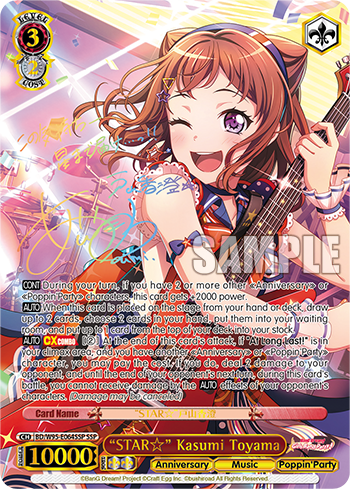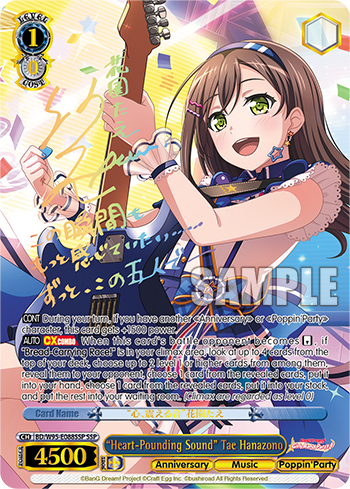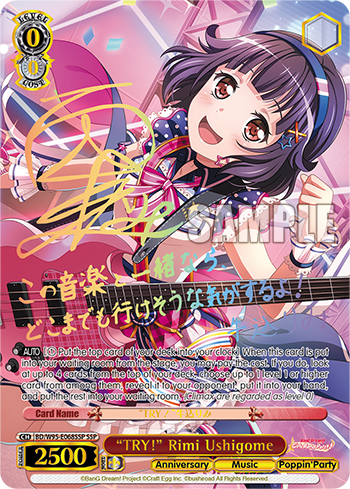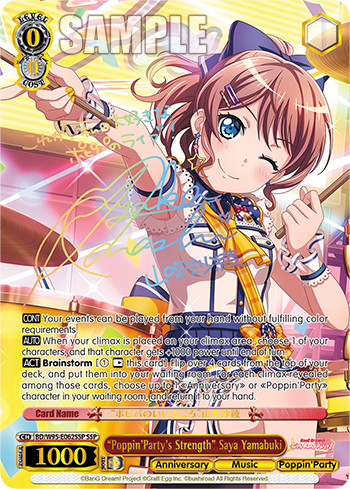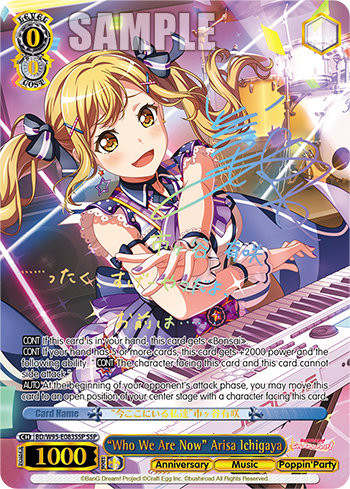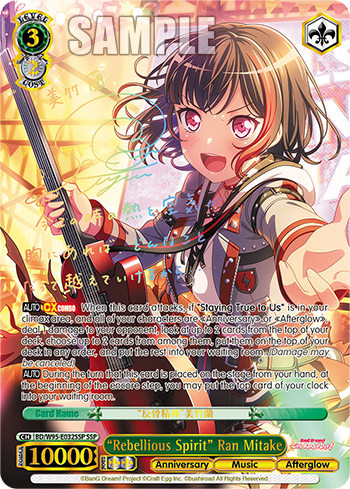 "Rebellious Spirit" Ran Mitake
(BD/W95-E032SSP SSP)
Her rebellious spirit shines through her songs and personality!
Ran's "If Staying True To Us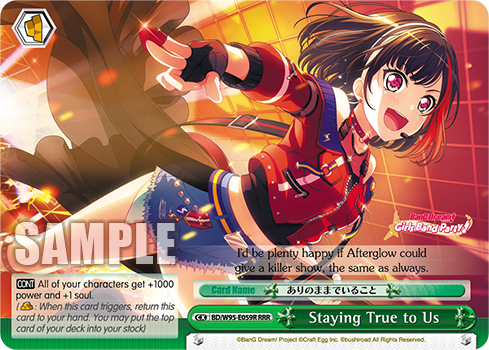 " climax combo makes her a devastating finisher for your opponent to deal with! Manipulate your top deck to your advantage and dish out bonus damage to close out the game!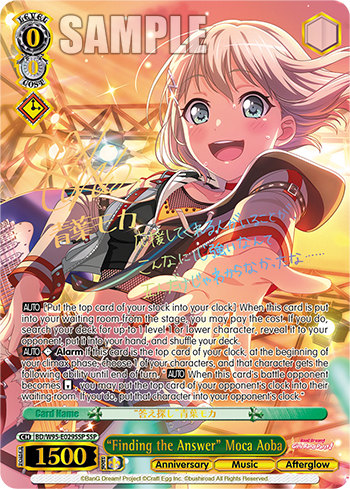 "Finding the Answer" Moca Aoba
(BD/W95-E029SSP SSP)
Yamabuki Bakery's #1 fan reporting for duty!
On top of being an efficient early-game searcher, Moca's Alarm ability allows you to slow down your opponent's momentum by sending pesky Standby targets to their stock!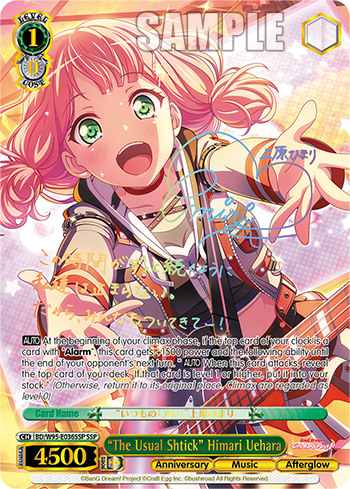 "The Usual Shtick" Himari Uehara
(BD/W95-E036SSP SSP)
Moca's partner in crime and good friend!
Himari's full potential is unleashed when working in tandem with Moca! Himari gets a power boost and replenishes your stock if there is an alarm card on top of your clock!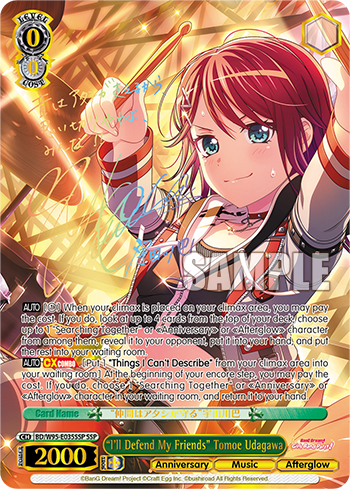 "I'll Defend My Friends" Tomoe Udagawa
(BD/W95-E035SSP SSP)
Her desire to protect her friends is unrivaled!
Tomoe has always been reliable, and it shows in her abilities as well! She has multiple tools to search out her friends in a pinch, allowing you to pull ahead of your opponent in hand advantage!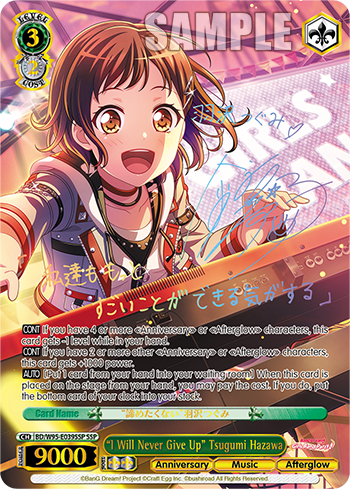 "I'll Never Give Up" Tsugumi Hazawa
(BD/W95-E039SSP SSP)
A normal girl with the courage to always try new things!
Tsugumi is an early play character that can heal damage to your stock, increasing both your stock and health advantage over your opponent!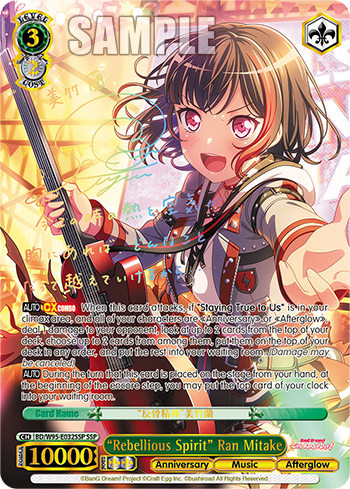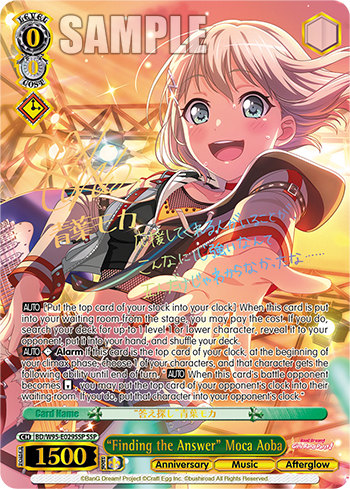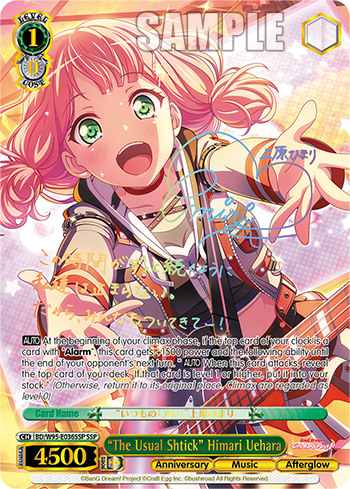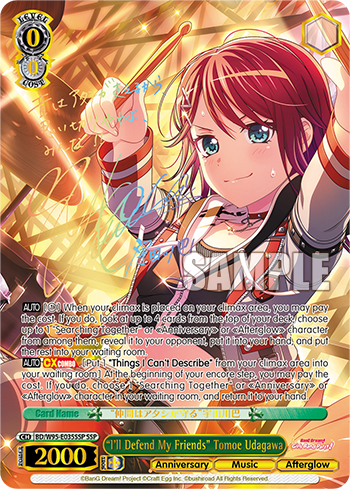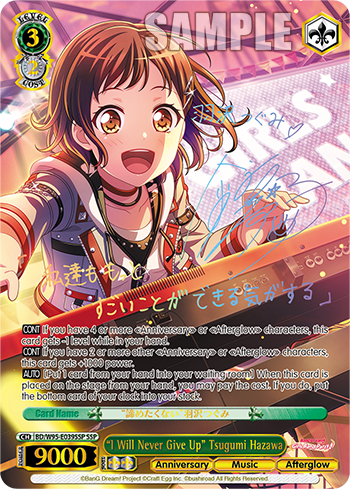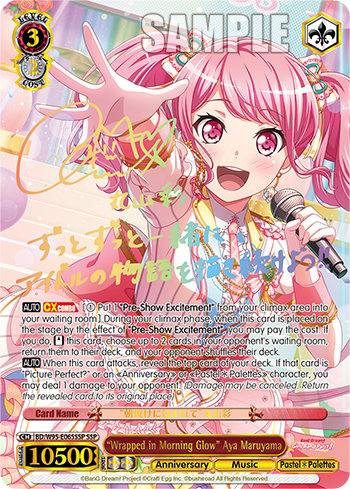 "Wrapped in Morning Glow" Aya Maruyama
(BD/W95-E065SSP SSP)
The morning glow accentuates her idol-like aura!
Aya is able to attack the same turn she's brought out by the effect of "Pre-Show Excitement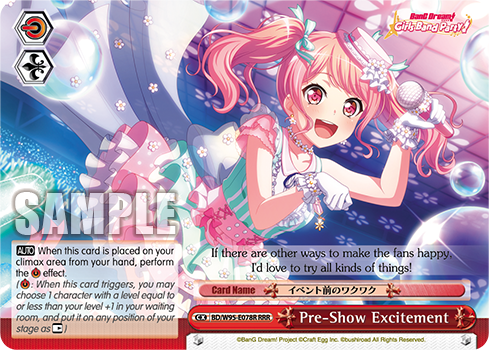 "! Shuffle cards into your opponent's deck to increase the odds of your damage sticking!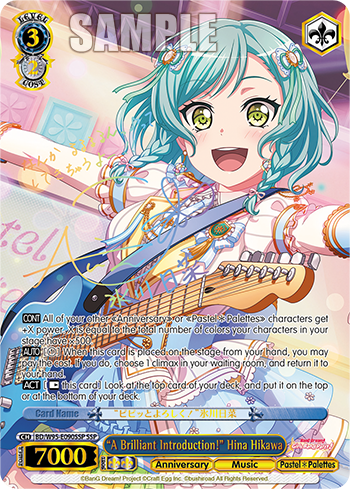 "A Brilliant Introduction!" Hina Hikawa
(BD/W95-E090SSP SSP)
The carefree genius is a ball of sunshine as usual!
Hina provides powerful late-game support with her brilliant presence so you can carve out a win! With power boosts, the ability to fetch crucial climaxes, and even manipulate the deck, Hina has it all!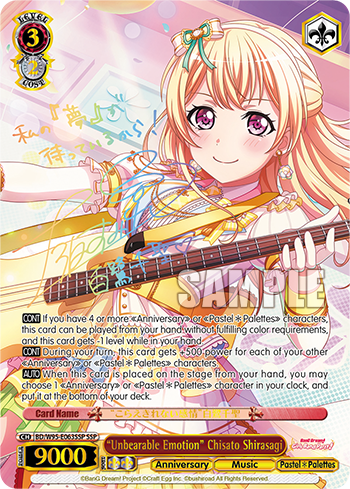 "Unbearable Emotion" Chisato Shirasagi
(BD/W95-E063SSP SSP)
Pastel*Palettes will always have a place in her heart!
Chisato's early play is easy to execute thanks to the removal of any color restrictions, making her a perfect fit in any Pastel*Palettes deck!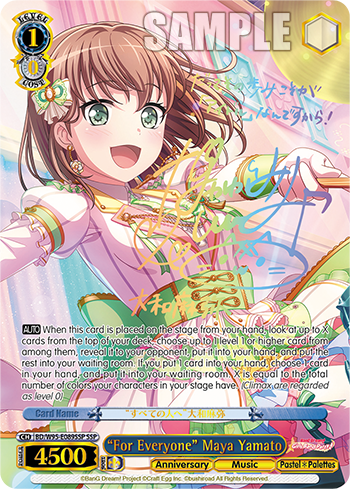 "For Everyone" Maya Yamato
(BD/W95-E089SSP SSP)
Our tomboy drummer is shining brightly!
Maya allows the player to search for key cards higher than level 1, increasing her viability in the mid to late game!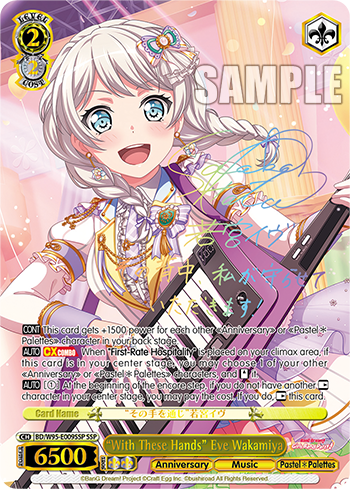 "With These Hands" Eve Wakamiya
(BD/W95-E009SSP SSP)
Eve will get her hands on anything new to try out!
Eve's "First-Rate Hospitality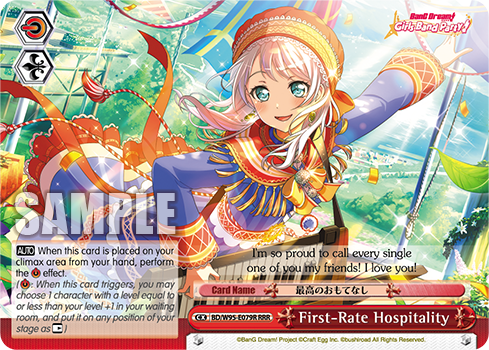 " climax combo re-stands one of her other friends, allowing for either an additional attack or other combo plays!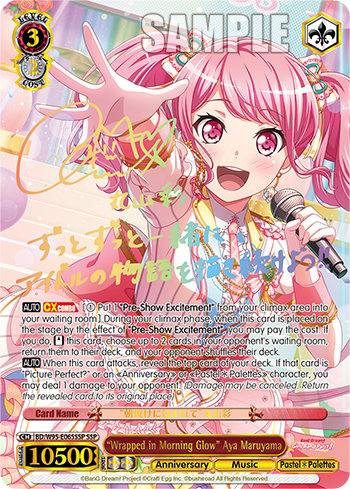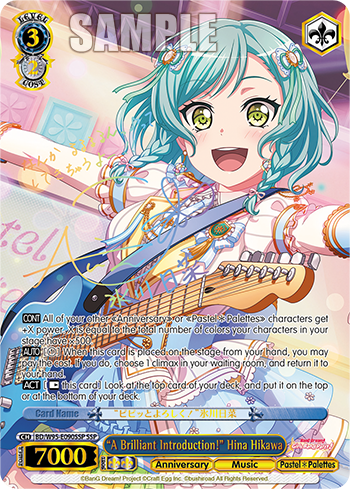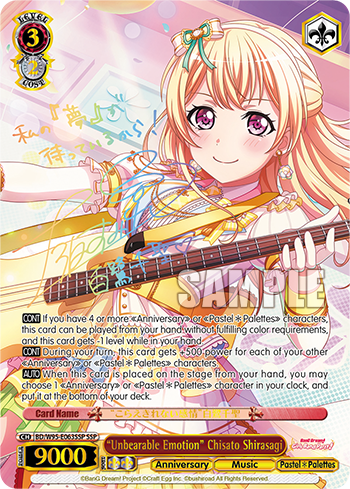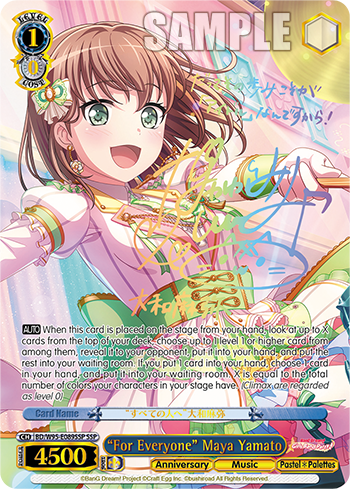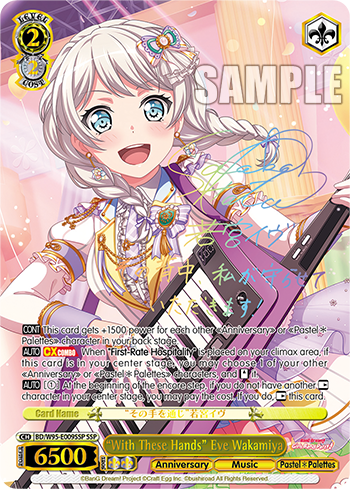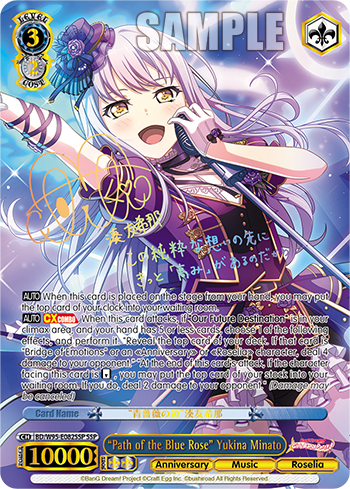 "Path of the Blue Rose" Yukina Minato
(BD/W95-E082SSP SSP)
The blue rose will withstand all, and make it to the grand stage!
Yukina's climax combo with "Our Future Destination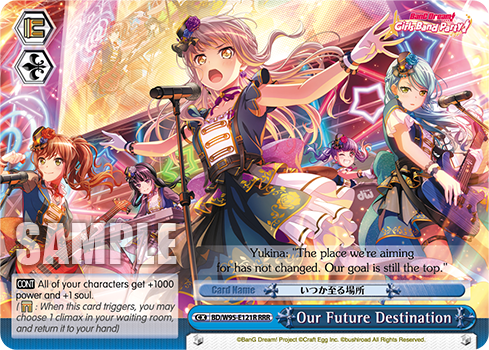 " is an explosive combo with the potential to deal a huge amount of damage at a low cost. Victory is within reach with multiple copies of Yukina on the board!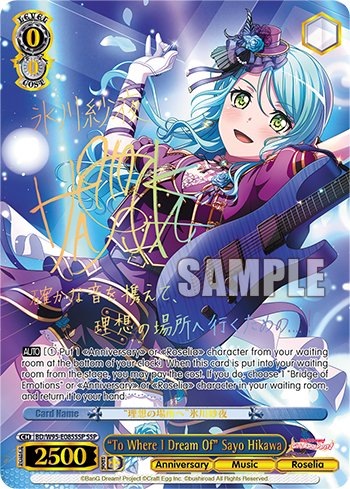 "To Where I Dream Of" Sayo Hikawa
(BD/W95-E085SSP SSP)
Together with her bandmates, they will surely make it to that stage!
Sayo is a powerful tech card at any stage of the game to fetch crucial cards such as "Bridge of Emotions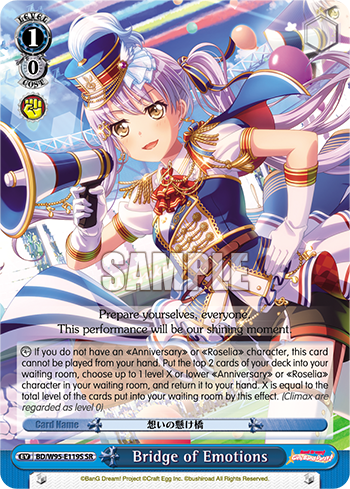 ", giving her best to support her friends on the glittering stage!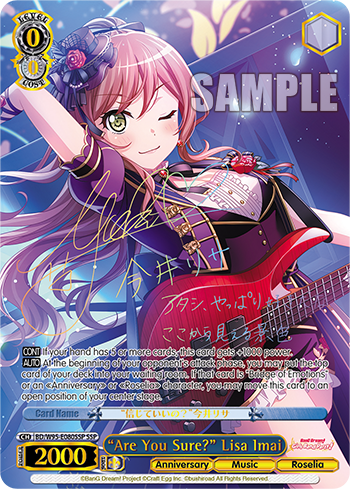 "Are You Sure?" Lisa Imai
(BD/W95-E080SSP SSP)
The Goddess of Kindness has descended on the stage!
A reliable early-game runner that ensures you have a stable board is always welcomed, especially since it's Lisa!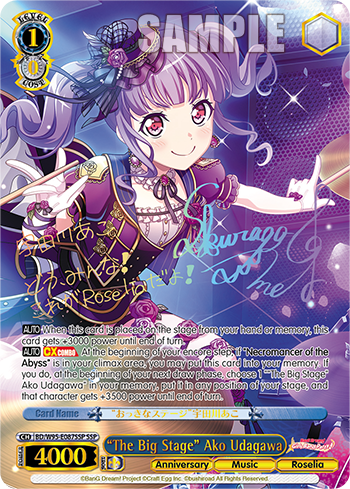 "The Big Stage" Ako Udagawa
(BD/W95-E087SSP SSP)
The coolest necromancer in town!
Blink and Ako will disappear, and reappear even stronger to beat down her foes!
Ako proves to be a menace for your opponents with upwards of 10,000 power using her climax combo "Necromancer of the Abyss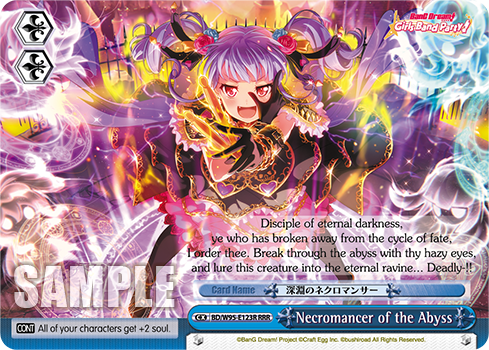 "!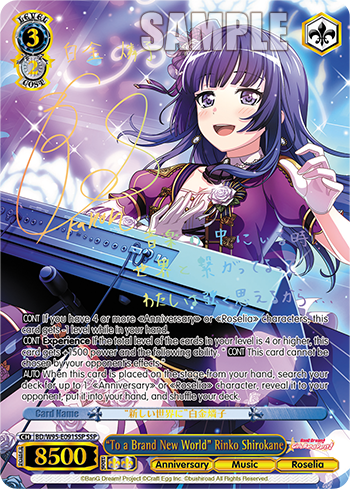 "To a Brand New World" Rinko Shirokane
(BD/W95-E091SSP SSP)
Her passion for the piano bears fruits on the stage!
Rinko is an early-play character with added protection from your opponent's card effects if Experience is in effect! On top of that, she can also search for her friends to prepare for future plays!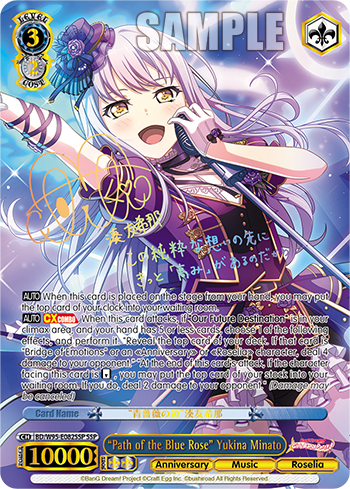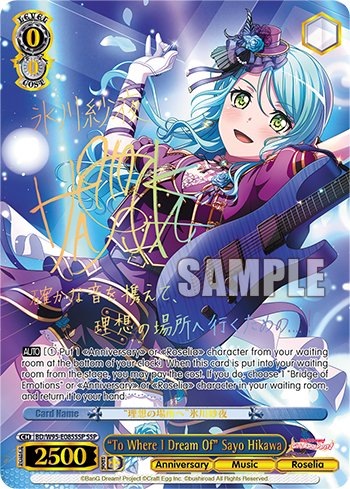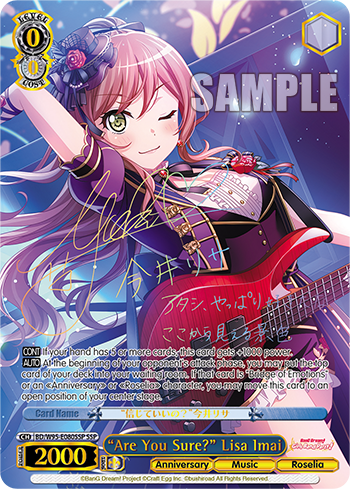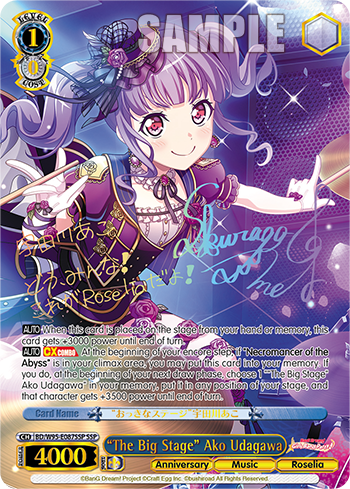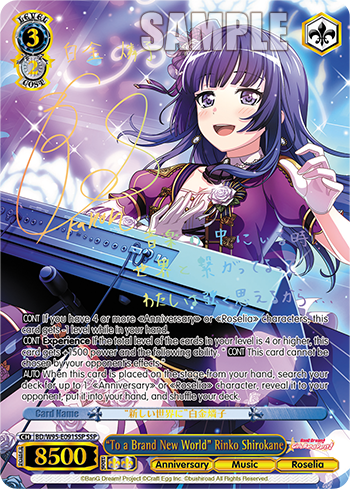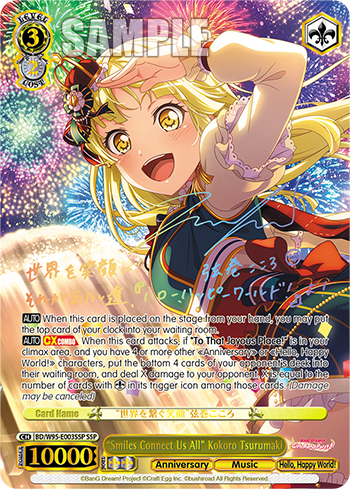 "Smiles Connect Us All" Kokoro Tsurumaki
(BD/W95-E003SSP SSP)
Always striving towards her dream to fill the world with smiles!
Kokoro's climax combo with "To That Joyous Place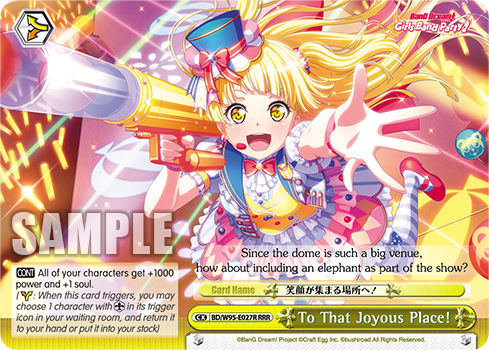 " becomes extremely potent with multiple copies of her on the stage. Her smile will thin out your opponent's deck and push for win!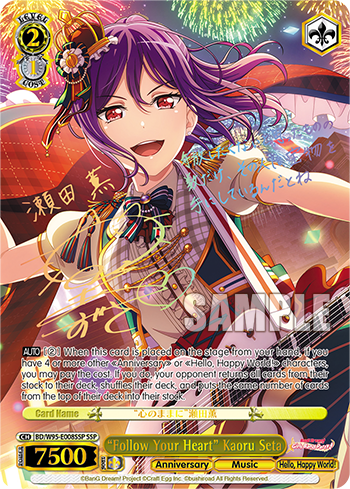 "Follow Your Heart" Kaoru Seta
(BD/W95-E008SSP SSP)
Your heart will lead you directly to her!
Kaoru disrupts your opponent's stock and possibly their gameplan, setting you up in a favorable position to deal more damage in your next attacks!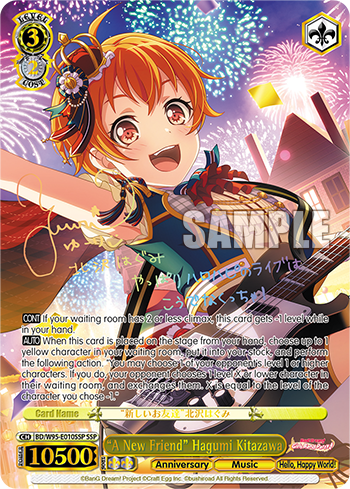 "A New Friend" Hagumi Kitazawa
(BD/W95-E010SSP SSP)
Stay energetic, a new friend may just be right around the corner!
Take control of the stage thanks to her ability to to mitigate characters brought out by your opponents through Change or Standby!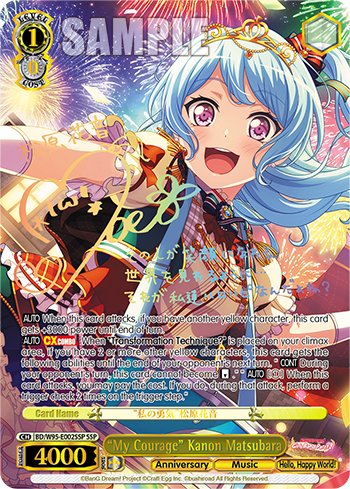 "My Courage" Kanon Matsubara
(BD/W95-E002SSP SSP)
Her courage can be clearly seen on stage!
Utilizing her climax combo "Transformation Technique?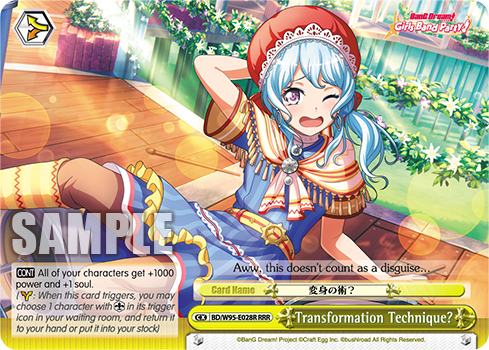 ", Kanon is able to stick on the stage for just a bit longer to pump out that extra damage or stock you may need!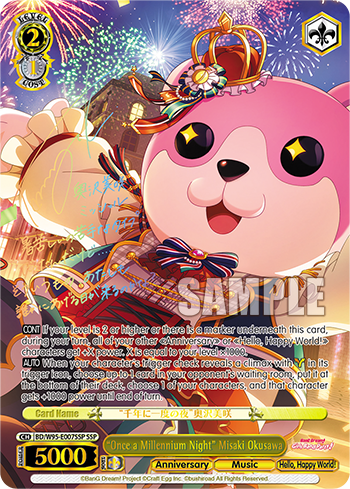 "Once a Millennium Night" Misaki
(BD/W95-E007SSP SSP)
Normality is scarce within Hello, Happy World!…
Disrupt your opponent's deck or Standby plays with Misaki's Choice support! Removing potential Standby targets in your opponent's waiting room while boosting the power of her friends will ensure your victory!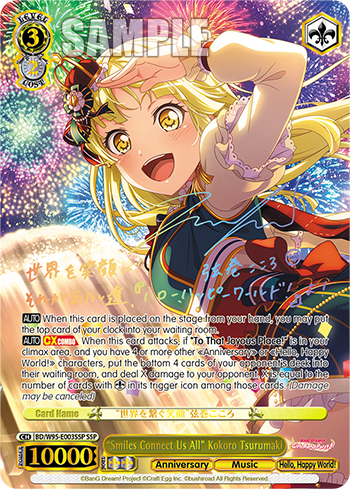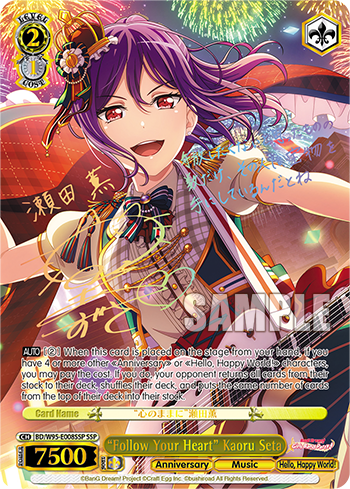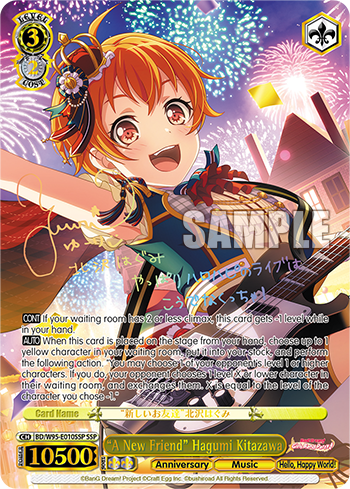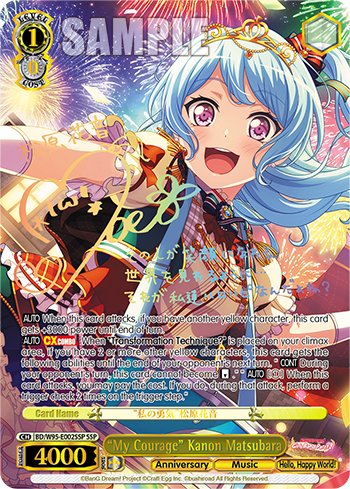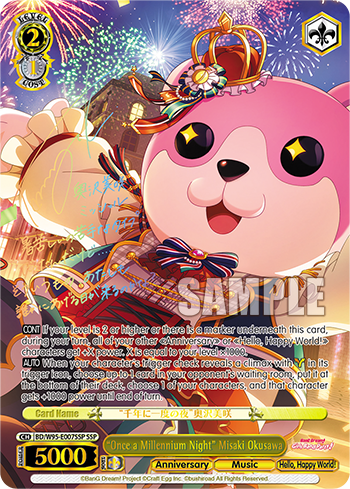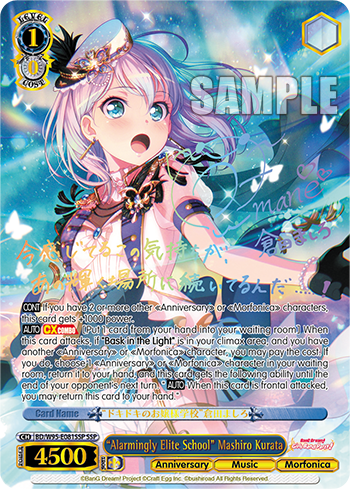 "Alarmingly Elite School" Mashiro Kurata
(BD/W95-E081SSP SSP)
Amidst the talented student body, Mashiro's talent had just started blooming!
Mashiro's "Bask in the Light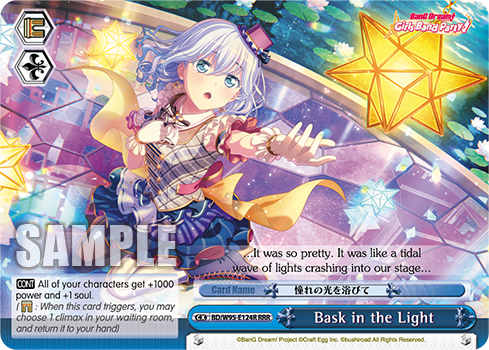 " climax combo allows her to fetch characters you need from the waiting room, while also returning herself back into your hand to keep herself from your opponent's attacks!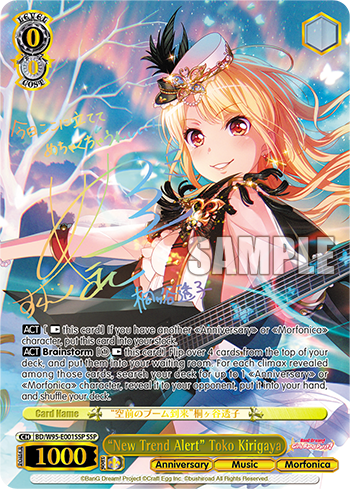 "New Trend Alert" Toko Kirigaya
(BD/W95-E001SSP SSP)
Toko is out here starting a new trend in 2023!
Brainstorm for key characters to set up your future turns, and if you need that extra stock, Toko has got your back!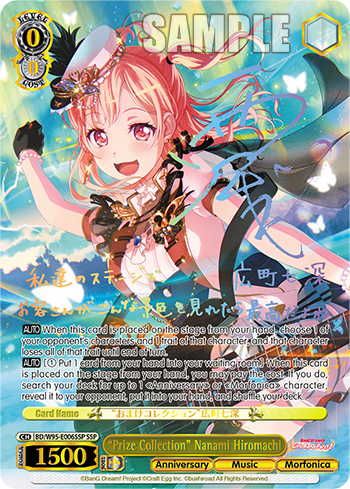 "Prize Collection" Nanami Hiromachi
(BD/W95-E006SSP SSP)
Her normalcy is the most important thing in her prize collection!
Search out her bandmates with Nanami at any point of the game to ensure you have the right pieces for victory!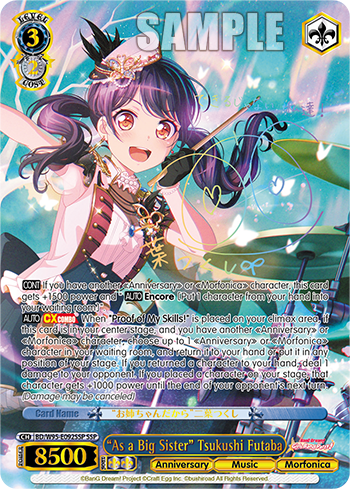 "As a Big Sister" Tsukushi Futaba
(BD/W95-E092SSP SSP)
She prides herself in her role as the Big Sister!
Bring back her friends with the "Proof Of My Skills!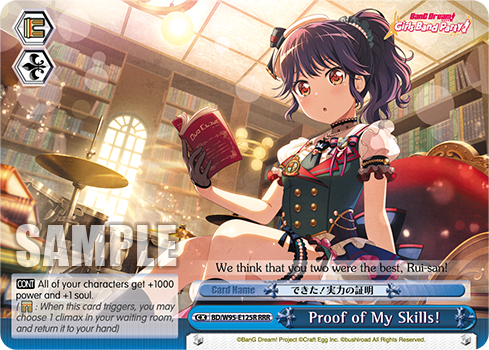 " climax combo, strengthening your stage while dealing chip damage to your opponent!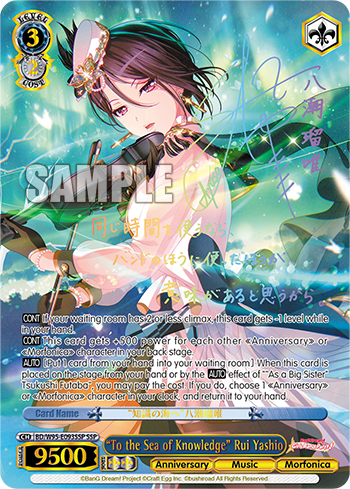 "To the Sea of Knowledge" Rui Yashio
(BD/W95-E093SSP SSP)
She will once again pick up the violin, for her band, and for herself!
Combo with "As a Big Sister" Tsukushi Futaba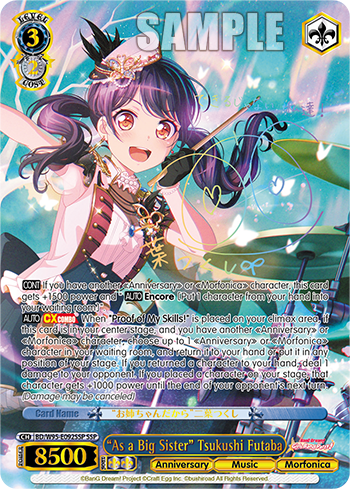 to bring her out early, and search out her other friends to power up your stage!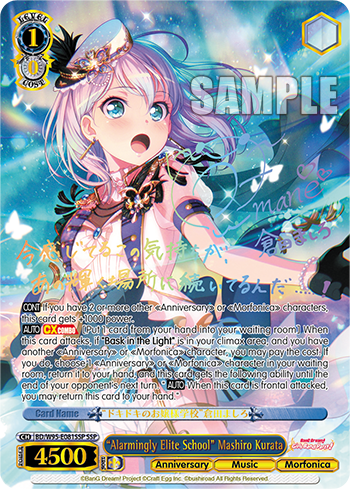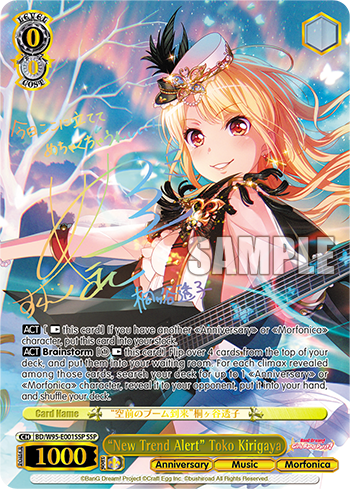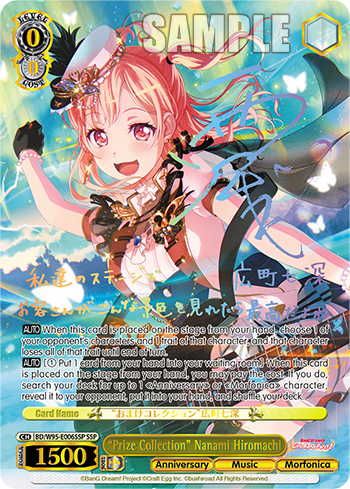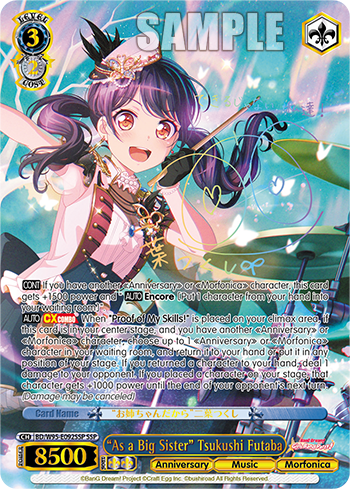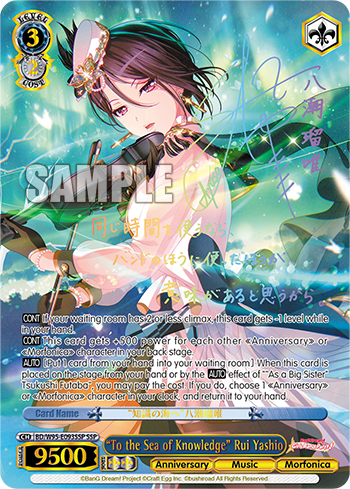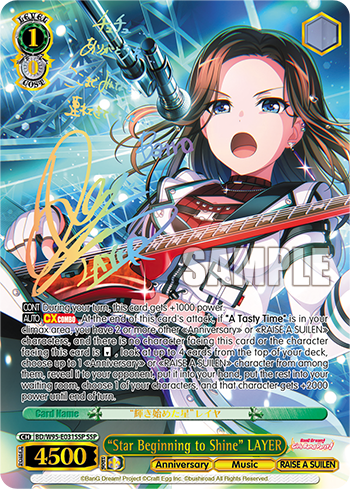 "Star Beginning to Shine" LAYER
(BD/W95-E031SSP SSP)
This is only the beginning of her career!
Generate additional hand advantage after every attack with LAYER'S climax combo "A Tasty Time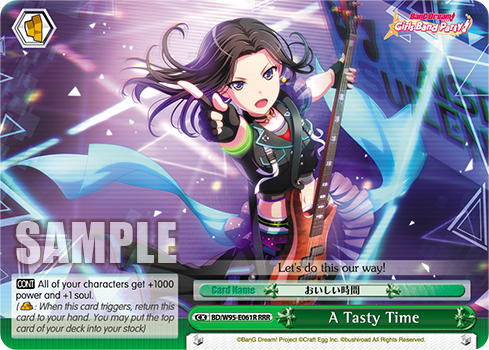 " With multiple copies on the stage, LAYER ensures you will always be ahead in the game!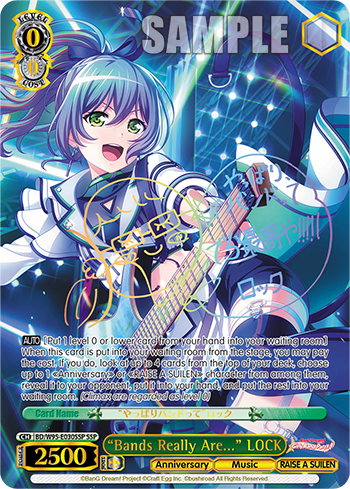 "Band Really Are…" LOCK
(BD/W95-E030SSP SSP)
Her image kicks up a few notches on stage!
Cycle through your deck to search out key band members at any stage of the game! A valuable tech card to include in any deck!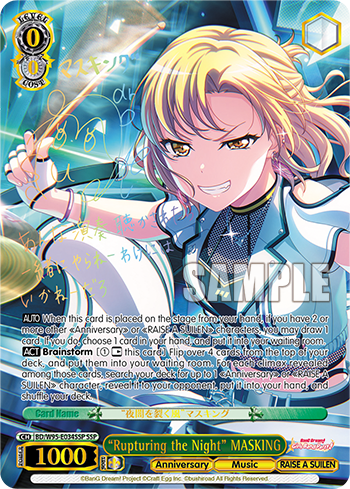 "Rupturing the Night" MASKING
(BD/W95-E034SSP SSP)
Her difficult drumming style raises the level of RAISE A SUILEN!
As the backbone of the band, MASKING filters out your hand for better cards, and also comes with a nifty Brainstorm ability!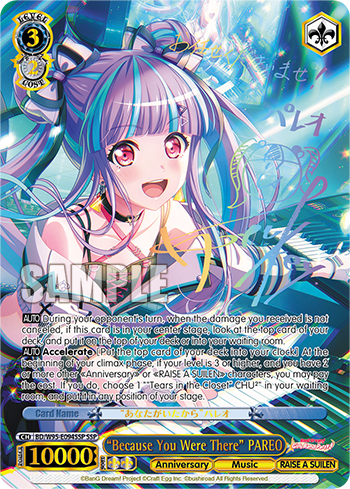 "Because You Were There" PAREO
(BD/W95-E094SSP SSP)
PAREO and CHU² are inseparable!
Accelerate to victory with "Tears in the Closet" CHU²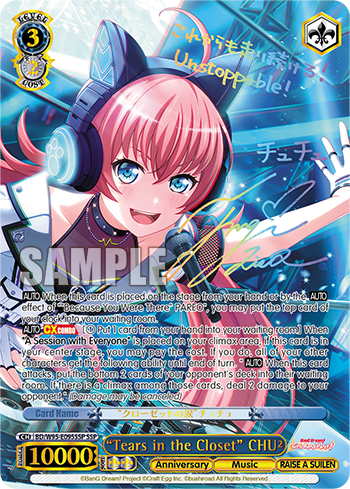 ! PAREO is able to call out CHU² during the late game to clutch out any game!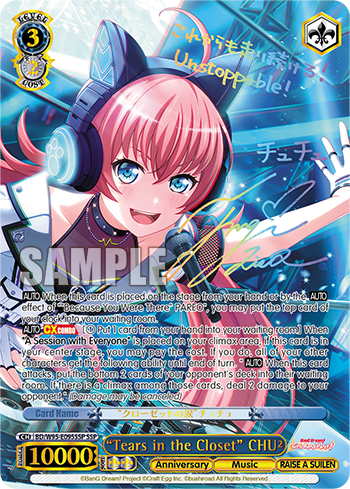 "Tears in the Closet" CHU²
(BD/W95-E095SSP SSP)
With CHU², RAISE A SUILEN becomes an unstoppable force!
CHU² clears out the climaxes in your opponent's deck with the climax combo "A Session with Everyone!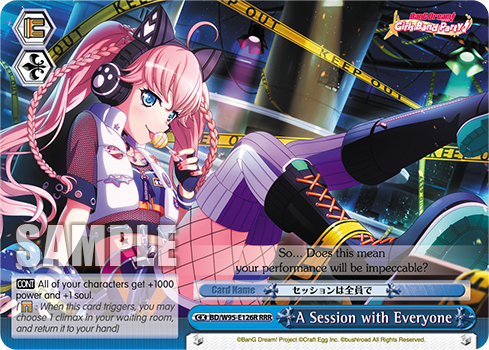 " while dealing damage to close out the game!