Bushiroad World Championship 2015 World Finals Coverage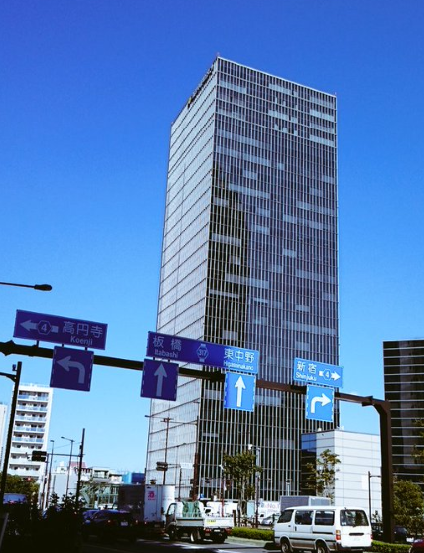 The Bushiroad World Championship 2015 Weiss Schwarz World Finals has just concluded!
The invitation-only event was held in the Bushiroad Headquarters in Tokyo, Japan. 8 players from around the world have traversed great distances to come here and compete for the title of World Champion!
Despite the long travelling hours, the players were raring to go during the World Finals. In fact, all of them seemed to enjoy themselves quite a lot during the tournament. The World Finals was filled with fun and laughter!
Choices of Deck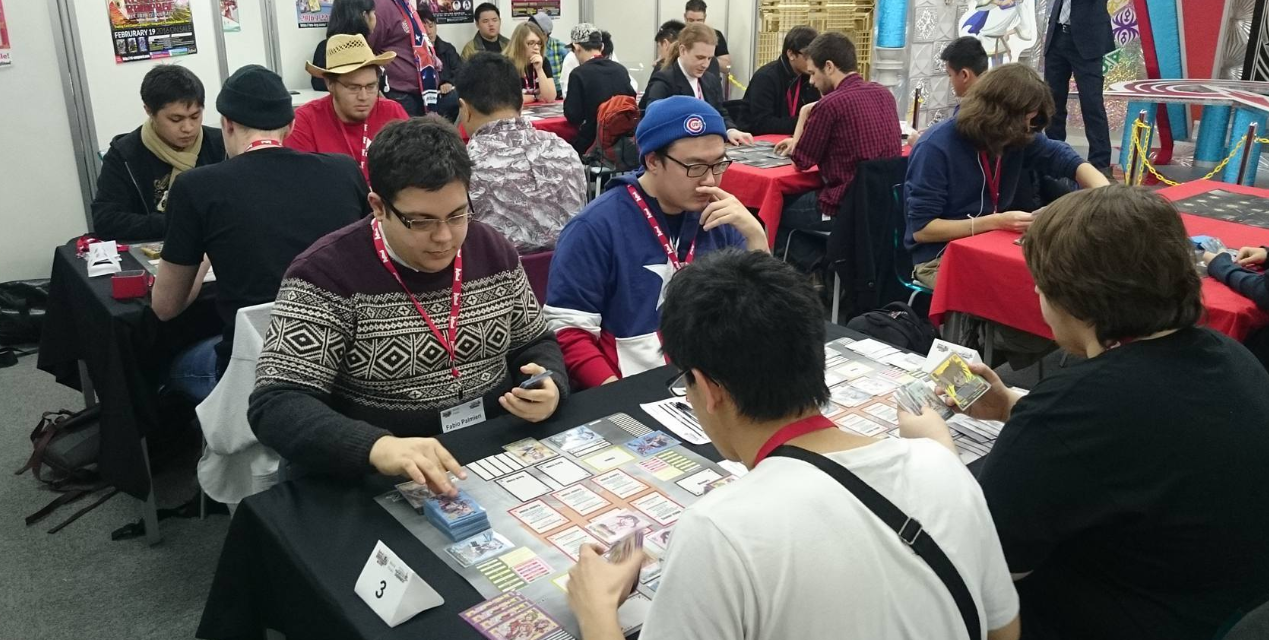 Here is a breakdown of the titles used by the World Finals participants.
Attack on Titan x 3

The most dominant title used was Attack on Titan! Two players were using the «Corps» deck, while the remaining one was a «Titan» deck.
Kancolle x 2

Two players were using Kancolle with a similar build, making it the 2nd most popular title among the World Finals participants.
Sword Art Online x 1

I was expecting at least one players to be using a Sword Art Online deck, since this title several versatile strategies and play styles suited for a tournament like the World Finals.
Love Live! x 1

The Love Live! series can utilize unconventional strategies that help keep the deck build unpredictable and difficult to read while still being versatile.
Disgaea ~Hour of Darkness~ x 1

To nobody's surprise, Alexy Cortez, winner of the North America Continental Finals attempts to conquer the opposition with Disgaea ~Hour of Darkness~.
The Finals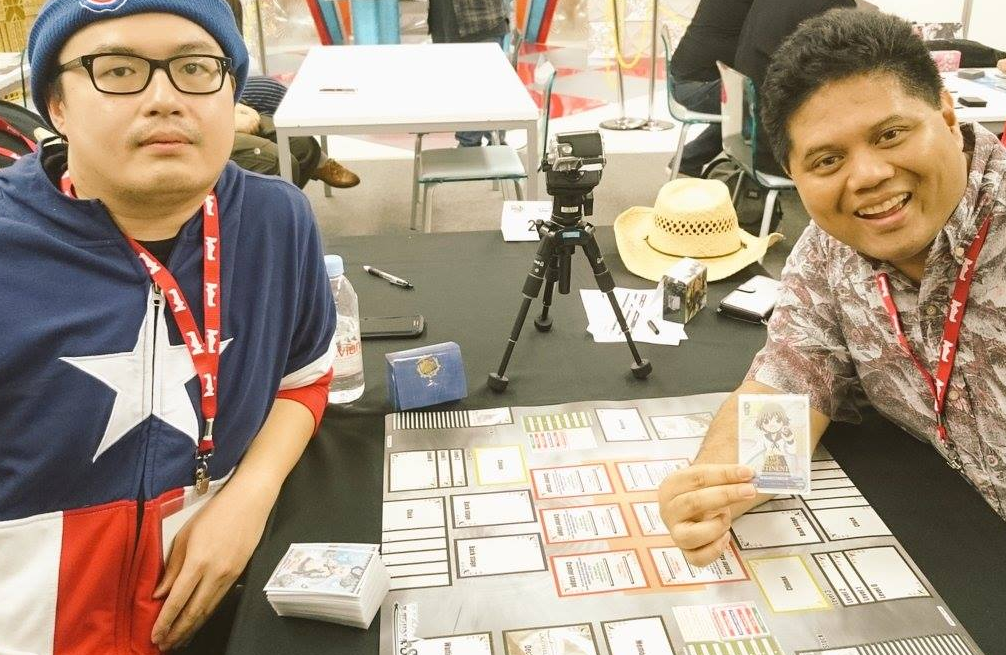 After hours of epic battles among the best, we have arrived at the final round with the Fleet Girls from "Kancolle" battling with the Titans from "Attack on Titan". It was impossible to tell which player had the advantage because both their decks had a few great combos that could win them the game. Not to mention that the finalists are really good at using them.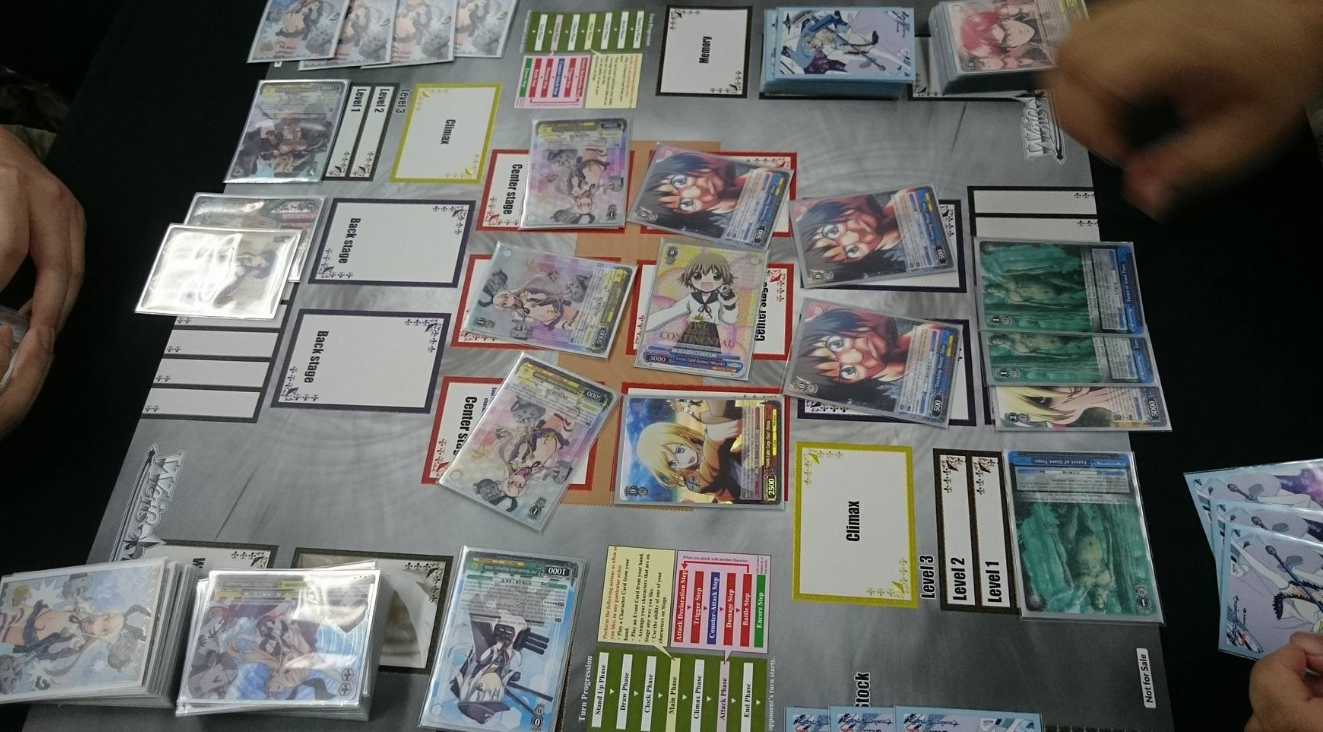 One of the most entertaining moments was the countless head-on battles between Shimakaze and Shiyoko. The finalists seemed to be able to play these characters very frequently in the finals.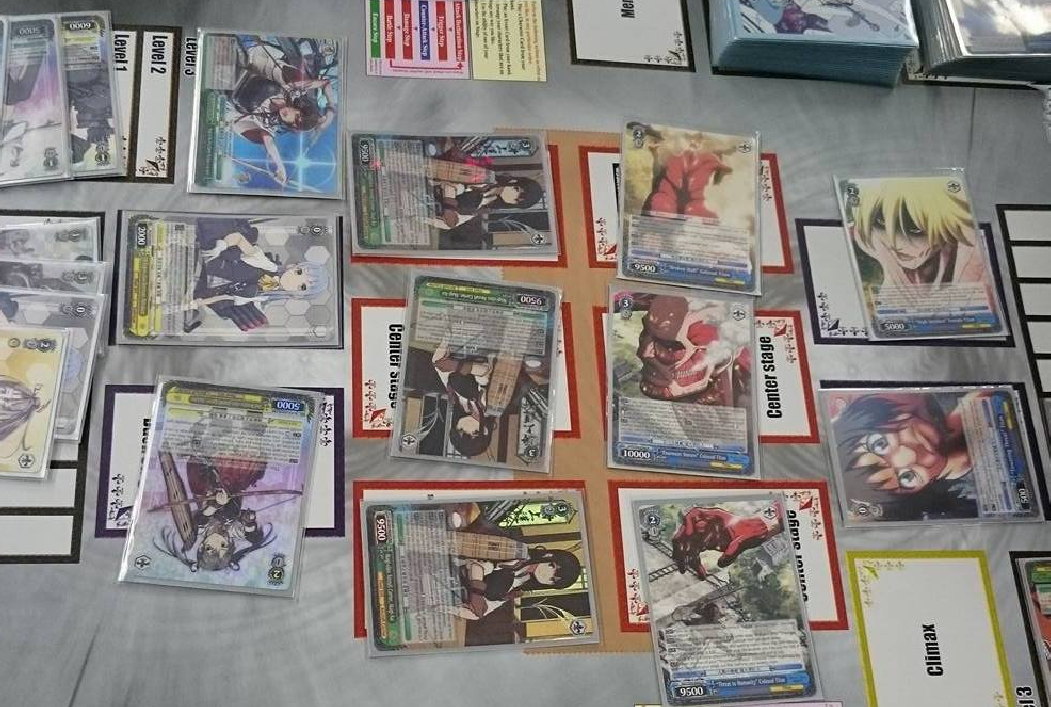 The Rise of the Titans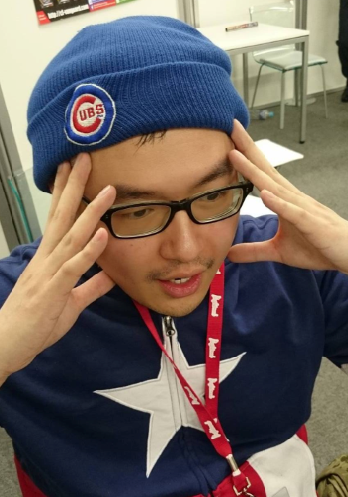 "Oh my god! It's the Titans…"
As the game progressed, we soon had a formidable «Titan» combo present on the stage to tear down the Fleet Girls' formation. Victory seemed out of reach for the Fleet Girls in the face of the Titans' overwhelming power.
The card advantages that the «Titan» combo generates over time is really devastating and it is really giving the Fleet Girls a very hard time…
However, the Titans did not dominate for long…
The Fleet Girl Strikes Back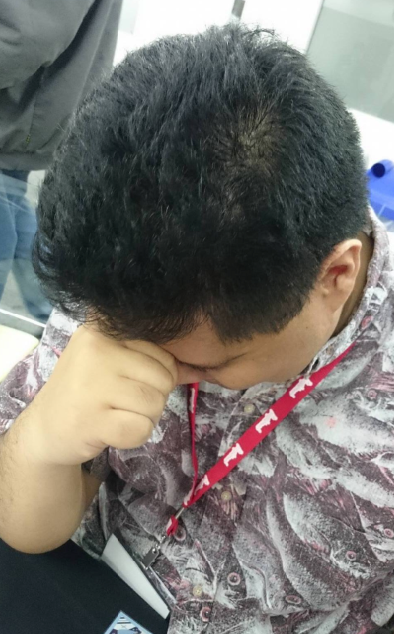 "Oh my god! It's Akagi…"
"Live the dream!" Clinton declared as he played Akagi-class Aircraft Carrier, Akagi-Kai – not 1, but 3 copies of them. With its climax synergy, all of them received a total of +3000 power boost. Combined with other power boosts, Akagi-kai tore the «Titan» combo apart and uprooted its hold on the game.
Clinton had slowly been setting up this combo in order to fight back against the Titans. Let's not forget 2nd Shokaku-class Aircraft Carrier, Zuikaku who is in the backstage supporting the team with its fearsome support ability.
It was not long after that the Titans fell and the Fleet Girls emerged victorious from this epic battle. Congratulations to Clinton Chan from Chicago, Weiss Schwarz World Champion of the Bushiroad World Championship 2015!
Interview with the World Champion
After his victory, we had the privilege of interviewing Clinton Chan, the Weiss Schwarz World Champion of Bushiroad World Championship 2015.
Clinton Chan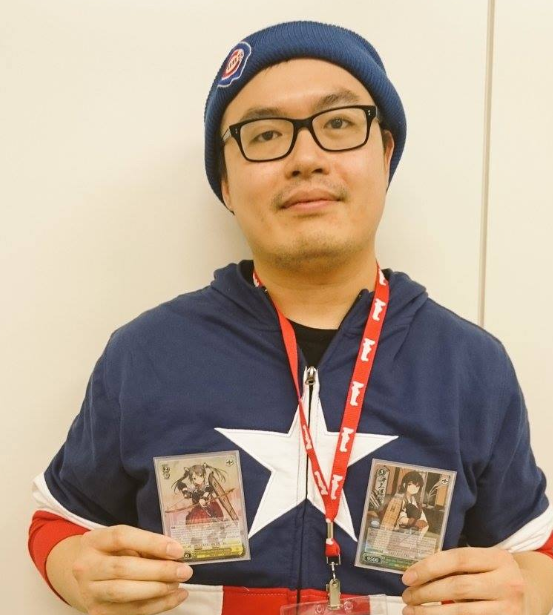 Clinton Chan, Weiss Schwarz World Champion of Bushiroad World Championship 2015. He is currently working at a pharmacy and enjoys playing video games.
Clinton's Deck in Bushiroad World Championship 2015 World Finals

— How long have you been playing Weiss Schwarz? How did you start playing Weiss Schwarz?

I have been playing since June 2014.
My friend introduced me to Weiss Scharz and told me that it is a trading card game whereby every set is different. He also showed me his cards from Puella Magi Madoka Magica and I found one of them really cute. It's Kyubey Urges for a Contract and I was quite attracted to it. Eventually, I started playing Weiss Schwarz with Puella Magi Madoka Magica as my first set.

— What do you enjoy about Weiss Schwarz?

Weiss Schwarz is a game in which anybody can do well with any set. Luck is an important factor but skill makes a huge difference too.

— Which is your favorite title in Weiss Schwarz English Edition?

I really like Sword Art Online!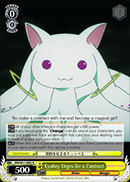 — Do you have a favorite card in Weiss Schwarz English Edition?

No doubt, it's going to be "Kyubey Urges for a Contract".

— How do you feel about winning the Bushiroad World Championship 2015?

It felt really awesome. Guess my hard work finally paid off.

— Do you have any word of advice for new players who want to play better?

Play a lot, work hard and do not be afraid to look for resources online. Most importantly, have fun! If you are not playing, you cannot have fun!
With this, we have concluded the Bushiroad World Championship 2015. However, the Bushiroad Spring Fest 2016 will be starting real soon! Check out the schedule and we shall see you there (ゝ∀・)
What's Next?
We will be back next week to introduce upcoming expansion of The Melancholy of Haruhi Suzumiya. Stay tuned!
The Writer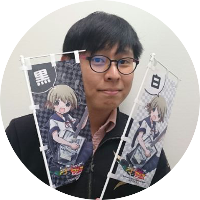 Kai
The Monochrome Columnist
Previous host of BUSHI NAVI International. Weiss Schwarz Meister. Loves drinking coffee.
Weiss Schwarz Weekly Column
Weiss Schwarz Weekly Columnn is a column written by your friendly Bushiroad staff, to provide you insight, tips and advice to become a better Weiss Schwarz Meister. You can look forward to deck tech, card review and event coverage in this column. Weekly updates are available every Wednesday.
Feel free to drop us ideas and suggestions via sg_support@bushiroad.com. Give us your comments too on our Facebook page.