Happy 2016!
Happy New Year to fellow Weiss Schwarz Meisters! After a short new year break, we are all back in action to bring you more excitement for all the Bushiroad trading card games!
To get you ready for a brand new year as a Weiss Schwarz meister, here's a list of things to watch out for in the upcoming months!
Upcoming Releases
We have announced the upcoming releases for January to March 2016. Let's take a look at what's going to be available soon at a retailer near you!
The Melancholy of Haruhi Suzumiya
The popular anime series "The Melancholy of Haruhi Suzumiya" has finally arrived in the English Edition Weiss Schwarz! Trial deck, booster packs and the meister set for this title will be available on January 22, which is just 3 weeks from now. This expansion features characters from the SOS Brigade and they have many powerful and interesting abilities for meisters to experiment and play with.
Cards from the set are currently being previewed at the Card of the Day section. We will be doing a more detailed introductions and deck tech for the expansion in a couple of weeks so stay tuned!
NISEMONOGATARI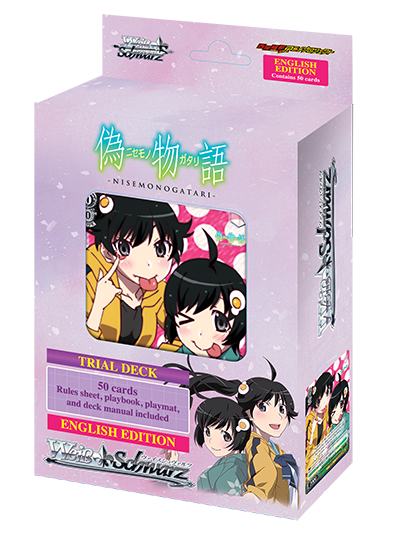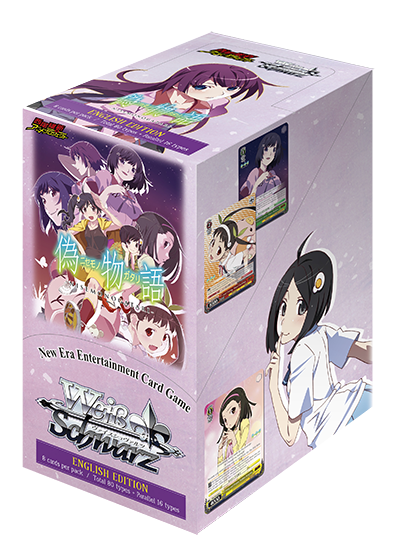 Fans of the MONOGATARI series rejoice! Trial Deck, Booster Pack and Meister Set for NISEMONOGATARI will be released on February 26! You can use cards from this expansion with cards from BAKEMONOGATARI! Power up your favorite deck with the Fire Sisters and other returning and new characters alike!
THE IDOLM@STER CINDERELLA GIRLS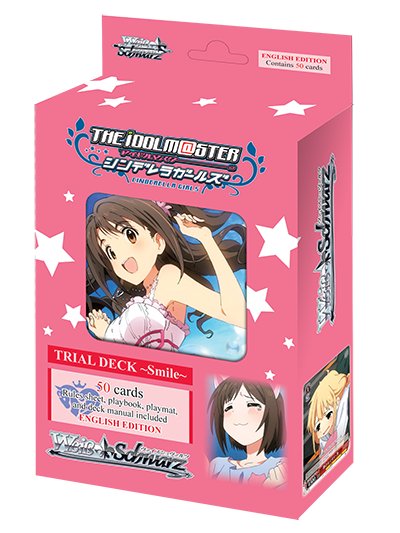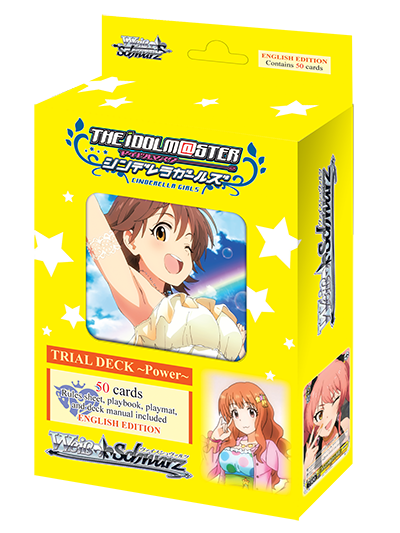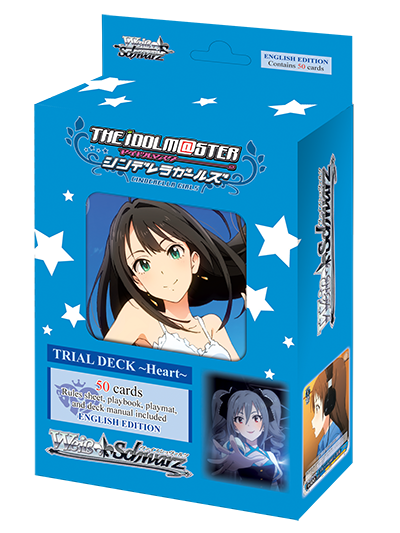 We are happy to announce the release of THE IDOLM@STER CINDERELLA GIRLS on March 18! 3 different types of Trial Decks, as well as the usual Booster Packs and Meister Set will be made available on the same day.
Did you notice there are 3 different types of Trial Decks? Yup, this is the first time we will be releasing 3 different types of Trial Deck for an expansion. ~Smile~ will feature red cards only, while ~Power~ for yellow and ~Heart~ for blue. Meanwhile, the booster pack will feature even more idols from 346 Production of the anime series "THE IDOLM@STER CINDERELLA GIRLS".
Upcoming Events
Bushiroad World Championship 2015 World Finals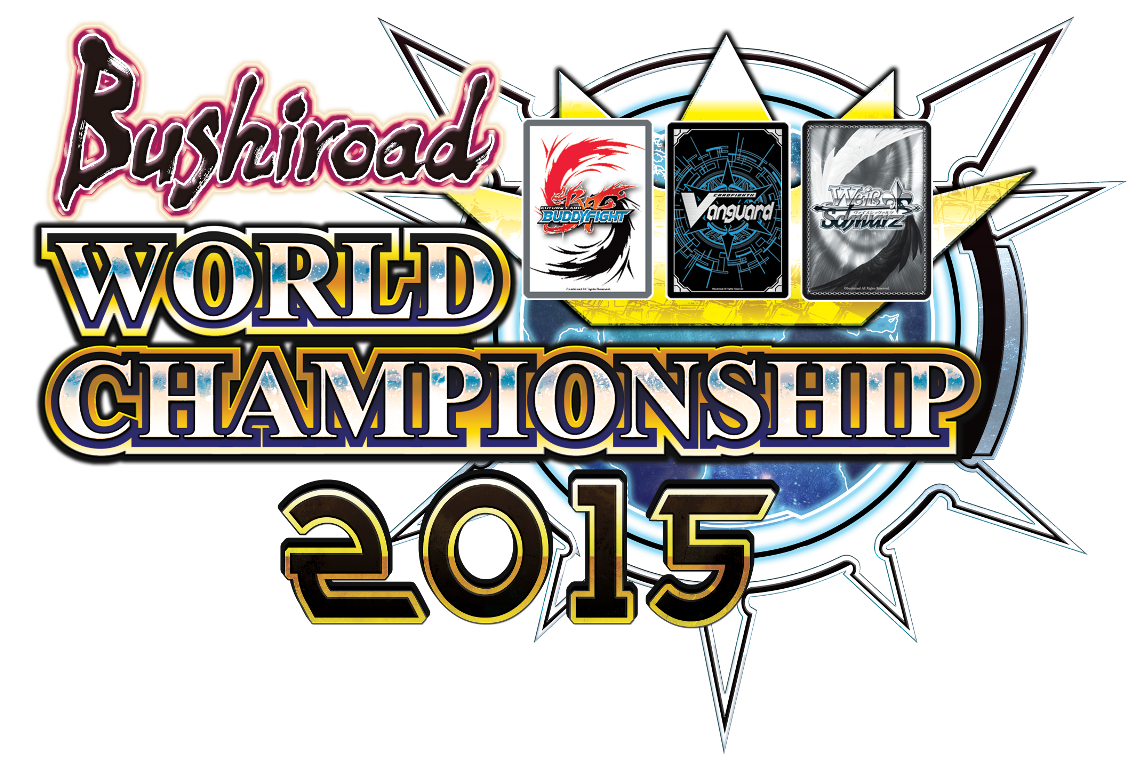 We will be concluding Bushiroad World Championship 2015 this weekend in Tokyo! 8 players from around the world will gather to compete for the title of World Champion 2015. Who will emerge victorious? What decks will they be using? Find out in this column next week!
Bushiroad Spring Fest 2016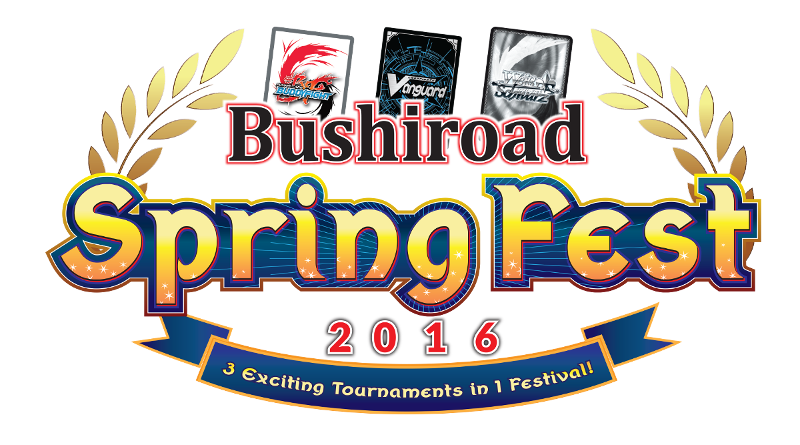 Bushiroad Spring Fest is back! Fellow meisters will be able to test their skills in the Weiss Schwarz Neo-Showdown which will be held in 17 different locations across 3 continents. The winner of the regional qualifiers will be invited to the continental finals to determine the best Weiss Schwarz Meister of each continent.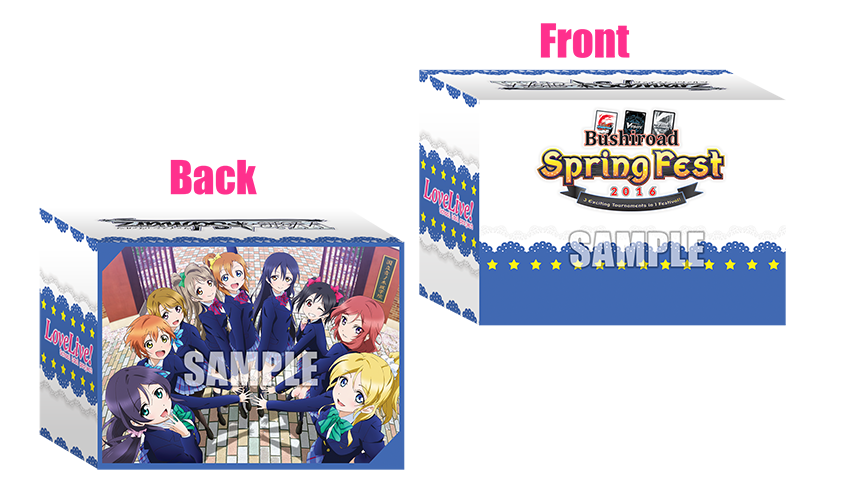 A Bushiroad Spring Fest would be woefully incomplete without the usual doorgifts and participation prizes. This year we have a few different cards for you to collect, as well as an exclusive Bushiroad Spring Fest 2016 Weiss Schwarz deck case!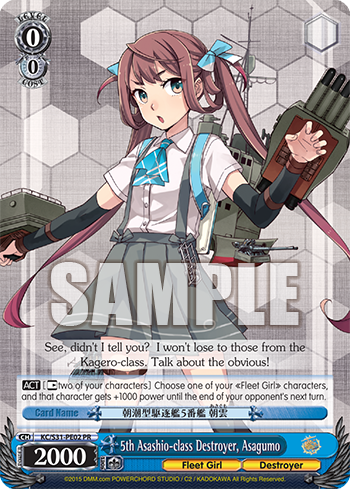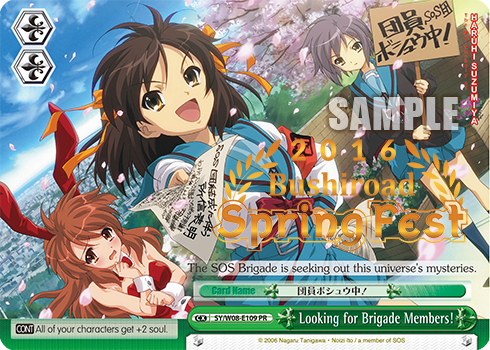 Players who take part in the main tournament will receive "SY/W08-E109 Looking for Brigade Members!", featuring the upcoming "The Melancholy of Haruhi Suzumiya" release! "5th Asashio-class Destroyer, Asagumo" will also be redeemable at the event for those with PR Coupons (more info on the Bushiroad PR Coupon Campaign here!)! Last but not least, meisters who participate in the free fight events will receive "NM/S24-PE04 A Sister to Be Proud Of, Karen Araragi"!
As a special prize, players who achieve Top 8 placings in the Weiss Schwarz Neo-Showdown tournaments will also receive a commemorative pin as a proof of their outstanding performance!
Visit the official website for more information!
What's Next?
Tune in to our weekly column next week to check out the coverage for Bushiroad World Championship 2015 World Finals!
The Writer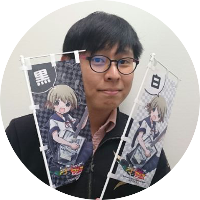 Kai
The Monochrome Columnist
Previous host of BUSHI NAVI International. Weiss Schwarz Meister. Loves drinking coffee.
Weiss Schwarz Weekly Column
Weiss Schwarz Weekly Columnn is a column written by your friendly Bushiroad staff, to provide you insight, tips and advice to become a better Weiss Schwarz Meister. You can look forward to deck tech, card review and event coverage in this column. Weekly updates are available every Wednesday.
Feel free to drop us ideas and suggestions via sg_support@bushiroad.com. Give us your comments too on our Facebook page.